Austrian Fan Party
Andreas from Austria has contacted us to tell us about a Fan Party they are having for Michael's birthday on August 28th. Please see the information below.
Hi everyone!
Michael Jackson Showtime in Austria! After our great fan party last year I am happy to be able to announce another event for 2010. This time we chose the ALLiNCLUB in Vienna as our location and we celebrate the King Of Pop on August 28th, the evening before his birthday. We start at 21:00 o'clock and will charge you 5 €.
Of course there is gonna be lots of Michaels music and his videos, but this year we also got some specials like a surprise-show at midnight!
All the money that won't be needed for paying the location and the music fees will be used for a project from World Vision in Africa – none of us will earn anything.
Please notice: You can attend the party no matter how old you are, but if you are too young to consume alcohol you will be kind of marked with a stamp at the entrance.
Please also remember that it is forbidden to light any candles inside the venue.
Electrical lights, flowers, posters and costumes are welcome!
For more information, if you would like the flyer to be sent to you or if there are any questions: andreas081@gmx.at
A big thank you to mjworld.net!
Greets from Austria,
Andreas & the team
Source: MJWN with special thanks to Andreas
.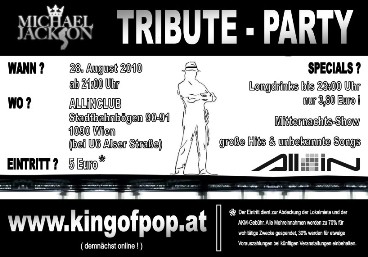 Leave a comment