AEG Trial Almost Halfway Through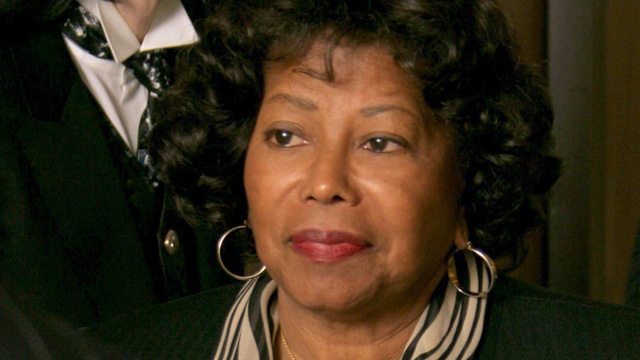 Michael's mother, Katherine, will soon tell jurors about her famous son, as the wrongful death trial of his last concert promoter reaches a midpoint.
Jurors heard one of Michael's former doctors testify last week that the top producer of his comeback concerts knew about Michael's drug dependency on a previous tour.
Katherine Jackson, 83, has sat on the front row of the Los Angeles courtroom almost every one of the forty-six days of testimony. Her emotional testimony will be followed by AEG Live lawyers presenting their defense, which they've warned will include "ugly stuff" to prove that Michael was responsible for his own death.
Jackson family lawyers argue that AEG Live co-CEO Paul Gongaware, the top producer of the 'This Is It,' should have known the hazards of hiring Murray because of his personal experience with Michael and his work with other artists, including as a promoter on Elvis Presley's last tour. Gongaware denied in his testimony that he ever knew that Michael had drug dependency problems while touring.
But video testimony shown to the jury last week contradicts that claim. CNN obtained video segments from the deposition of Dr. Stuart Finkelstein, who served as Michael's doctor during his 1993 'Dangerous' tour, which ended early because he entered a drug rehabilitation program.
"I said I think we're going to have a problem," Finkelstein testified that he told Gongaware, who was then serving as a tour manager on the 'Dangerous' tour. Jackson lawyer Kevin Boyle asked; "Did you tell Mr. Gongaware that you thought Mr Jackson had a dependency on opiates?" Finkelstein replied; "Yes." Boyle then asked; "And what did Mr. Gongaware say to you?" Finkelstein replied; "He said, 'Don't be a Dr. Nick.'" Boyle then clarified; "And by Dr. Nick, was he talking about Elvis?" Finkelstein said; "Yes. He was Elvis' doctor. And I think Elvis died with like fouteen different chemicals in his system. And he was kind of warning me that, you know, don't get all infatuated where you start administering meds to a rock star and have the rock star overdose and die on you."
Dr. George Nichopoulos, known as 'Dr. Nick,' was "the doctor whose over prescription of drugs to Elvis had led to Elvis' death," according to a court filing by Jackson lawyers. While his death was ruled the result of an irregular heartbeat, the autopsy report was sealed amid accusations that abuse of prescription drugs caused the problem.
Nichopoulos said later he was treating Presley for insomnia. He was charged with over-prescribing drugs to Presley, but he was acquitted. He later lost his medical license in another case. Presley's death came days before he was to begin a new tour organised by the concert promoter Concerts West, the company that gave Gongaware his start in the music industry. One of his jobs was working with Presley in his last years on the road, he testified.
Finkelstein testified that he and Gongaware had discussions about Michael's use of Demerol, morphine and other opiates during the 'Dangerous' tour. "We thought we needed to do an intervention, that he needed to be detoxed," Finkelstein said.
The tour came to an early and abrupt end when actress Elizabeth Taylor flew to Mexico City to lead an intervention that convinced Michael to enter a rehab facility in London. Finkelstein said Gongaware called him again in the spring of 2009 as preparations for Michael's comeback tour were beginning.
"Hey, Stewie, you may have another chance," the doctor quoted Gongaware as saying. "Michael's doing another tour to London and he's going to want to take a physician."
"Were you interested in going on that tour to London?" Boyle asked.
"Very much so," Finkelstein replied.
Finkelstein said he had five to ten conversations with Gongaware about the job with Michael and he offered to take it for $40,000 a month. But Finkelstein, who is now an addiction specialist, said he had one requirement, that Michael was clean of drugs. Instead, Gongaware agreed to pay Murray $150,000 a month to work as Michael's personal physician.
A drug addiction expert testified earlier this month that there was "not a lot of evidence to support" the belief that Michael was addicted to drugs, but that he was "drug dependent." If he was an addict, Michael "would be taking drugs that were not prescribed by a medical professional, taking larger amounts than prescribed and have drug-seeking behavior," Dr. Sidney Schnoll testified.
Evidence shows Michael sought drugs from a number of doctors, but that was not inappropriate because he needed them "to treat a legitimate medical problem," including back pain, scalp pain and dermatologic issues, Schnoll testified.
The painkillers that forced Michael to end his 1993 'Dangerous' tour early so he could enter a rehab program were taken to relieve the pain from scalp surgery needed to repair burns suffered when filming a Pepsi commercial, Schnoll said. The burns left scars on damaged nerves in his scalp, which becomes "excitable tissue" that "can be firing just like the nerve," he said. The result "can be very painful, like a burning kind of pain, persistent, sharp, shooting kind of pain. It's very uncomfortable and one of the most difficult to treat."
Pain relief is a legitimate use of opioid drugs and a person can function normally if they are taken under a doctor's care, he said and Michael went from 1993 until 2008 without using Demerol. The doctor conceded under cross-examination by an AEG Live lawyer, however, that a gap in available medical records may be misleading. Finkelstein testified that many of his records for Michael had been lost.
Michael's use of sedatives was an effort to treat his chronic insomnia, Schnoll added. If the underlying sleep problem could be resolved, the chances of ending Michael's use of the drugs would have been good.
Leave a comment