Michael's Lookout – Santa Marta Favela, Rio de Janeiro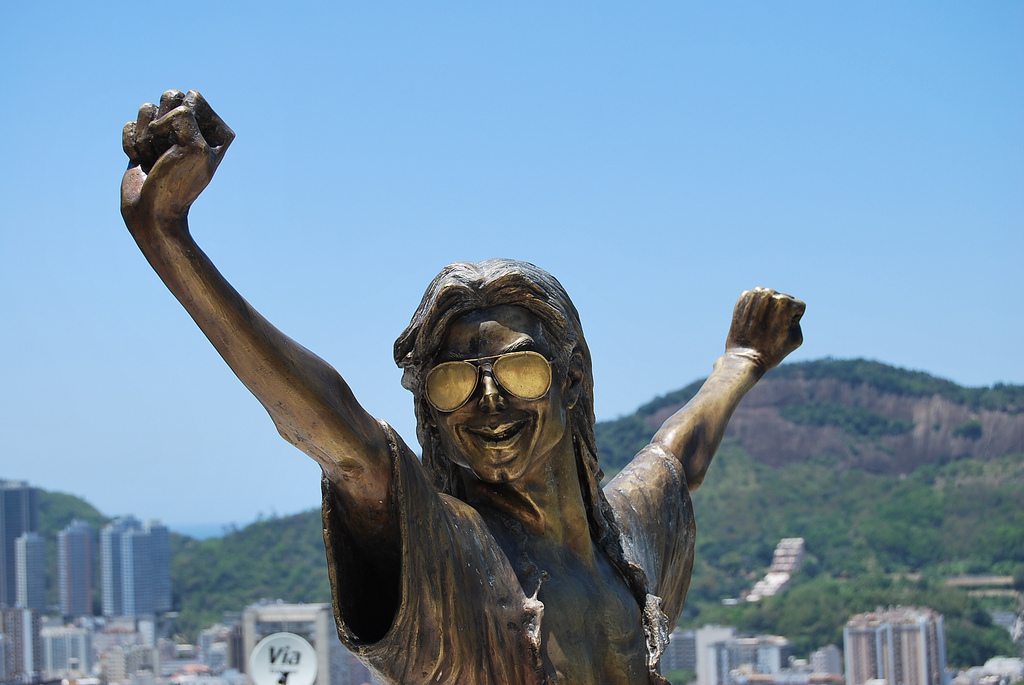 Here is another article from Kerry Hennigan which she wrote towards the end of last year regarding Santa Marta and where 'They Don't Care About Us' was filmed.
It's a concrete platform with tubular railing, overlooking the ramshackle shanties of the favela of Santa Marta.  A large mosaic decorates an adjacent wall, some friendly graffiti accompanies it, and a statue stands, arms extended, fists clenched commanding the space.
Not just any space, but Michael's space, specifically Espacio Michael Jackson.  This is one of two Brazilian locations in which Spike Lee filmed Michael Jackson performing 'They Don't Care About Us.'
The people of Santa Marta are justly proud of their connection with Michael. The little gift shop adjacent to the lookout sells local crafts; some fashioned in the likeness of Michael, or otherwise related to his historic visit to their community in 1996.
Santa Marta was a different place then.  Like most of the favelas of Rio de Janeiro, it was a place where local drug barons enjoyed immunity from the law, where heavy duty guns were often in evidence, and where life was precarious and the future grim.
When Michael Jackson came to film here, the government tried to stop him; the favelas were not the face of Rio it wanted presented to the wider world.  Even after he had been and gone, and the music video had appeared on television screens around the world, there were claims that his visit didn't make any difference.
But you know something, change happened; the drug pushers and gunrunners were cleaned out of the favelas. A special division of the police force, consisting of young and idealistic officers, was set up to ensure law, order and safety for the inhabitants and for visitors.
Tourism was one way of helping the favelas to help themselves and Santa Marta had one guaranteed attraction as the location of Michael Jackson's famous video.
With Michael's untimely passing in 2009, the mayor of Rio promptly announced that a memorial would be created for him in Rio.  That was on 26th June, the very next day after Michael's death. Even in his own country, he was not accorded such a swift, lasting honour.
I visited Santa Marta one morning in October 2012, on a small group tour led by a young guide who was passionate about his subject.  As he told the three of us on the tour, slavery in Brazil did not end until 1888.  When it did, the people had to live somewhere. So, they built themselves homes on the precipitous slopes of the mountains around the city.
How could you get up and down those steep slopes?  How could you build homes that did not slide down the mountainside in the seasonal rainstorms?
The people of the favelas were used to hard labour. They made their settlements work, squatted on the slopes, built homes that look rickety and ramshackle on the outside, but were cosy and comfortable on the inside. They're still not too bothered by external appearances, Luiz explained, but inside, the favela residents were reasonably house-proud.
They are also community proud, they have their own churches, crèches and community centres and, if you visit Rio, chances are they will be driving you around town in the buses and taxis, cleaning your hotel room or waiting on you in restaurants. They are proud of their place in the life of this beautiful city.
Santa Marta isn't the largest favela, or even the most famous, but it is certainly special.  To the people of Santa Marta Michael Jackson is a hero. He is also a tourist attraction now, one that brings people from all over the world to visit their community, and adds a few dollars to their income.
As a friend of mine back in Australia said when I first reported on my visit to Santa Marta – "All I want to say is they don't really care about us!"  But Michael cared. And now a lot of us who would otherwise give little thought for the marginalised people of the planet care too. 'They Don't Care About Us' has become an anthem for all of them, and for us too when we feel the world is treating us badly and there are times when that happens to each and every one of us.
With this song, as with so many others he wrote and performed, Michael Jackson speaks for people the world over, without qualifications, boundaries or restrictions.
And, as he was able to give his God-given talent to do, he made us listen.
We're still listening Michael; and we're still learning.
Kerry Hennigan
Leave a comment