'We Are The World' At 30. Five Facts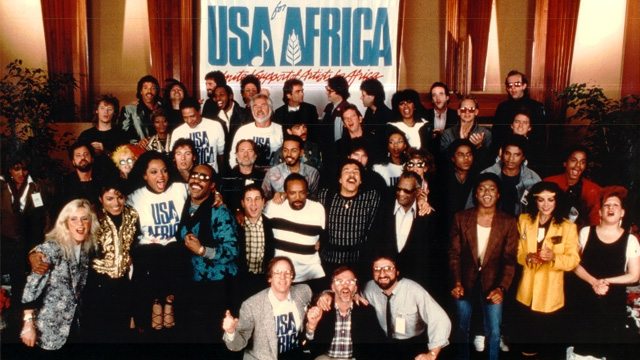 It's been thirty years since 45 of the biggest names in American pop music came together, led by Michael Jackson, Lionel Ritchie, Harry Belafonte and Quincy Jones on January 28th 1985,  to record a song with one purpose: ending famine in Africa.
'We Are the World' attracted all the biggest starts of the day including Tina Turner, Bob Dylan, Cyndi Lauper, Willie Nelson, Ray Charles, Stevie Wonder and Bruce Springsteen to name a few, and it went on to sell over 20 million copies and won numerous awards, including three Grammys. Most importantly it raised a huge $63 million for humanitarian aid.
In honour of the song's 30th anniversary, People Magazine have compiled these five amazing facts about the extraordinary circumstances of its recording:
1. The song wasn't fully written until the night before recording.
Jackson and Richie – who co-wrote the song – finished the lyrics and melody on the night before their deadline. "I love working quickly," Jackson later said of the process as quoted in Michael Jackson: The King of Pop by Lisa D. Campbell. "I went ahead without even Lionel knowing, I couldn't wait. I went in and came out the same night with the song completed – drums, piano, strings, and words to the chorus."
2. The recording took place the same night as the American Music Awards.
Many of the stars who joined forces to record "We Are the World" were competitors just hours earlier. Lauper, Turner, and Richie were among those who came straight to the studio from the 12th annual AMAs. Richie actually hosted the award show, and Lauper and Turner had both given live performances. Jackson skipped the awards to record the guiding vocals to the song – but still managed to win two AMAs despite his absence.
3. "We Are the World" wasn't the only song the stars sang that night.
'We Are the World' was the brainchild of activist/entertainer Harry Belafonte. It was Belafonte's dream to gather a supergroup of his favorite artists to record a song that's proceeds could be donated entirely to charity. In honor of his efforts, the entire room of stars broke out into an impromptu rendition of Belafonte's classic hit, "Day-O (The Banana Boat Song.)"
4. Lauper's jewelry ruined one of the solo takes.
The motto of the evening was "check your ego at the door" – but in Lauper's case, checking her accessories might have been more helpful. Still, she definitely won outfit of the evening.
5. No one left without swapping autographs.
"Mass hysteria broke out because everybody wanted everybody else's autograph," Richie of one point in the night. "I realized that there was a room of everybody being fans of everyone else."
As Kenny Rogers remembers,
"Everyone wanted a memento that we could all keep ourselves. And we had the sheet music so we had all the other artists sign it. I don't think there was one out there who didn't get everyone to sign it."
Watch the original 'making of' documentary:
Source: People & MJWN
Leave a comment