Jamie King Takes 'Immortal' To Dubai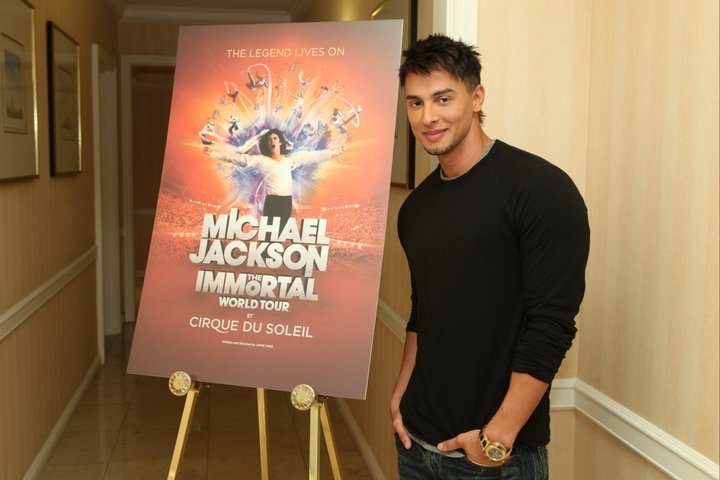 Having never performed in Dubai, Michael passed away before he could keep his promise to do a concert there. While it's water under the bridge now, Michael's turn in the spotlight here will remain an unrealised dream for UAE fans after the 'King of Pop's' untimely demise in June 2009, mere weeks before 'This Is It' was scheduled to hit the road.
"We can never have Michael back, but what we bring to you is the next best thing," came the passionate response from renowned celebrity choreographer and one of the four dancers on Michael's 'Dangerous' tour, Jamie King. As the creative director behind 'Michael Jackson – The Immortal World Tour by Cirque Du Soleil,' King said the world renowned sold-out show is a tribute to the legend, the icon that once mesmerised the world with his music.
The Cirque Du Soleil visual spectacle, which will be hosted in the emirate during the 20th anniversary of the Dubai Shopping Festival, will be staged from December 30 to January 14, which organisers describe as "directing a legacy that is a fitting tribute to the legend."
Talking about the show and his former friend, King proclaimed:
"Dubai is Michael Jackson; he believed in the illogical and when I look around at the manmade islands here and the world's tallest buildings around me, this city is exactly what describes the legend, with a larger than life personality. "I know Michael would have wanted this here."
Speaking to Emirates 24|7 about his own equation with the legend, King, who has worked with the likes of Madonna and Jennifer Lopez over the decades, he said:
"Michael was a teacher to me; as a tribute to the global superstar, I wanted to leave behind something that nurtured his legacy and highlighted his role of a humanitarian."
He continued: "Michael was a maverick; Cirque Du Soleil is a maverick. It made sense when the producers approached me, to combine the two on a single stage to pay this tribute."
What resulted is a visual extravaganza that has toured over 111 cities since 2011, performing to sell out shows of a combined audience of over three million. The showmanship of Cirque, complete with artists, musicians and gravity-defying acrobats, is married to 35 of Michael's biggest hits, to create a rock style theatrical production that has become the second highest grossing tour in North America.
Brought to Dubai by Duvent, a subsidiary of Meraas Leisure and Entertainment, Cirque Du Soleil's Senior Director, Public Relations, Renee-Claude Menard explained:
"We have nearly 60 performers on stage, running through over 1,200 costumes – 96 of which have embedded LED lights – that requires three trucks to just travel with."
She continued: "What you see with the 'Immortal' tour is the biggest stage production that Cirque has ever put forth; nothing compares."
No Michael impersonators – King is firm that the show will not have 'tacky' Michael impersonators, nor will it narrate some biographical account of the legend.
"My main concern when I conceptualised the show was, what I can put on stage which will not prompt Michael's fans to kill me," laughed King. "I think the hardest and the most challenging thing to do was start by simply selecting his music." King continued: "We have created some new mashups that are exclusive to the show, but have retained some of the iconic visualisations that include that famous 'Thriller' video, complete with zombies, et all. "The crescendo is the Neverland Ranch, Michael's home, that is recreated on stage."
To bring authenticity to the proceedings, King and Cirque retained the services and advise for Michael's close friends and family to share insights into the production, with Menard adding: "We have worked closely with the MJ family estate and ensured their stamp of arrival was given to the show.
"When Mrs Jackson (Michael's mother, Katherine) saw it for the first time, she had tears in her eyes; even his children loved it. In fact, back in 2012 we even hosted a special show for 121 members of the Jackson family."
Does this mean that sister Janet Jackson, who is in neighbouring Qatar with husband Wissam Al Mana, would be sent an invite to attend the Dubai show? Menard chose the diplomatic response to say: "Any Jackson family member will always be welcome to the show, which encapsulates Michael's legacy."
The show will be held at the Dubai World Trade Centre arena, with tickets ranging from Dh295 to Dh2,295 and will be on sale shortly.
Source: Emirates 24/7 Online & MJWN
Leave a comment