Birthday Message From 'Sugarfoot'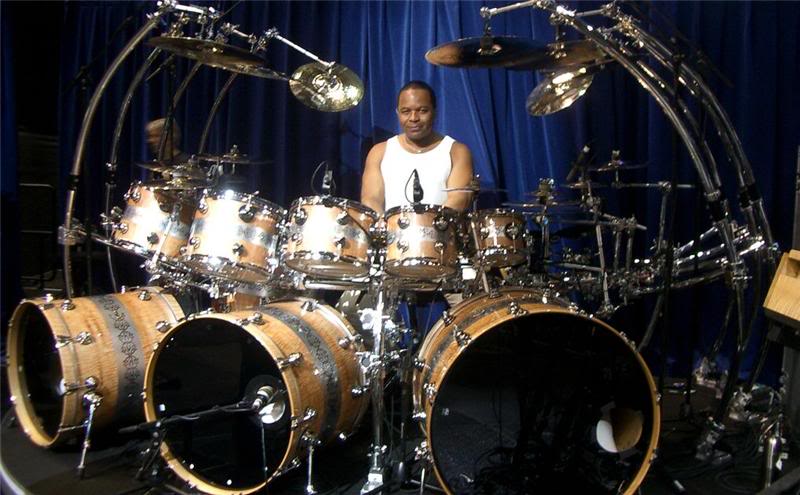 Michael's drummer, Jonathan 'Sugarfoot' Moffett, has sent us a message for Michael's birthday which he would like us to share with all Michael's fans around the world. Here is his message.
Kings don't look like Kings at time of birth. They come into this world unannounced, much unlike the story of the 'King of Kings,' a story well known and the 'King of Manifested Gifts,' who came mostly and primarily un-noticed from birth through infancy, until its youth of childhood, that is, until an awakening within of awareness and the awakening without from all those around them, who'd almost suddenly come to realize that something's different about this ONE!
That of those things unique that portray an ability of power, or a trait that exhibits a sense of supernatural ability, uncommon to one of their age or level of intelligence, for it seems beyond belief, or defies reality, yet exists in actuality to those who bare witness with rationality, so began, 'The Legend,' and now, 'The Legacy' of Michael Jackson, my brother in heart and spirit. For his, is a story of legends. His is a classic, of myth. His, is of that which fairy tales much like the ones he himself loved to read and adored. Of Disney revelation and now his life's story has mirrored the fantasy like world of which his imagination delved in, thrived on, and manifested the dreamer he was, and became!
It is said that genius, is born out of and from genetics! Yet on occasion, genius can be created by the depth of the spirit of one's imagination. The depth of spirituality, depth of great sensitivity and an open vision, of  what can, and should be, and if one works hard enough, diligently nurtures one's self, and believes, then the sense and abilities' of  genius, will be!
In whatever or which ever form it may be, this, along with the awakening of God's silent gifts, embedded before birth, is all of which Michael was chosen to be!
We have been fortunate enough to have witnessed the birth of a KING of many things! The King of Pop – The King of Entertainment – The King of Hearts – The King of Caring and Concern for Children – The King of Love of All – The King of Revolution against Creative Normality – The King of Innovation.
The one who brought back 'Flashy Socks', and he made 'Flashy Socks' cool, and when he tipped his fedora hat the whole world screamed! When he donned his mother's all black sequenced jacket, at the proper time, his fans, friends, and the curious alike, rediscovered euphoria! And when the one white sequenced glove entered the spot lights, it was sheer pandemonium from those of the very youngest to the middle aged and to the elders there, ninety years old and more. But when he'd walk on the moon in his super-glide movement he set the entire entertainment world and his loving fans around the globe and planet earth off axis, in frenzy! Yet most of all when he sang the songs, of 'Thriller,' 'Off The Wall,' 'Dangerous,' 'Invincible' and the like, hearts were moved, souls churned, bodies couldn't keep still and those who fainted got carried away! And the minds of all who witnessed were doomed! For through the measure of time and the measure of his deeds and personal accomplishments, I, we've, come to realize and know that Michael Jackson, is not just KING OF POP or KING OF ENTERTAINMENT in an Industry!
Michael Jackson is A CULTURE in society that has fuelled the world with, through, and from his gifts and caring and love for his fans, and from his fans.
For my dear friends and MJ family, love is a two way street!
So, on THIS DAY of his birth, let us CELEBRATE HIM with Thanks!
With Sincere Thanks and Love
Jonathan Moffett
"Michael's…Foot"!
Watch Jonathan's previous tribute to Michael 'FLAME' here:
Source: Jonathan Moffett & MJWN, with special thanks to Paula Katsikas
Leave a comment