More From Randy Phillips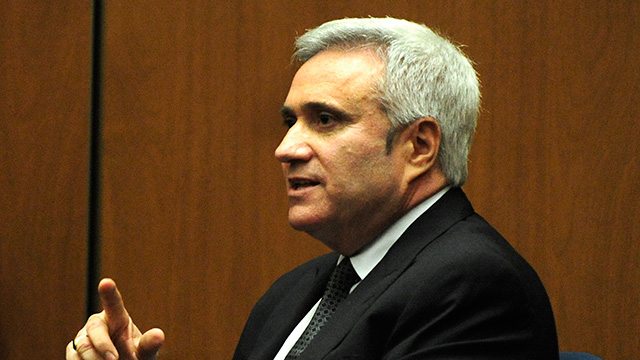 Michael 's anticipated "This Is It" comeback tour was largely fueled by his desire to provide his children a home of their own, AEG Live's chief executive testified Wednesday.
Randy Phillips described an emotional Halloween meeting with the pop star at a Bel Air hotel, with Jackson's three children running in and out of the room. It was the "first time Michael really told me why he wanted to go back to work," Phillips told the court during questioning from AEG attorney Marvin Putnam.
"He described his life with the kids," Phillips said. "He said they were living like vagabonds."
The testimony came in the 27th day of the wrongful death case
On the stand Wednesday, Phillips said it was his understanding Michael and his children — Prince, Paris and Blanket — were primarily living in Las Vegas at the time, but stayed in the Bel Air hotel when they came to Los Angeles. Phillips thought the family would also stay in homes belonging to Michael's friends.
"He actually broke down and I broke down — we both broke down," Phillips said. "He got emotional. He teared up about his family and having a good life with them and a place to live and a residence they could call their own." When asked whether he was concerned by the fact that Michael was crying, Phillips said there was nothing "abnormal" about the reaction given the topic.
"I felt incredibly bad that this incredible star was at the point where he just couldn't buy a house with all this money he made," he testified. "It just didn't make sense." Phillips said he went to a Bel Air home the next day that Michael was interested in buying. He described the house as "gigantic," a 40,000-square-foot property with a $93-million price tag. Phillips said he thought the house was too much — he testified he told him "you'll put every dime you make into this house" and "it made no sense whatsoever."Michael eventually settled into a $100,000-a-month Holmby Hills estate the pop singer was paying for from the multimillion-dollar advance he received from AEG.
It was in that home Michael, his attorneys and AEG signed a contract for his tour in January 2009, Phillips said. At the meeting, Michael asked a few questions — one in particular, Phillips said, was about the number of performances at the O2 Arena in London.
Michael had requested 31 shows after hearing Prince had done 20 at the arena, Phillips said. "Michael and Prince were incredibly competitive, and he wanted to beat Prince's record by enough that Prince could never beat it again," Phillips said.
After Phillips and Michael signed the paper, the two embraced and the group celebrated with champagne, the executive testified.
"Were you excited?" Putnam asked.
"Incredibly," Phillips said.
"Why?" "Because he's one of the biggest stars of the world, if not the biggest star in the world," Phillips said. "And the idea of helping him come back, you know, and helping him get on the stage again — one of the greatest parts of my career."
Phillips disputed various portrayals of Michael, describing the singer as someone actively engaged in his comeback who knew "who he wanted to work with and how he wanted to do it."
"We seem to be talking about Michael like he's the 5-year-old singer in the Jackson Five and he wasn't," Phillips said. "He was a sophisticated, very smart, articulate, 50-year-old man who had control of his life."
"He's been presented as a drug-addled 5-year-old and that's not the man I dealt with," he said. "The man I dealt with was forceful, kind — but determined. And a force. He was a force."
Source: cnn.com & MJWN
Leave a comment