1998 - 2013: Celebrating 15 Years
Thursday, 9th May 2013
Karen Faye Testimony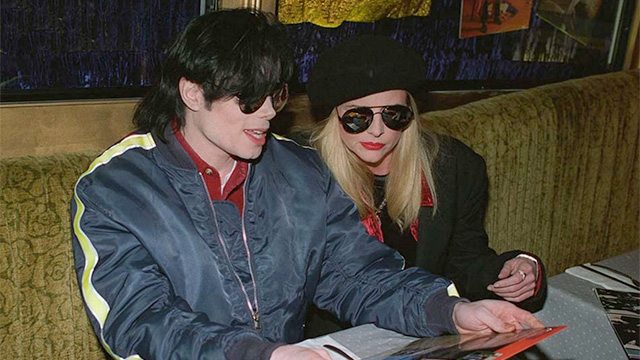 Karen Faye was Michael's hair and make-up stylist for twenty- seven years.  She gave evidence in Court calling him, "a gentle genius," with unparalleled stamina
On Thursday, Karen Faye's testimony was very emotional. Karen Faye worked with Michael for 27 years as both a makeup and hair artist, and considered him a brother. She spent about 90 minutes testifying about her close relationship with Michael, who hosted her wedding at his Neverland Ranch and enlisted her to travel around the world with him. She described Michael as "a gentle genius with unparalleled stamina!"
Karen described Michael's meetings with Princess Diana and other dignitaries, his Super Bowl performance, and other larger-than-life moments from the singer's life. Jurors and spectators laughed at times as a parade of photos and videos shot during Michael's performances were played.
"I was from Pittsburgh, Pennsylvania. I was just very normal," she told jurors. "I found myself working with this magical person."
Karen traced Michael's struggle with painkillers to the famous Pepsi commercial shoot where his hair caught fire due to pyrotechnics going off too early – though Karen said she really didn't grasp it until his 'Dangerous' tour in 1992-93. The shocking video of Michael's hair catching on fire was played for jurors. Karen recalled that when Michael's hair caught on fire he continued dancing down the stairs, having no idea he was burning. Finally, a friend of his ran onto the stage and wrestled him to the ground to put it out.
"I never saw anything like that in my life," Karen Faye testified. "This was someone I knew and he was on fire. All his hair was gone and there was smoke coming out of his head."
Michael suffered intense and devastating migraines while the burns were healing and necessary surgery had to be done that involved the insertion of a skin-stretching balloon under his scalp. But instead of suing Pepsi, Michael asked Pepsi to build a burn center at Brotman Medical Center in Culver City where he had been treated.
"Everybody thought he'd sue Pepsi because it was a mistake," Karen said.
Brian Panish, an attorney for Michael's mother and three children, also played a video of the singer falling several stories during a concert in Munich (Germany). Faye said Michael fell three or four stories when a prop he was standing on collapsed.
"When I saw what happen, I thought he could be dead," Faye said.
But Michael, she said, pulled himself up and continued performing. "I can't disappoint the audience," she said he later told her. When he finished, he collapsed and security took him to the hospital, she said. The fall left Michael with back pain that flared, when he was under physical or emotional stress.
Faye also testified that over the years there was an increasing reliance on doctors, and that AEG's co-CEO was aware of the singer's mix of medications, which she said he began receiving nearly two decades before his death. She said his reliance on medications coincided with the first time he was accused of child molestation in the early 1990s.
"Michael had to go on stage every night knowing that the whole world thought he was a pedophile," Karen said, shaking her head and crying.
During Michael's 'Dangerous' tour that began in 1992, Karen said she refused a request from promoters to give Michael injections of pain medications. She said Paul Gongaware, who handled logistics on that tour, brought in doctors who treated Michael. There were always two doctors around Michael on that tour, willing and able to give him as many painkillers as necessary.
"I came to learn there was a balance of medication," Faye said. "The medications had to be strong enough to overcome Michael's pain but not so strong that he couldn't perform."
She said he was so wasted on pain medication during his 'Dangerous' tour that he was stumbling around a venue in Singapore and sparked a violent clash between her and a doctor.
"(Michael) had a very hard time walking. He was kind of glazed over. … He stumbled and fell over into a tree," she recalled of the encounter in his Singapore dressing room. "I said, 'Michael can't go on.' He had to go into a toaster (a stage catapulting device). If his arm was out, it would be severed."
She said she protectively hugged Michael and refused to let him leave to perform. That's when one of Michael's personal doctors, Dr. David Forecast, forcefully intervened.
"He said, 'Yes I can,' " she recalled. "He backed me up against a wall, put his hands around my neck and said, 'You don't know what you're doing,'" she recalled.
She said Forecast marched a disoriented Michael to the stage, but the concert was cancelled nonetheless. Soon the rest of the 'Dangerous' tour would be cancelled, too, with Elizabeth Taylor flying to Mexico to pick up Michael and send him to receive treatment for his prescription drug addiction.
His condition worsened during his 2005 trial that ended with his acquittal of child molestation charges, Karen said. She would go to Neverland Ranch each morning, before daybreak, to help him wash his hair and dress. She recalled praying, crying and laughing with him as they listened to classical music and watched "Three Stooges" videos.
"I wanted people to think he still looked good and was still strong," she testified.
She said it was a particularly difficult time for Michael:
"He was losing weight. He couldn't eat because he didn't want to throw up because he had to watch all these people he loved and cared about tell all those lies." "He couldn't eat. He was afraid. He was in pain. He got thinner. His physical pain, his back pain, it all kicked in."
Faye also recalled an odd incident before Michael performed at Madison Square Garden in fall 2001. When she went to his hotel room to make up his face before a show, Faye claims that a doctor stopped her and said: "I just gave Michael a shot, he's going to be asleep for the next five or six hours." "I said that can't be, he's set to perform," Karen told him. She eventually got into Michael's room, woke him up and fed him bagels to keep him awake and ready to perform, the makeup artist testified.
Karen Faye also testified that in 2009 she overhead an executive for concert promoter AEG Live insist that the singer rehearse for the 'This Is It' concerts despite signs of Michael's declining health. She became increasingly concerned about his health and thought he might die if he was pushed too hard in preparations for his "This Is It' concerts. AEG executives continued to push Michael, Karen said. She testified she overheard a phone conversation in which AEG executive Paul Gongaware told Michael's assistant to get him out of a locked bathroom and to a rehearsal. She described Gongaware, AEG Live's co-CEO, as "angry and kind of desperate," in the conversation. She testified Gongaware told the assistant to do "whatever it takes." Karen said the only people she saw insist that Michael rehearse were Gongaware and tour director Kenny Ortega.
Karen said she informed Ortega, Michael's manager and AEG Live co-CEO Randy Phillips about her concerns about his health during the preparations for the shows. She said Michael was frustrated and after a costume fitting days before his death repeatedly asked her, "Why can't I choose?" She said that after he missed several rehearsals, Phillips told her to ignore Michael's instructions.
Faye, choking back tears, read portions of an email from one of Michael's fans who had a recent meeting with him and had contacted Faye with concerns. During the meeting in June 2009, Michael tried on a jacket. The fan's e-mail was projected on a courtroom screen:
"(Michael) took his jacket off, and I saw something horrible. A skeleton. I watched his back. It was only bones. I am still in shock. If we do nothing, he will die. I know people who work for him cannot tell him anything. I know his own family tried to help him but he won't listen. It is humanly impossible for a human being to be a skeleton and dance for two hours straight without any danger."
Karen said she forwarded the e-mail to Frank DiLeo, Michael's Manager, telling him that she agreed with the assessment:
"Please intervene … concerts are not worth jeopardizing his life for," Karen wrote.
But Frank Dileo never responded in writing. Karen said she learned at Michael's funeral that AEG Live's Randy Phillips saw the e-mail, too.
By this point, Michael was "emaciated," had dry skin and dry eyes and was often cold to the touch. She said Michael was cold as an "ice cube" on June 19, 2009, after a costume fitting.
"He couldn't get warm. I had a space heater, I put it next to him and put him on the sofa and wrapped him in blankets and held him very close to me," Karen said.
He also seemed to be repeating himself in the days before his death and was becoming increasingly paranoid. Faye said he became obsessed with her being within sight when he was rehearsing onstage. Karen said he changed into someone she didn't recognize when he started rehearsing for his 50-date 'This Is It' concert series.
"He would say things over and over again, repeating the same thing," she testified. "He wanted to see me all the time. He would say, 'Make sure I'm able to see you on the stage at all times.' I'd go, 'Okay,' and he'd say it again."
Karen also described watching tour director Kenny Ortega try to feed the ultra-skinny singer some chicken and pleaded with him to call a doctor.
During her testimony Karen revealed she was the "mystery blond" photographed at Michael Jackson's side inside Manhattan's Motown Café after Lisa Marie Presley filed for divorce, she said.
"Lisa Marie Presley was calling Michael the day before (the photo) was shot, begging him not to divorce. So he promised her he wouldn't file for divorce. But the next morning, it was all over the press she had gone ahead and filed. He was devastated."
She and Michael decided to hit the Motown Café on Jan. 25, 1996, to "give the press something to talk about," she said.
Karen is due back in court Friday.
Source: LA Times / Daily Herald / CBS Local / NY Post / NY Daily News & MJWN
Share this article
Leave a comment