Gravesend's Tribute To Michael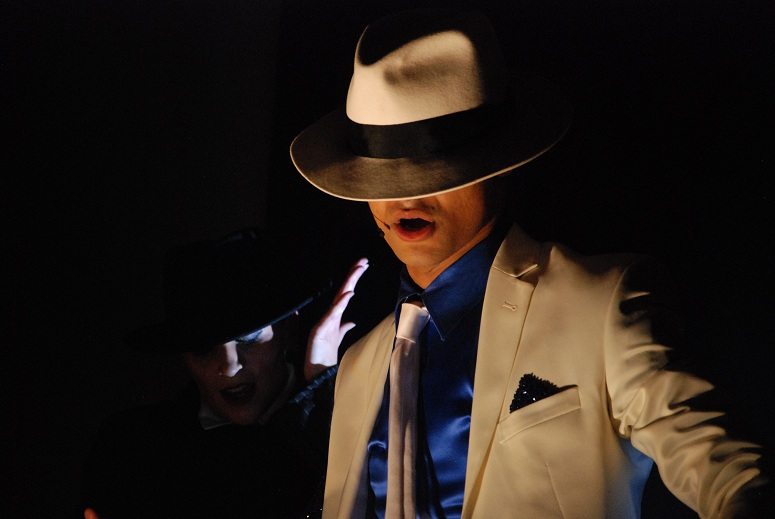 'The Woodville,' in Gravesend, Kent, will host Anthony King's tribute to Michael Jackson at 7.30pm on May 24th together with his dancers, singers and live band.
Pineapple Dance Studios' teacher Anthony King, brings his 'Tribute to Michael Jackson' live concert spectacular to 'The Woodville,' Gravesend on Friday 24th May 2013 at 7.30pm.
The two hour concert starring Anthony King with his dancers, singers and live band, will recreate the magic of the King of Pop Michael Jackson and all his greatest hits.
Michael Jackson expert Anthony founded, and has taught the "Michael Jackson Style Dance Classes," for nearly ten years at the world famous "Pineapple Dance studios." Michael himself, even featured Anthony as "Breaking news" on his official website.
Anthony was co-choreographer of the original production of the 'Thriller Live' musical, and has taught stars from music and film including 'Miss World,' 'Harry Potter,' 'Pink Floyd,' 'Britain's Got Talent,' 'BBC's EastEnders,' BBC's 'The Office,' and much more.
Michael's promoters, AEG Live invited Anthony to promote Michael's 'This is it' show live, at the 02 arena on the opening night of the tour – pre show, just before Michael was to appear on stage.
He has promoted numerous Michael Jackson official projects including the 'King of Pop' album for Sony and his moonwalk YouTube lesson has achieved over 33 million hits.
"Anthony King's Tribute to Michael Jackson," is a high energy Michael Jackson musical, singing and dancing spectacular, featuring a host of Michael's Greatest Hits including, 'Thriller,' 'Beat It,' 'BAD,' 'Jam,' 'Man In The Mirror,' 'Billie Jean,' 'They Don't Care About Us,' and many more …
The tribute to Michael Jackson Concert is on Friday May 24th 2013 at 7.30pm. Tickets cost £19.95 and can be obtained here, or from the Box Office Tel: 01474 33 77 74
The venue is, The Woodville, Woodville Place, Gravesend, Kent DA12 1DD. The nearest station is Gravesend and there is a direct fast train from Charing Cross in London.
You can obtain further information here.
Source: PRWeb & MJWN
Leave a comment