MJ Items In Julien Auction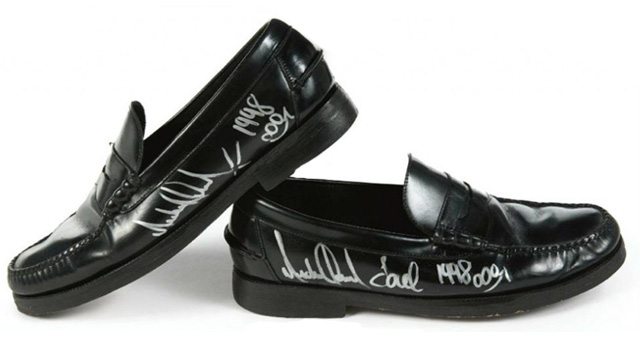 Julien's Auctions returns again to the Big Apple for the music memorabilia auction of the year at the Hard Rock Cafe in Times Square on May 17th, 2014.
Join us in person and on line for an incomparable auction of items from The Beatles, Elvis Presley, Jimi Hendrix, Madonna, Lady Gaga, and all of the icons of music past and present, including Michael Jackson.
Highlights include a rare 1962 Rickenbacker guitar played by George Harrison and John Lennon. This historic guitar was used at The Abbey Road Studios Recording of 'I Want To Hold Your Hand' along with other stage performances. Photographs also show John Lennon playing the guitar backstage. This auction holds something for every Beatles fan.
Other iconic items include an Elvis Presley worn jumpsuit, Jimi Hendrix's first guitar and other items from all the legendary musicians of our time, such as Michael's 'Smile' short film clothing. Julien's has assembled an extensive collection of Elvis Presley items that will be offered for sale. Among them is a stage worn jumpsuit, signed pieces, as well as Elvis Presley's personal and gifted jewelry.
"Michael Jackson fans will enjoy an array of items from his life and career including jackets and clothing worn on stage, signed albums and lyrics, stage worn shoes and many more items from the legendary King of Pop."
Join Julien's for the live auction at The Hard Rock Cafe or participate online here on May 17th, 2014 and take away your piece of music history.
PUBLIC EXHIBITION
Hard Rock Café New York Monday, May 12 – Friday, May 16, 2014 8:00 a.m. to 12:30 a.m. E.S.T.
LIVE AND ONLINE AUCTION
Saturday, May 17, 2014 Session I – 10:00 a.m. E.S.T. Session II – 1:00 p.m. E.S.T. Session III – 5:00 p.m. E.S.T.
EXHIBITION AND AUCTION LOCATION
Hard Rock New York Times Square 1501 Broadway New York, New York 10036 For More Information Email: info@juliensauctions.com or call 310-836-1818
About Julien's Auctions
With expertise specializing in entertainment and sports memorabilia, Julien's Auctions has quickly established itself as the auction house to the stars. Julien's Auctions presents exciting, professionally managed and extremely successful auctions with full color high quality auction catalogues unlike any other auction company and stars in the network primetime television series "Celebrity Home Raiders." With media coverage spanning the globe and unprecedented marketing support, Julien's Auctions has become known as the premier entertainment and celebrity memorabilia auction house worldwide. Previous auctions include the collections of Cher, U2, Barbara Streisand, the estate of Marilyn Monroe, the estate of Les Paul, Bette Midler and many more. Official website is www.juliensauctions.com or go to www.facebook.com/juliensauctions.
Registering to Bid
Registration is required to bid in this live auction and can be done in person at the exhibition and auction, or online before the sale at the JuliensAuctions.com Registration page to bid by phone, proxy or in person, or online at JuliensLive.com to bid live online, or by calling (310) 836-1818.
Placing Bids
There are four ways to bid in this sale: 1. Bid through Julien's Auctions Online Live in Real Time at JuliensLive.com. 2. Place bids in the room by attending the auction. 3. Bid over the telephone through an auction house representative, who sits in the room and conveys the bid to the auctioneer. 4. Enter Absentee bids. Absentee bid forms are printed in the back of each catalogue, and are also available by calling Julien's Auctions or at our Register to Bid page.
Source: Julien's Auctions, MJVibe & MJWN
Leave a comment