Report On New York Tribute
Reva Thomas, MJWN's US Correspondent, attended Spike Lee's New York Tribute event which honoured Michael on his birthday last Saturday. Here is Reva's report:
On Saturday, August, 29th, 2009, thousands of fans, descended upon Prospect Park, Brooklyn, New York, to celebrate what would have been Michael Jackson's 51st Birthday.
The event organized by well renowned film director, Spike Lee, (director of Michael's 'They Don't Care About Us' video, originally, slated to held as a block party at the Fort Greene Party, however, due to the nationwide publicity, and massive world wide media attention, the celebratory event was moved to one of New York City's renowned parks, Nethermost Field Section of Prospect Park, Brooklyn.
The event garnered support from the Borough President, Hon. Marty Makeweights, who declared August 29th, 2009, Michael Jackson Day, in the Borough of Brooklyn. DJ Spinna, provided the music and spun infamous Michael's classic, such as 'Billie Jean', 'Wanna Be Starting Something', 'Never Can Say Good Bye', 'Beat It', and 'Man In The Mirror', which culminated the programme. A massive Jumbroton was in place, which showcased some of Michael's illustrious videos, and as well as lyrics to his songs, so that the fans could sing along to their hearts content.
Thousands of fans from all walks of life, ethnicity, nationalities, sang and danced their hearts delight to Michael's music. Rain or shine, the party continued.   One of the most poignant moments of the event, was the presentation of the Birthday Cake, and a Happy Birthday Sing A Long ('Happy Birthday' Stevie Wonder's Version).
Vendors were ever most present selling MJ wares, magazines and believe or not, the Official Gold Michael Jackson Memorial Programme (which were given to fans and attendees at Michael's Memorial Service at held at the Staples Center in Los Angeles, California.). I was informed that the coveted, sought after Memorial Programme, was $5.00.
The event began at 12 noon and ended at 5p.m. sharp. Fans and attendees were admitted to the park beginning at 10 a.m.
Fans were given an extra special treat, with performances by various MJ impersonators and MJ Tribute Artists including Prince Gritty, Garrett Wilson and et al.
Prince Gritty dazzled the crowd with his amazing dance routines, persona and aura. He is a MJ Tribute Artist and he kindly took photographs with the fans, who were simply mesmerized with his uncanny, eerily resemblance to the late King Of The Pop. Prince Gritty created quite a stir with many fans stopping him along the way, requesting to have their photos taken with him.
Prince Gritty also attracted attention from various international journalists, reporters and photographers, obviously along with Spike Lee.
The atmosphere was filled with bittersweet emotions and an interesting energy. Almost surreal, as it was difficult to embrace the dichotomies of emotions, joy mixed with sadness; celebration mixed with mourning.
The event, surroundings, and crowds, bore a semblance to the 60's music festival Woodstock. There was a sense of tranquility, peace and joy within the crowd, as everyone allowed the Michael's music to permeate the very fibre of their being.
On a final bittersweet note, the common sentiments amongst the fans, was that they wished that Michael had been there to witness such a powerful display of love and respect for him. Michael's spirit was most ever so present in Prospect Park, Brooklyn.
On a side note, Prospect Park is also within close proximity of the Brooklyn Museum, the location, where Michael conducted his last photo shoot for the December 2007 issue of Ebony Magazine.
Spike Lee is currently planning the Second Annual MJ Birthday Celebration scheduled for Sunday, August, 29th 2010.
Click here to read a 'Thank You' letter from Spike Lee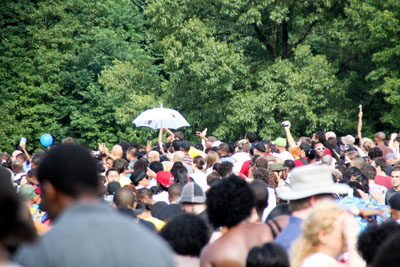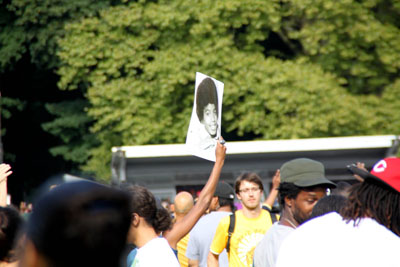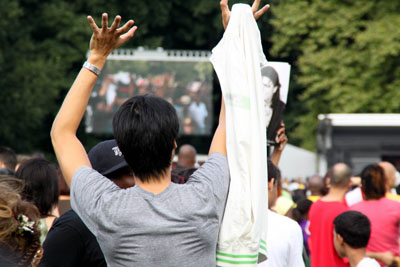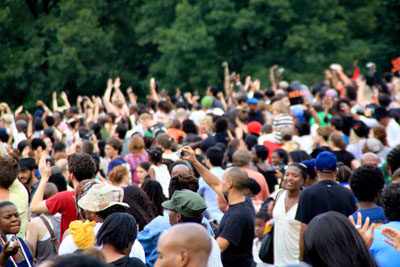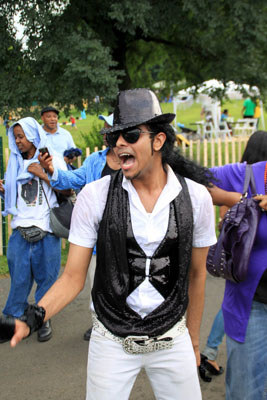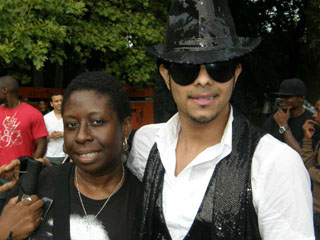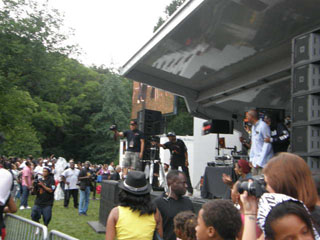 Leave a comment