1998 - 2013: Celebrating 15 Years
Thursday, 27th June 2013
MJ Global Birthday Party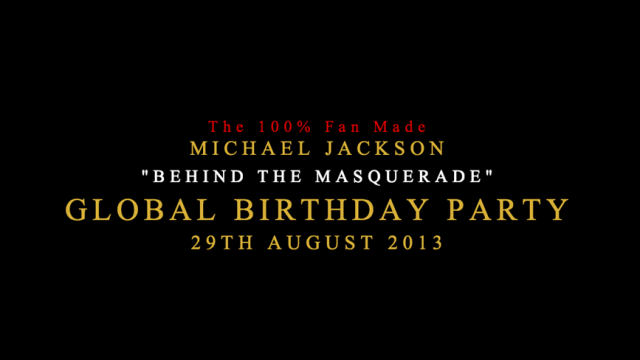 We've received an official press release from a selection of MJ Fan Groups, who have had a great idea to get together online, for a global party on August 29th. Here is the press release.
FAN MADE MJ GROUPS GET TOGETHER FOR ONLINE GLOBAL BIRTHDAY PARTY!
On Michael's Birthday on the 29th August 2013, there is a collaboration between Michaelizer Radio, Michael's Dream Foundation, MJ Fans For Charity, MJ Fan Tributes and MJ-Upbeat, for a unique MJ themed party event, the 100% FAN MADE, MICHAEL JACKSON GLOBAL BIRTHDAY PARTY (MJGBP). MJGBP will enable fans from around the World to drop in and watch, listen and even participate in the LIVE video for an online global celebration of the birth of Michael Jackson!
A GLOBAL EVENT IN EVERY WAY
The party will last for approximately 48 hours from 12noon GMT on August 28, 2013 (the first location to start the 29th August) until August 30, 2013 at 12noon GMT (t.he final location to see out the 29th August.)
FAN PARTICIPATION
Every fan can join in with the free birthday party, simply by listening to the MJ music playing throughout the party (Courtesy of Michaelizer Radio), or by watching the live video feed from various fans and events around the World. That's right… fans will also get the opportunity to join in with the LIVE GLOBAL PARTY VIDEO FEED! All you will need is a webcam and internet connection. Fans will be able to join in at various times of the party and as many as possible will be selected to appear in the main video feed, which will be streamed around the World!
HOST A GLOBAL MJ PARTY OF YOUR OWN
Every year fans already get together in various countries to hold MJ parties of their own, but now they will be able to connect to millions of other fans at the same time. If their party has a webcam, all they need to do is participate with the live video feed and they could be shown at various times throughout the party! So why not get your fellow MJ fan friends round to your place and hold a mini (or massive!) MJ party with your friends, then make it global, by sharing your webcam with MJGBP!
The party will be great for those fans that are also unable to make it to a birthday event this year. They will no longer be detached from the fan base. All they will need to do is visit the website, at any point on the 29th August and join in the fun!
The party will be free to all fans that want to watch and participate and we hope this leads to an awesome yearly MJ Global Birthday Party event, to celebrate the life and music of our awesome… Michael Jackson!
Head over to the website, to pre-register your attendance.
LETS PARTY!
Source: Michaelizer Radio, Michael's Dream Foundation, MJ Fans For Charity, MJ Fan Tributes, MJ-Upbeat & MJWN
Share this article
Leave a comment