Bowlegged Lou Visits 'Thriller Live'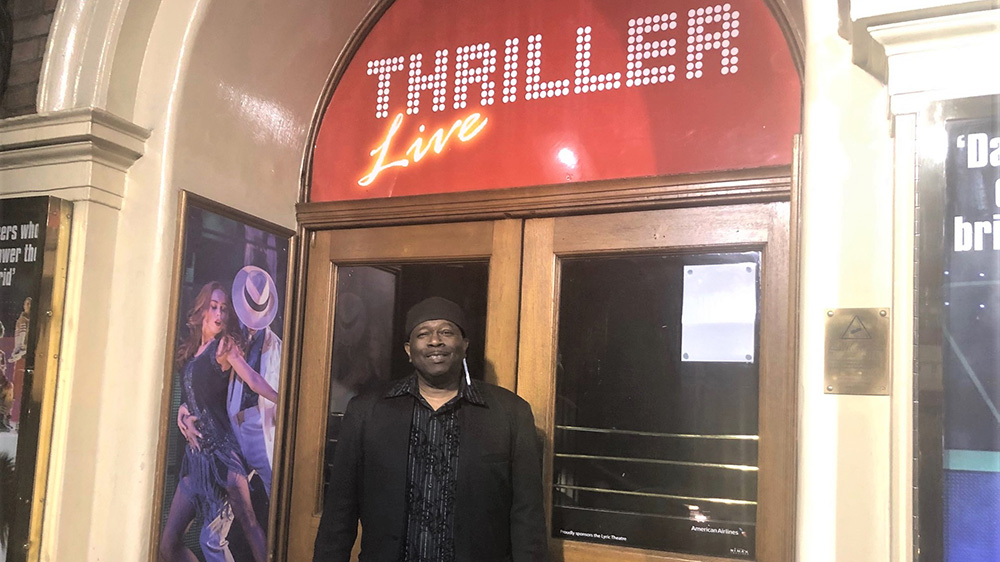 During his stay in London at the end of June, Lou George Jr. better known as Bowlegged Lou from the R&B/Hip-Hop legendary performing group and production team Full Force, visits the West End hit musical 'Thriller Live'. The co-star of the 90's smash movie House Party who played the character of Pee-Wee, one of the three House Party bullies celebrated his birthday and the 10th Anniversary of 'Thriller Live' this year paying homage to Michael at the Lyric Theatre.
In addition to his own success with Full Force, Lou in conjunction with the other Five Full Force members has also written and produced some major hit songs for other big music names including; Rihanna, The Backstreet Boys, NSYNC, The Black Eyed Peas, Britney Spears and even James Brown.
Lou enjoyed the show and was humbled by the reception and adoration he received when he visited some of the crew members backstage. Here he would like to share his 'Thriller Live' experience with Michael's fans.
"I had the honor and pleasure of attending 'Thriller Live' in London's West End – The fantastic musical tribute to the iconic late great Michael Jackson. I was also honored to meet the creator and mastermind of the production, Adrian Grant. My dear friend from Australia, Paula Katsikas, made that introduction happen. Both of them are long time Michael Jackson supporters. The 'Thriller Live' musical was incredible from start to finish. The production was a chronicle music life story from the Michael Jackson tune-vault from his beginnings as the eight or nine-year-old lead singer of The Jackson 5 till his record-breaking solo artist accomplishments. The entire cast of talented singers, musicians, dancers and actors captivated and communicated with the audience in some great audience responsive participation. Each of the vocalists were gifted and fantastic as they each had a nuance and thread of true Michael Jackson vocal texture and synergy. They even had one female vocalist by the name of Vivienne Ekwulugo that was awesome with Michael Jackson-ism in her voice as well. The musicians aka the 'Thriller Live' band led by the musical supervisor John Maher, were phenomenal. The way they played with such precision and timing with integrated arrangement and Funk Pop R&B and Dance all combined was a non-stop music cascade dizzying experience to say the least. The audience were up on their feet many times during the whole presentation and the choreography of the dancers was fresh and filled with versatile street and classy energy which was the epitome of Michael Jackson himself.
A personal highlight for me was meeting Adrian Grant and conversing with him while picking his brain and asking him questions regarding Michael Jackson, who of course was a friend of Adrian and gave him his blessings for the 'Thriller Live' show concept after he had seen a tribute produced by Adrian with his own eyes on an Annual MJ Day before he passed.
Another highlight was going backstage and meeting the musicians and performers as well. I met two of the lead performers of 'Thriller Live' by the names of Joey James and John Moabi who were just as thrilled to meet me as I was to meet them. They knew who I was and who my group Full Force was and they were equally excited to take pictures with me as I was with them. I remember Joey telling me 'House Party' is one of his favorite movies ever and I felt humbled and appreciative of both Joey's and John's respect and how they both knew the Full Force history when they were probably just little kids when Full Force and the movie House Party came out. Their adoration and the way they reacted to me when they met me, bowing down and saying it was an honour and that I was a legend, when I had come to see them pay tribute to the greatest entertainer and biggest legend of them all and someone I looked up to growing up, moved me. I applaud them for the magnificent job they did on that stage!
The show includes some of my favourite all-time Michael Jackson joints such as 'Thriller' of course, 'Beat It', 'Billie Jean', 'Off The Wall', 'Blame It On The Boogie', 'I'll Be There', 'Shake Your Body Down To The Ground', 'Black Or White' and so much more.
'Thriller Live' is a must see production!"
– Bowlegged Lou/Full Force
View a short video of Bowlegged Lou at the Lyric Theatre here:
Source: Bowlegged Lou & Paula Katsikas for MJWN
Leave a comment