Michael Jackson Video Party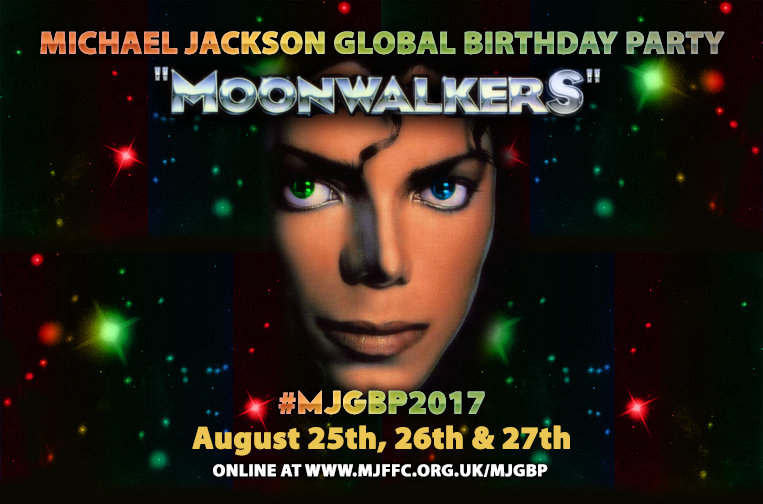 Here is a Press Release and details for #MJGBP2017 from Steven at mjffc.org.uk for their free video Birthday in honour of Michael on August 25th, 26th & 27th.
HEADLINE: Free Live Fan Video Birthday Party On The 25th, 26th & 27th of August 2017!
CALLING ALL 'MOONWALKERS'… it's #MJGBP2017 time! Yes the time has come for another Michael Jackson Global Birthday Party, this time celebrating Michael's 59th Birthday!
WHAT IS IT?
#MJGBP2017 is a free live online video, chatroom and music party held every year by fans, for fans, by fans. It unites us from all over the World and from all different backgrounds as we celebrate our shared love for the King of Pop, Michael Jackson. The party is also designed especially for those fans over the World that feel alone as an MJ fan, or are not able to attend MJ celebration events in person for any reason. This party is your chance to connect to other like minded Michael Jackson family community members, in digital form!
WHAT IS THIS YEARS THEME?
The theme this year is "MOONWALKERS"! and this year for the first time, we will also be raising money for a children's charity.
WHEN IS IT?
This years party will run for 3 days on the weekend before Michael's birthday on the 25th, 26th and 27th August 2017. The local timezones for all countries are available on the website.
YOU ARE RAISING MONEY FOR CHARITY?
Yes, #MJGBP2017 has joined forces with MJ Fans For Charity (MJFFC.org.uk) to help raise even more money for a chosen children's charity in the monthly MJ tribute project – 'Michael Jackson Monthly Giving'. In this fan made MJ tribute project, 100% after PayPal fees is given to a different charity each month and the project has donated kind contributions from many MJ fans over the past 6 years to 70+ different charities.
HOW DO I ATTEND THE PARTY?
To attend the party just head over to the website on the 25th, 26th or 27th August 2017, where you will be able to hear the live music, participate in the live chatroom and watch the live video. In fact the chatroom and music is live right now, so why not head on over when you can and you will be able to connect with other MJ fans just like yourself.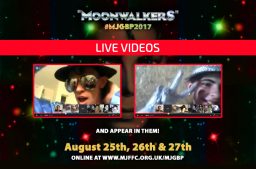 HOW DO I APPEAR IN THE LIVE VIDEOS?
To participate in the live videos, simply subscribe on the website at www.mjffc.org.uk/MJGBP, then await the links on how to connect to the live video! Dressing up, singing and dancing is optional, but we would love to raise as much money as possible for charity. If you are up for breaking some dance moves or having a little sing in return for donations from fans, then we could raise a serious lot of money for charity! There will be live grand total video updates over the 3 days!
To appear in the live videos all you need is:
1. To have subscribed free via our website at www.mjffc.org.uk/MJGBP
2. A free Google account
3. A smartphone, tablet or computer capable of running the "Google Hangouts" software/app by Google (you must also agree to the Google Hangouts terms of use).
4. An internet connection, microphone and a webcam/smartphone camera!
(Full details and support information are available on the website.)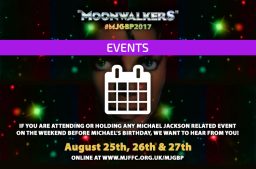 LIVE EVENTS
Normally we hold these parties on the 29th August, but to try and take advantage of fan availability and event attendances, we are holding it on the weekend before. So if you are attending an event, or organising one yourself, please contact us so that we can help you live video stream from your venue into the party videos.
If you have any questions we have a FAQ section on our website to assist you, and we are also available on Facebook, Twitter, Instagram and email so please don't hesitate to get in touch.
We can't wait to meet some more 'Moonwalkers'! :-)
LOVE
MJFFC and the #MJGBP Team!
Source: mjffc.org.uk & MJWN
Leave a comment