Judith Hill From 'This Is It' Speaks Of Michael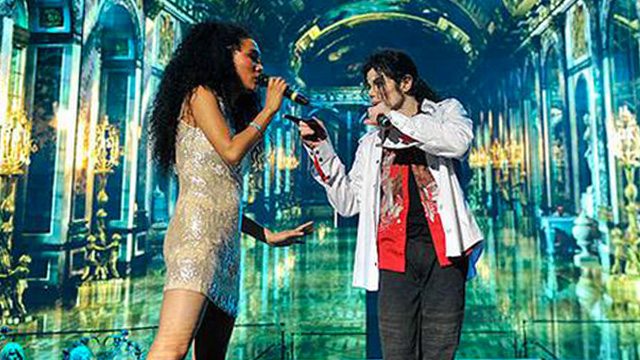 You may not have heard of Judith Hill, but you've almost certainly heard her voice. The Californian singer has provided backing vocals for Stevie Wonder, Elton John, Josh Groban, Carole King, Robbie Williams and Rod Stewart in her stellar career.
Most famously, she was due to be a featured singer on Michael Jackson's 'This Is It' tour in 2009, and can be seen performing a spine-tingling duet with the star in the posthumous film of the rehearsals.
Hill tells the BBC about their collaboration, her experiences as a backing singer, and the day that Michael Jackson died.
How did you land a job on Michael Jackson's 'This Is It' tour?
I did a small gig in Los Angeles and became friends with some musicians there. One of them knew Michael's musical director and he invited me to audition. I did a small audition at the vocal director's house and a couple weeks later I was hired. I remember them telling me, "Michael is on your Myspace page. Change the picture!" At the time, I was also hired to work at a clothing shop, so I quit that job and joined the 'This Is It' tour.
He was a master of stagecraft – what tips did he give you?
Michael was fascinating to watch. Working with him taught me the importance of seizing every moment on stage. He painted pictures with every lyric and movement in his body.
What do you remember of the day he died?
I was sitting at a restaurant when my phone started blowing up. There were rumours of his death but I didn't believe it. It wasn't until later that day when this nightmare became a reality as I arrived at the Staples Center for rehearsal. It was a very tragic day. They had already begun to collapse the stage and pack up the gear. Just the night before we were rehearsing…It was surreal.
What was it like to sing at the memorial service?
It was an overwhelming experience. I mean, that was the same stage we rehearsed with him (on) two weeks prior. But it was a beautiful service.
Listen to Judith and Michael rehearsing 'I Just Can't Stop Loving You' for 'This Is It' here:
Source: BBC News & MJWN
Leave a comment