'Travelling With A King' Book 1 Exclusive Offer!!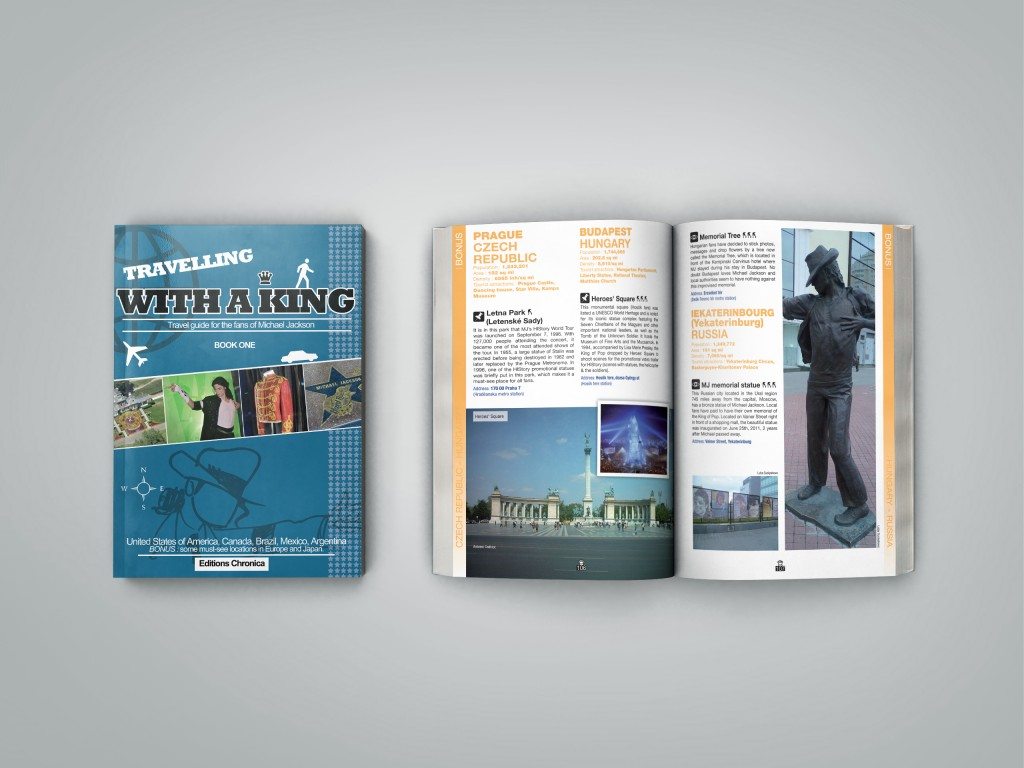 'TRAVELLING WITH A KING – BOOK 1' EXCLUSIVE PACK AND DISCOUNT FOR ALL  MJWN VISITORS AND MEMBERS.
Recently, Editions Chronica in Brussels, Belgium was pleased to announce the release of 'Travelling With A King – Book 1,' the first ever travel guide about Michael Jackson. The book is now available with an exclusive package and discount for all fans purchasing it from the Michael Jackson World Network (MJWN) site.
'Travelling With a King' contains nearly 200 places related to the late King of Pop.  From studios to houses, venues and statues,… fans will find everything they need to know for their travels, including historical and geographic details about each location. Thanks to this travel guide, you'll be able to moonwalk the world In Michael Jackson's footsteps and pay tribute to the biggest artist ever!
The "Book 1" of 'Travelling With A King' is the first instalment in a series of two travel books about Michael Jackson. Book 1 contains MJ places from :
United States of America (New York, Las Vegas, Los Angeles, Santa Ynez area, Gary, and many other places)
Canada
South and Central America (Brazil, Argentina, Mexico, Dominican Republic, The Bahamas)
And as a BONUS: selected locations in Europe and Asia
Book 2 (to be released later) will include all the other locations in Europe (United Kingdom, France, Italy, Germany, Spain, Switzerland, Belgium, The Netherlands…), Russia, Asia (China, Japan,…), Australia and Africa.
The two volumes will cover the whole world with more than 400 incredible MJ locations.
Readers can use 'Travelling With A King' while on the go, but also at home for the preparation of their journey or, simply, to read it as a "geographical biography" of Michael Jackson.
This book is a MUST for all Michael Jackson fans.
Released originally in French in March 2014, the travel guide (called "Sur les pas de Michael Jackson") already helped hundreds of fans to walk in the King of Pop's footsteps all around the world and was appreciated by French speaking fans and famous people including Siedah Garrett and The Jacksons.
Co-Author Christophe had this to say to MJWN about how the book came about:
"The idea of the book came about a few years ago after talking with Antoine. Both of us used to look for MJ things to see in any cities we were sightseeing. I remember looking for Michael Jackson related locations while travelling in Thailand or in Japan for example. So the idea was to produce our own Michael Jackson travel guide. It took about 2 years to collect all the information, verify them and finish the book. It was an incredible amount of work but with our passion for MJ, it seems everything was easy….."
You can order the book and receive your exclusive package and discount here:
Source: Editions Chronica and MJWN, with special thanks to Christophe and Antoine.
Leave a comment