Michael's Rio Statue Missing Sunglasses!!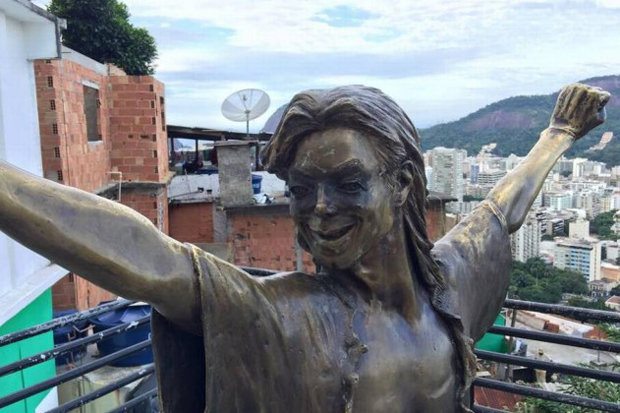 MICHAEL JACKSON'S STATUE IN RIO DE JANEIRO A VICTIM OF VANDALISM
It looks like vandalism of statues in Rio De Janeiro is becoming a trend.First with the statue of Carlos Drummond de Andrade at the Copacabana Beach with at least 10 episodes, and now with Michael Jackson's statue that had its glasses stolen. Photos posted on Tuesday 21st of April on Facebook by Thiago Firmino, resident and tour guide of Santa Marta, in Botafogo, which is in Rio's South Zone, show Michael's image without the prop.
The iconic bronze statue made by Ique cartoonist is captured in metal with outstretched arms on a plinth on a veranda in the Santa Marta slum overlooking the rest of Rio de Janeiro, Brazil. So serious was the disappearance of the glasses that officers from the favela's resident UPP – the Pacifying Police Unit – swept the community's shanty huts looking for the lost accessory but without success. Tourist guide Thiago Firmino noticed
the sunglasses had been wrenched off the Michael Jackson statue yesterday as he led visitors around the area.
He told O Globo newspaper:
"I was walking with a group and when we got there to take pictures, Michael Jackson's glasses were gone." He added, "Everyone knows that image, all tourists want to visit the statue. It is a community asset that was vandalized."
The statue was unveiled in 2010, one year after the King of Pop's death at the age of 50. Michael's 1996 short film for his song 'They Don't Care About Us' was shot in Rio de Janeiro. It starred people from Santa Marta and brought the favela international fame. The gazebo where Michael recorded part of his famous short film is one of the community's main sights.
According to Tuesday's report of the theft by Thiago Firmino, he stated in an interview that another resident may know where the missing glasses might be. The glasses which were broken, were delivered later by Thiago to the Pacifying Police Unit (UPP). According to the Head of the Unit, the glasses were taken back to Thiago by a resident who declined to be identified.
Firmino also said that residents were upset about the disappearance of the object. "Several residents are upset with what happened and today I just made some enquiries and looked in some places and finally found the glasses. An absurd act that I hope doesn't happen again," he told O Globo newspaper.
Source: O Globo newspaper & MJWN, with special thanks to Richie Mike
Leave a comment