10 Interesting MJ Statues You Won't Believe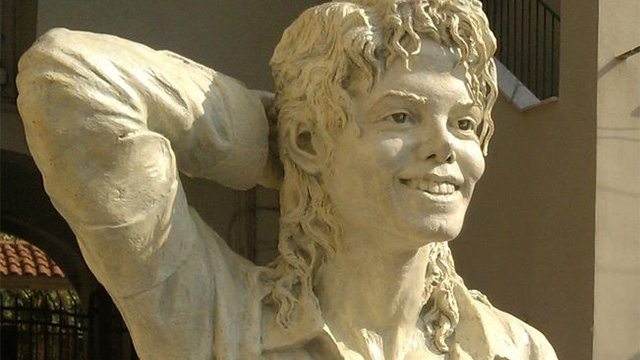 The King of Pop was born in Gary, Indiana and grew up alongside his nine siblings. Under the tutelage and hard guidance of his father, he would become an international sensation forging a 45-year career. His 1982 album 'Thriller' is the best-selling album of all time, and the video featuring Michael as a hip-shaking zombie and fluffy werewolf revolutionized music videos.
Michael's behaviours, song lyrics and his ever-changing appearance were the cause of many controversies throughout his life. Beginning in the mid-1990s, his life would be overshadowed by allegations of child molestation. He settled out of court on one accusation and was brought up on separate charges in 2005. He was acquitted in all cases.
No matter what one believes about Michael's personal life, the sheer fact remains that he was one of the most popular performers the world has ever seen. A consummate showman, he is adored worldwide and has been the inspiration for many statues across the globe. These ten are the most interesting, strange and funny. Rock on Michael!
10. BRAZILIAN FAVELA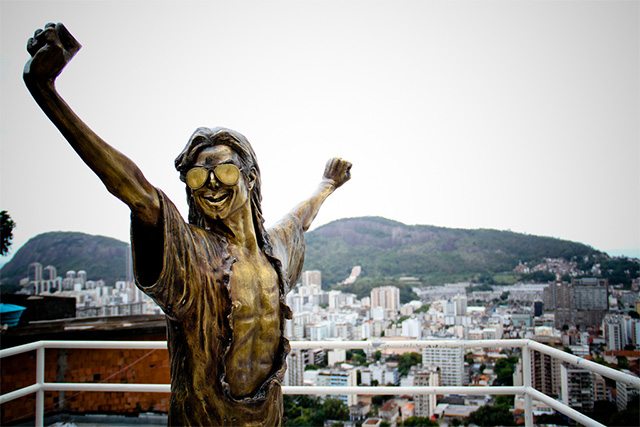 Michael filmed his first 'They Don't Care About Us' video in the Santa Marta favela of Rio de Janeiro and in the city of Salvador. A protest song, it drew the attention of Spike Lee, who ultimately directed two videos for the song. Brazilians officials were concerned about the pop star filming in a favela, because they believed it would portray a bad image in the media, but ultimately the King of Pop won and the video was a success.
The video featured local musicians and residents, and brought to light the issues that exist in favelas. The event was memorialized in a bronze statue of the singer that rises high over the shantytown, alongside a rainbow coloured mosaic of Michael's face on what appears to be a postage stamp. Arms outstretched, the statue may not resemble Michael, but it keeps the visitors coming.
9. FOOTBALL MUSEUM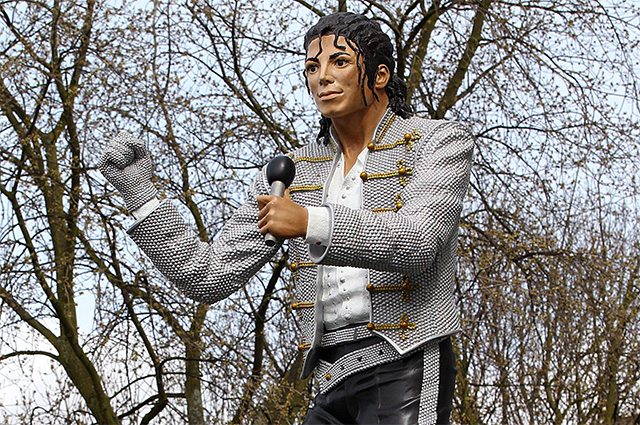 This waxy looking statue of MJ was commissioned by business magnate Mohamed Al-Fayed and unveiled outside of Craven Cottage on the grounds of Fulham Football Club, where Al-Fayed was chairman in 2011. Apparently a huge fan and friend of Michael, Al-Fayed was the brunt of criticism when the statue was placed on display, mainly because it looked stiff and constipated.
Art critics called it ugly kitsch, but Al-Fayed retaliated by saying "If some stupid fans don't understand and appreciate such a gift, they can go to hell." Fulham's record improved, however, after placement of the statue. When new Fulham chairman Sahid Khan took office, he had the statue removed. It was placed at the National Football Museum in Manchester in May 2014 and Fulham's record took a plunge. Maybe Al-Fayed was onto something!
8. JACKSON AS ABE LINCOLN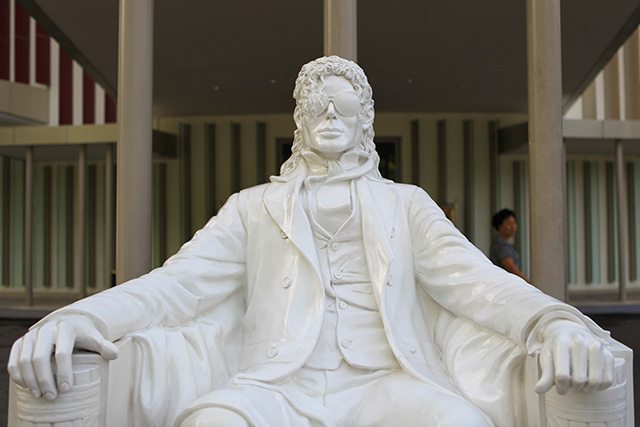 There are Hard Rock Hotels everywhere and yes, they've been more successful than Planet Hollywood. I bet that takes you back. Still, no Hard Rock Hotel is as awesome as the one in Penang, Malaysia that features a white-washed Michael Jackson-cum-Abraham Lincoln welcoming all visitors. Its similarity to the Lincoln Monument aside, the sculpture is actually decent. It captured his facial features pretty well.
It was created by SCULPTUREATWORK in Kuala Lumpur and guests just love it. Though the café at the hotel is primarily themed around The Beatles, it does feature some other artists' memorabilia.
7. MADONNA AND CHILD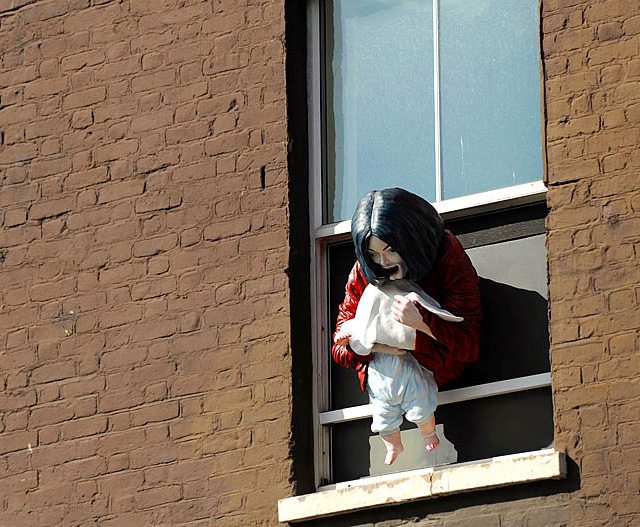 Los Angeles based artist Maria von Kohler installed her artwork at The Premises Studios in East London in 2011. Her work entitled Madonna and Child captures the moment when Michael showed off his 9-month old son Prince Michael II from a hotel balcony. While the singer later apologized for his lack of judgement, the event obviously stayed with von Kholer.
The artist didn't receive any payment for the project, but she did receive death threats. One fan even threatened to burn down the studio, while others claimed that it disgraced MJ. The statue wasn't a permanent fixture and was supposedly relocated to Los Angeles a few months later. Its whereabouts remain lost in the ether.
6. CHINESE SCULPTURE PARK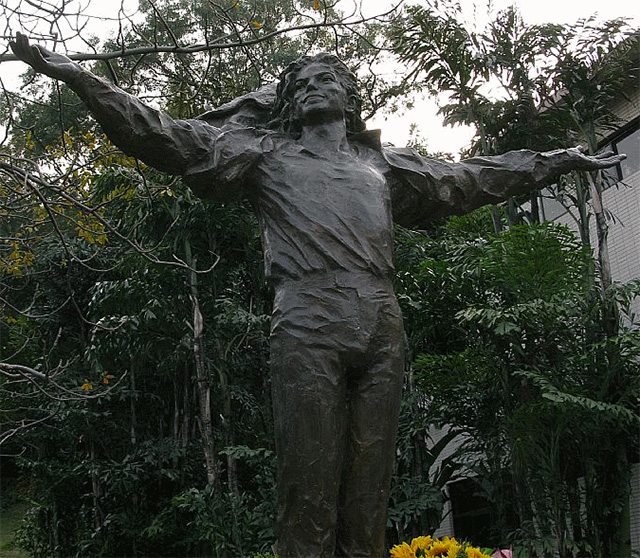 A bronze figure of Michael, arms outstretched with a smile on his face, is an oft-visited feature of the Guangzhou Sculpture Park in Guangzhou City, China. The singer/dancer extraordinaire visited a nearby town in the same province in 1987. After Michael's death, the people rallied together and raised the funds needed to build a statue.
The opening ceremony was also used as an opportunity to raise money for charity and spread Michael's message of love. The statue was sculpted by Zeng Kang Lu, who managed to uncannily capture the likeness of the entertainer. The Chinese and Hong Kong fan clubs later commissioned a copy of the statue and had it placed in the Overland Park Arboretum Botanical Garden in Kansas.
5. ITALIAN AMUSEMENT PARK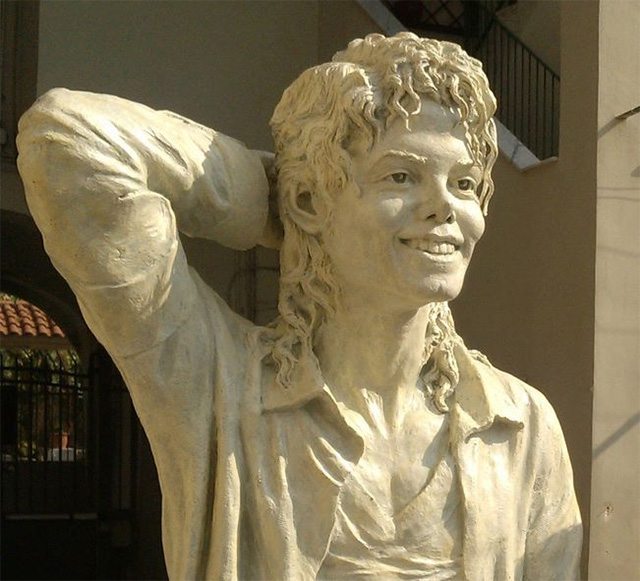 Michael Jackson was a child at heart, which often garnered him a lot of criticism and made him a great punch line. He loved childish things so much that he even had his own amusement park built at his estate, Neverland Ranch. Who can blame him?
So, it's appropriate that Magicland Theme Park in Valmontone, Rome should have a Michael Jackson statue. Michael wanted to build an amusement park in that province of Rome, which inspired the park to pay homage to him. The statue is an accessible, smiling Michael, casually scratching his head.
Maybe he's thinking about a new song. Maybe he's just trying to figure out which ride to try next. Whatever it is, this could start a rash of Michael statues popping up at amusement parks worldwide.
4. TUEN MUN TEMPLE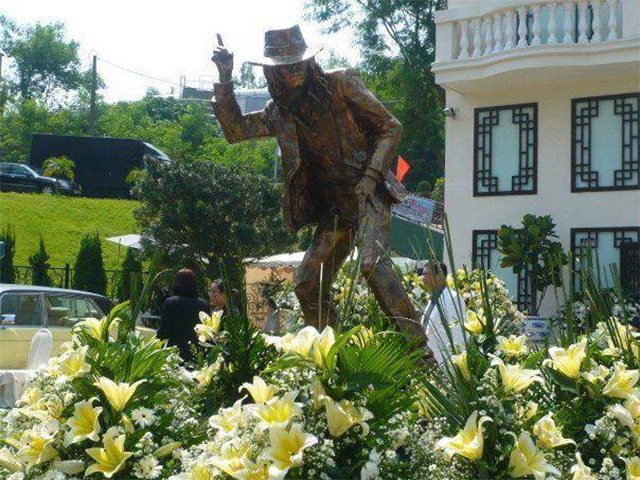 In 1987, The Gloved One visited TVB City in Hong Kong and met singer Alex To, who commissioned a sculpture after Michael's death. The copper statue was erected in Shan Yuan Temple in Tuen Mun, Hong Kong. The statue replicates Michael's Smooth Criminal attire and immortalises him in a mid-funky fresh dance move.
Musician Howard McCrary sang 'I'll Be There,' and you can watch the video of the ceremony here.
3. MCDONALD'S PARKING LOT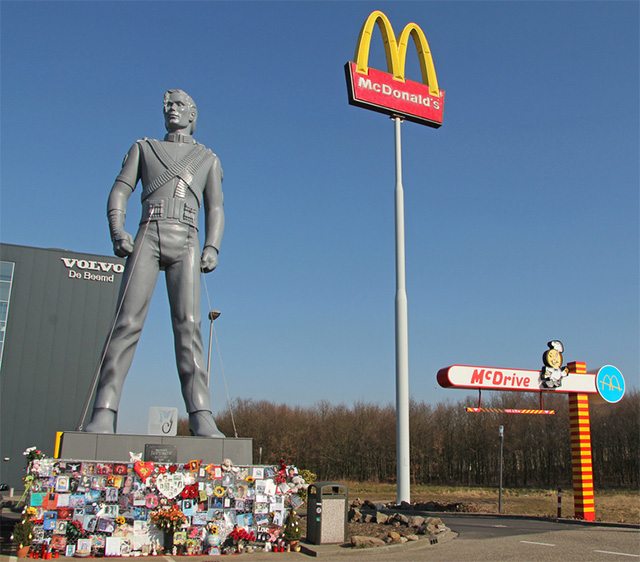 What's the best way to advertise a new album? With giant Colossus of Rhodes sized statues of…yourself. The most expensive music product promotion ever, Sony built 9 32-foot tall statues of Michael Jackson wearing bandoliers to advertise for the 'HIStory' album. The statues were placed in strategic locations in Europe in 1995, and one even took a barge trip down the River Thames.
Some statues were dismantled and others may be in storage at Sony, but this one has remained standing in a McDonalds' parking lot in Best, The Netherlands. There's something appropriate about a personality as gargantuan as Michael being next to a place as common as McDonalds. He was a worldwide phenomenon among people from all walks of life, kind of like the Royale with Cheese.
2. AUSTRIAN PARK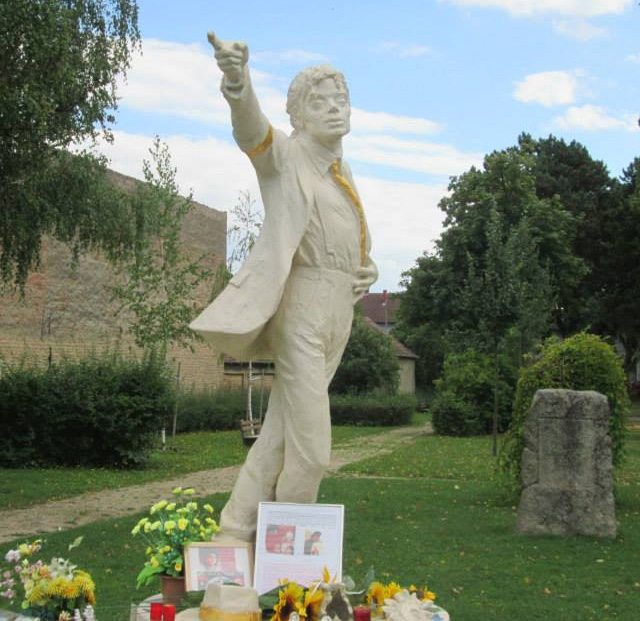 Another interesting statue of Michael is in Landesbahnpark in Mistelbach an der Zaya, Austria. The project was the brainchild of fan Martina Kainz and funded by donations. This statue, carved by Czech sculptor Daniel Kartakova, replaced a bronze bust of the superstar, which had a better face, but worse hair.
The new statue is another one of Michael frozen in time. He points, eyes slightly closed and hand across his stomach, he's whitewashed, again, but with a few golden accents, which make his tie look like butter. He's also wearing the 'Smooth Criminal' outfit, which seems to be a common theme among sculptures of Michael
1. MICHAEL AND BUBBLES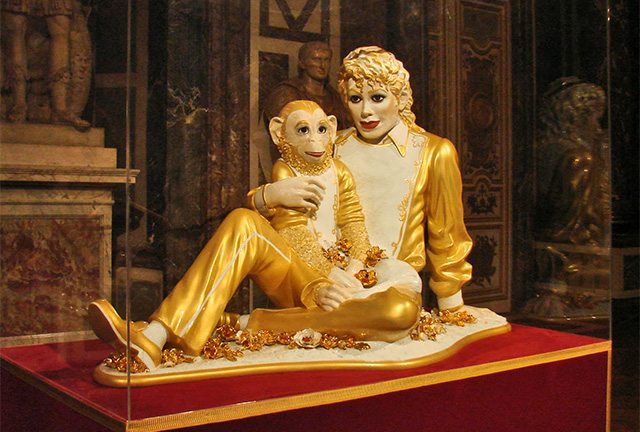 The strangest of all statues, by far, is Jeff Koons' rendition of Michael and his pet chimpanzee, Bubbles. Koons put a concerted effort into positively capturing Michael's visage in porcelain and gave him a transcendent quality that is lacking from many of the other depictions on this list. Also, he didn't skimp on the gold detailing, highlighting both Michael and Bubbles with his Midas touch. The use of gold alludes to mass-produced Christian iconography according to the artist.
Even though the sculpture is kitschy, the artist sought to capture Michael's larger than life persona and has stated that he appreciated Michael Jackson's "radicality." The work examines self-exploration and uses Bubbles as commentary on human nature.
Three of these iconic statues were produced. One was sold at auction and the other two are on display in Athens and San Francisco.
Source: What Culture & MJWN
Leave a comment