'Thriller Live' Sets Off Fireworks In Australia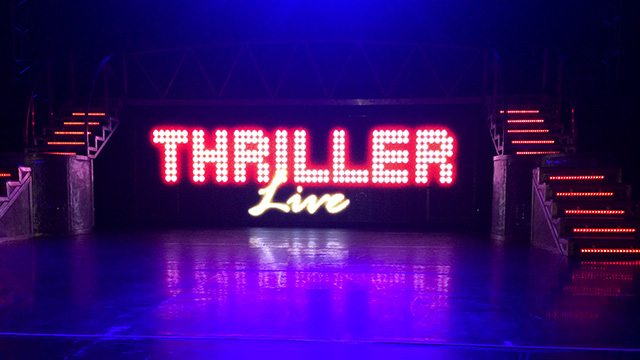 Paula Katsikas attended and interviewed some of the cast of 'Thriller Live,' which is currently touring Australia. Here is Paula's report:
'Thriller Live' the musical celebrating the memory and life of the genius that was Michael Jackson has hit Australia in a big way. I couldn't think of a better way to have spent New Years Eve in Adelaide!
Now, in it's record breaking sixth year at the West End's Lyric Theatre in London and having played in over twenty-eight different countries, this spectacular show created by Adrian Grant, which pays tribute to the career of the World's Greatest Entertainer is moonwalking through Australia and set off fireworks in Adelaide just hours before the New Year 2015. After having had the opportunity to attend the New Years Eve show, I now
understand why it has been running for so many years in the UK and can see it running for many more!
With an international and Australian cast of twenty very talented singers and dancers, the show was nothing short of brilliant! The words exciting, thrilling, energetic and riveting from start to finish come to mind. Michael could captivate all generations like no other artist and though he may not be here in person any more, he continues to do so in 'Thriller Live' with his music.
The audience ranged from ages of eight up to seventy years old and all were up on their feet dancing and constantly giving standing ovations as the cast took them on an unforgettable two hour journey into Michael's career with some of Michael's most famous and iconic songs. From the early Jackson 5 number one consecutive hits 'I Want You Back,' 'ABC,' 'The Love You Save,' and 'I'll Be There,' to the Jackson's Disco grooves of 'Blame It On The Boogie,' and 'Can You Feel It,' to Michael's timeless classics and newer songs including 'Rock With You,' 'Billie Jean,' 'Thriller,' 'Smooth Criminal,' 'Beat It,' 'Man In The Mirror' and 'Earth Song' to name just a few, the atmosphere was electrifying! The magic that was Michael, was transposed onto the stage by the wonderful cast through his song and spectacularly choreographed dance. Pure excitement flowed through the crowd at our Adelaide Festival Theatre.
Without anyone in particular trying to be Michael, his spirit has been captured beautifully in this production. It has been described by some of the cast members as; "Not just a musical, but the closest thing to a Michael Jackson concert." Combine some amazingly gifted musicians in a live band, which though not always visible to the audience rocked the whole arena, with some voices and dancers that mean business, you feel like you are right
there at a Michael Jackson concert.
It's a brave act trying to take on a Michael Jackson song vocally, but each voice hand picked for this show, blends in perfectly to Michael's songs. The lead vocalists are exceptional and certainly bring Michael's music to life! At certain times you may be mistaken to think that Michael himself is right there singing on that stage.
It's amazing where one vision can take you. In Adrian's own words; "Michael made me reach for the stars." I thank Adrian Grant for his vision as 'Thriller Live' wouldn't exist without him and wouldn't be here now in Australia. I thank the Australian Production team at The Ambassador Theatre Group Asia Pacific for their outstanding and respectful tribute to the undisputed King of Pop. An excellent production on all levels. In fact, one of, if not the best Michael Jackson tribute show that I have seen!
I would sum it with the statement, "If you are an MJ fan in any way, this is one show that you just don't want to miss out on!"
On behalf of Michael Jackson World Network (MJWN) I also had the amazing opportunity to speak to Australia's MiG Ayesa and Prinnie Stevens who are both lead vocalists in the show and both huge Michael Jackson fans, on a 'one on one' basis at a special media/press performance during the day. They were both kind enough to share a few words and answer some questions for the fans in an interview, MiG before the media performance and Prinnie after.
MiG Ayesa started his professional career in Australia playing Richie Valens in 'Buddy,' and was then chosen to join the London cast including a 'Royal Variety' performance for her Majesty Queen Elizabeth II. He has a list of impressive credits to his name including performances in other well known West End and Broadway shows, that include Galileo in 'We Will Rock You,' Angel in 'Rent,' 'Burn The Floor' and Stacee Jaxx in 'Rock of Ages.' In Australia he played Danny Zuko in 'Grease,' 'Dandini in 'Cinderella,' and Tony in 'West Side Story' to name just a few. He has also had roles in several TV series, shows, films and commercials. He has released a self titled album 'MiG' as well as his latest album called 'More Than Ever.'He is now thrilled to be back with 'Thriller Live.'
My full interview with MiG Ayesa is as below:
Paula: I'm here with MiG Ayesa from the musical 'Thriller Live' and let me tell you I am so excited! Hello MiG. I'm Paula and I am here today on behalf of the Michael Jackson Worldwide Network, or MJWN as we are better known, a worldwide long standing Michael Jackson fan club based in the UK, founded by Adrian Grant himself.
MiG: Well hello everyone out there in the Network!
Paula: I can't believe that 'Thriller Live' is here, that you're here. Australia has been waiting a long time for this show and we are thrilled to have you here.
MiG: We are so excited to be here in Australia. Me being Australian I couldn't wait for the show to come here and it's come at a really great time. First of all it's summer in Australia which is amazing personally for us, and also for Christmas it's great to see the family. As for the show, its version of the show now is the best version of the show we've had. So to come now we think is great as we've had all these years to get it right. I think people
will see that it actually works.
Paula: I mean I've heard nothing but rave reviews from everyone that has seen it already in London or in other parts of the world, but I think this one is going to be special too with just the little bits that I have seen.
MiG: Well we hope so. If you go from the audiences response alone it's been incredible and we're really happy. Very excited!
Paula: Now you've done Perth already here in Australia.
MiG: Yes, we've done Perth. We started in the UK. I joined the Company in the UK.
Paula: Are you an original cast member?
MiG: In a way you could say original member. I started with the show in 2007. We did a 'bus and truck' workshop tour of the UK to gage interest and then that was only for a couple of months. I went away for a while and then they opened the show in London in 2009. I joined the show again in 2012 for 6 months and haven't done the show since midway through 2012. I just joined for this last leg which was a couple of months ago when we did the UK, London, Perth and now Adelaide.
Paula: Okay, now who plays Michael in the show? I believe that you do in parts.
MiG: Well we all do in a way indirectly. Let me explain the premise of the show. There's no narrative, no one actually plays Michael, except for a guy called Sean Christopher who becomes we call him 'MJ,' as we are all careful not to say he's Michael Jackson, he's 'MJ.' At the end he becomes, you know you see him in all his 'Billie Jean' glory and 'Thriller' glory. That's the only time anyone becomes Michael per say and maybe a little in 'Dangerous' but I will leave that for a surprise. We have five singers and we all sing Michael Jackson songs, but as us, but of course you can't do Michael Jackson songs without having some kind of influence with his phrasing and his mannerisms. You can't help it but feel that sometimes you immerse yourself into Michael Jackson and he inhabits you. It's very strange.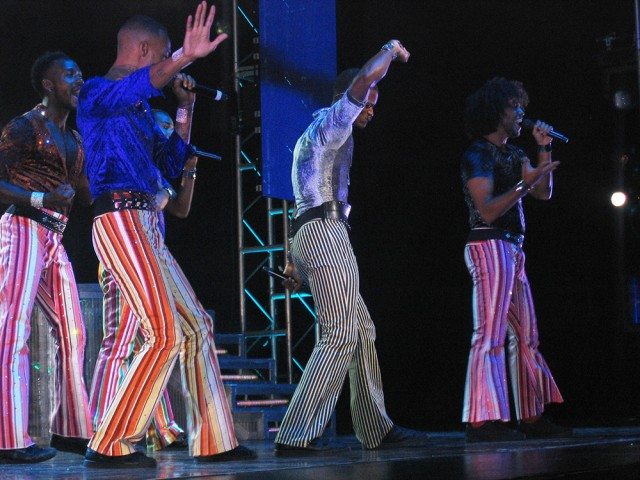 Paula: I love all tribute shows to Michael and am always thankful that they help keep the legend that was Michael and his legacy alive. I've seen 'The Immortal' and the 'ONE' show in Vegas several times and they are all special in their own right, but what makes 'Thriller Live' that extra special to me is the fact that it was approved by Michael while he was still here with us. Adrian Grant went to him with the idea and he loved it and the rest is HIStory and you are here now. How does that make you feel being in a tribute show approved by the Man himself, unlike a lot of the others that came about after he passed?
MiG: Well this is quite a different tribute show. I mean you see other shows and they are still using all of Michael's vocal tracks, they are using his music and dance to his tracks. In this show we are all singing live. Everything you hear on the stage is done by the 'Thriller Live' Company. Live Band, five live singers and we have possibly some other things on
backing track, but just like for example horn lines as we just can't possibly fit any more horns in the band section and things like that, but everything else is done live. It's a very special thing to hear Michael Jackson music played live, being live. It feels alive! We do have the blessings of the Michael Jackson Estate. Tito Jackson, Randy Jackson, Jermaine Jackson and Michael Jackson were all involved in okaying this show. In fact, Michael was going to come and see the show when he was rehearsing for 'This Is It.' He was actually in London rehearsing for his last concert, his comeback concert and he was coming to see the show, but he didn't make it. He passed away before, but he was very interested.
Paula: Yes, we do know that Michael loved the idea of the show from Adrian and I guess that's why the show is here today.
MiG: Adrian wouldn't do anything against Michael's wishes or anything that Michael would be ashamed of. So you know if we have Adrian's blessing, I'm sure we have Michael's as well.
Paula: I am sure Michael would be smiling down watching this show and watching you guys pay tribute to him and helping keep his name alive.
MiG: I hope so.
Paula: Is there a certain song or certain dance moves that you find the hardest to do? I mean you guys make it look so easy.
MiG: Oh Gosh! I've got to tell you that this is the most challenging job I've ever had. I find it all quite difficult. It sits in a register of voice that I've really had to try and find, and it took me a while to find it, so I'm finding I'm learning something new everyday and the dance is something I'm finding I'm also learning something new everyday. I think that what we have, we have also fifteen professional dancers who are absolutely phenomenal and they can dance anybody off the stage and I'm so glad that we have them on the stage. They really show you how it's done. That's not my job to do that. I'm just there to be the soundtrack for their moves. I think it works really well.
Paula: Do you have a favourite part in the show?
MiG: Yeh, for me I think my favourite part, funny enough I mean there's so many great bits of it, we go through Michael's life from the Jackson 5 right up to through to the end. There's one section that really hits home for me where we show Michael as a great philanthropist, a great environmentalist and one who's giving back to society, and we also pay homage to the fact that he's not with us any more. So it's that moment where we start with 'Man In The Mirror,' and with 'Earth Song,' that segment is my favourite bit.
Paula: Those songs were special to Michael as well, as they both carried his messages. Now earlier on you did mention that the audiences response to the show has been incredible. I want to go back to that and elaborate on that. Tell us a little more about what sort of reaction you have been having from the audience here in Australia so far.
MiG: It's been absolutely incredible! We didn't expect Australian audiences to react as fervently as they have. They've been incredible!! Like Perth with opening night, "like WOW! I think we're going to do well here!"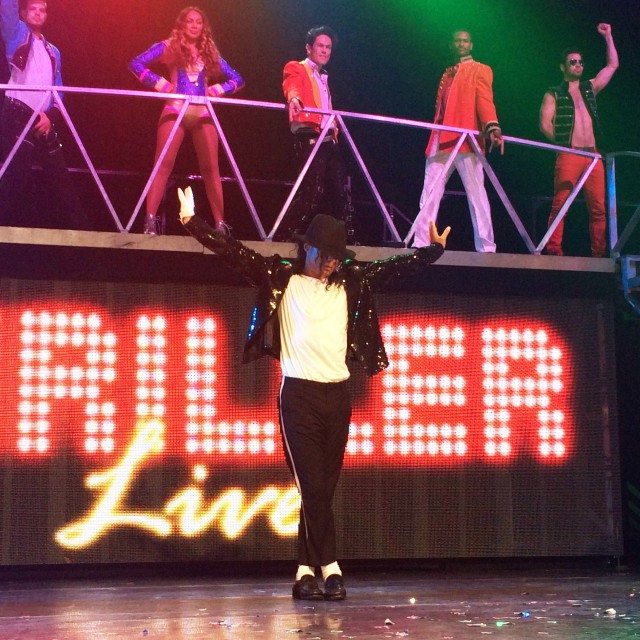 Paula: Like I know people tend to forget us here in Australia at times.
MiG: Well you know, again it's like Australians are very open, but sometimes in a theatre situation they're a little bit quiet.
Paula: And reserved?
MiG: Quiet and reserved. "Don't want to show too much of myself." But without much prompting people were up on their feet dancing and it becomes a party. We want this show to be a party, a celebration, a great time! We want people to walk out of this theatre feeling rejuvenated, they want to feel inspired! I want them to feel like they've been to a celebration!
Paula: Which leads me to my last question that you have just already kind of answered. What message would you like to give to Michael Jackson fans and what would you like them to take away with them from this show?
MiG: I would like them to take away the fact, to try to encourage people to keep on, to keep his legacy going, because his love is there, because his music is timeless, it's fantastic stuff! I dare anybody to be on their feet still when the show finishes!
Paula: Oh I guarantee that they will be! MiG it's been a real pleasure and a real delight talking to you. Now I know that you have a performance to go and do now, so I thank you so much for sharing some of your valuable time with me and with Michael's fans. I can't wait to see the full show tonight and I wish you all the best with the rest of the tour here in Australia and New Zealand, and wherever else it may take you. Enjoy your stay home and a very Happy New Year from me and from MJWN!
MiG: Thank you Paula.
MiG also had a personal message to give to MJWN in this video:
Prinnie Stevens, one of Australia's most sought after performers, an incredible singer, songwriter, dancer and presenter made her début in the Australian première of the musical 'Rent.' Since then she has performed in several other musical theatre shows that led her to a move to New York where she was the front for an all-girl group for Sony Music. She has worked with Dallas Austin, Lashawn Daniels and the legendary Rodney Jerkins and performed alongside Patti LaBelle, Chaka Khan, Mary J Blige and John Legend. Called back to Australia, she auditioned for the TV programme 'The Voice' and made the top four in 'Team Joel.' An album with Jimmy Barnes daughter, Mahalia Barnes and several other TV appearances as well as a solo single and solo EP later, she is excited to be making a return to musical theatre in 'Thriller Live.'
This is what Prinnie Stevens had to say during my interview:
Paula: Hi Prinnie, I'm Paula from the Michael Jackson World Network or MJWN as we are known. Thank you so much for taking time to have a talk to us today. I know that you have a show to get ready for soon, so it's greatly appreciated.
Prinnie: Hello and no worries! It's a pleasure having you here.
Paula: I believe that you started off in the Australian Musical 'Rent.'
Prinnie: Yes
Paula: You also did an amazing job on 'The Voice' and and have also recorded and album with Mahalia Barnes, Jimmy Barnes daughter. Wow and now you are here in 'Thriller Live.' Can you tell us how that came about?
Prinnie: 'Thriller Live,' well I actually was approached maybe five or six years ago when it was first put together, to do the show, but unfortunately there were other things going on that we couldn't make it happen. Finally, here I am doing the Michael Jackson musical. I was flown over to England, to London to learn the show from the original Producers. I met the writer Adrian, choreographers and all the guys, and I mentored from the team in London that opened on the West End and then came back here. So I'm one of the only newbies. All the rest of them have done it for years actually.
Paula: Well with what I just saw in the media performance you look like you have done it for years too. You were amazing!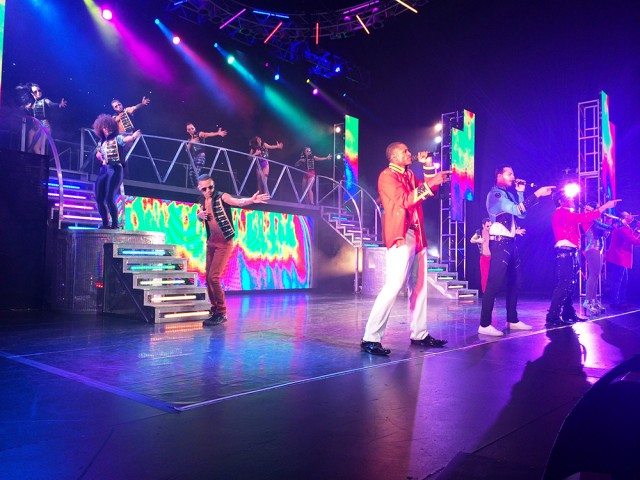 Prinnie: Oh it's Michael Jackson! I learnt the show like in a week, and I think, you know, I know every song and every word to every song. Like there was one song that I didn't know that well which was one of the Jackson 5 songs, but besides from that, I'm a huge fan, that it was so easy to just, I mean it was more about learning the dancing than the singing.
Paula: So you have always been a fan?
Prinnie: Always! I'm a singer, dancer and always have been as you would have seen on 'The Voice,' and Michael was the ultimate singer and dancer. You know there wasn't many like him, besides from maybe his sister or a few others, but he was , well they don't call him 'The King Of Pop' for nothing.
Paula: No, that's right! I asked MiG this earlier when I had a bit of a chat to him but also wanted to know how you felt about it too. With this show, what makes it different to other tribute shows is that it was actually approved by Michael himself.
Prinnie: That's right.
Paula: Now I've seen other great tribute shows to him and I love them all, but they came about after Michael passed away, but this show, it opened while Michael was still here.
Prinnie: Yeh, and that's what I love most about the show. It was created before he passed and it was created innocently, just purely for the love of Michael and like you said, the writer Adrian, he was like you, he was there as a fan.
Paula: Well he actually was the founder of MJWN.
Prinnie: Wow! I was actually lucky enough to meet Adrian while I was in London and like you said, he met Michael and spent time with Michael and he approved the show. I know that he was at workshops and I know that the family have been to the shows. Even though Michael passed away before being able to see it, but like you say, with having his stamp of approval it gives the show a special…it's very, very special!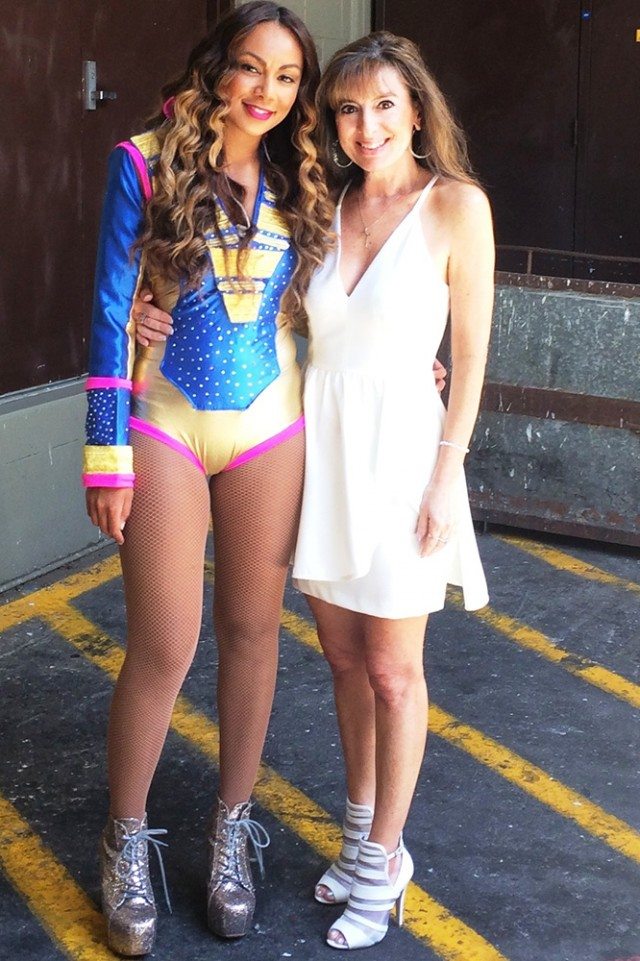 Paula: What about your favourite part of the show?
Prinnie: Do you know what, every night there's something different, everyday I have a different favourite part, but 'The Way You Make Me Feel,' is really an amazing moment for the lead female. I'm lucky enough to share the lead role with a girl called Samantha Johnson who has played all over the world. She's an American girl from Massachusetts in America and she's amazing! She's been doing it a lot longer than me, for about six years she's been doing it. So people will be lucky enough to see her and myself do the show. We're both very different, but it's awesome! It's amazing! To be able to sing Michael Jackson every night is pretty cool!
Paula: Now I had better let you go and relax and then get ready for the show, but before you go, is there any words you would like to say to Michael Jackson's fans?
Prinnie: No worries! "Hi guys! It's Prinnie Stevens. A huge 'Shout Out' to all the big MJ fans out there. Come along see the show! We guarantee you're going to LOVE IT! We're all huge fans on stage just trying to pay tribute to one of the… to an amazing man we all know and love called Michael Jackson. So look forward to seeing you!"
Paula: Prinnie thank you again from me and the Michael Jackson World
Network.
Prinnie: Thank You.
Tickets for the Australian and New Zealand shows are available here.
Source: Paula Katsikas & MJWN with special thanks to Adrian Grant, MiG
Ayesa, Prinnie Stevens and The Ambassador Theatre Group Asia Pacific Pty
Ltd.'
Leave a comment