Travelling With A King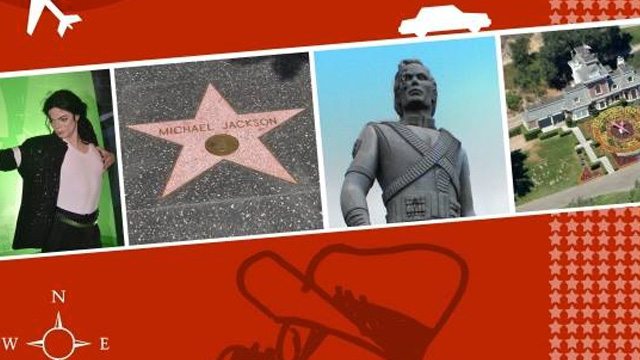 We would like to introduce you to the first travel guide about Michael Jackson!
This first ever travel guide, 'Travelling With A King' (A5 book format) is totally dedicated to Michael Jackson. This fully coloured and glossy papered book (written in french!) contains more than 500 places linked to the King of Pop, from studios to houses, venues and statues, you'll find everything you need to know.
The authors Christophe Charlot and Antoine Cadinot are two dedicated and loyal Michael Jackson fans.
Belgian fan, Christophe Charlot has been a fan of Michael's since 1992. He created a Belgian fan club in 1993, that was renamed 'MJBackstage' in 1999. The fan club is still running and as a result of its success, a magazine is printed 4 times a year. It is the last and only Michael Jackson Magazine in French. Christophe loves to travel. In 2007, he was invited by Jackie Jackson himself to visit Hayvenhurst in California, an all-time dream. Chris lives in Bruxelles and works as a journalist.
His writing partner, French fan Antoine Cadinot, has been Michael's fan since 1990. This backpacker fell in love with the King of Pop's moves and songs at a very young age. He started working for 'MJBackstage' in 2010, for which he wrote a geography review. That's also how this travel guide started. Antoine lives in Amiens and works as a project engineer in Paris.
This Michael Jackson travel guide is supported by MJBackstage, MJFrance, and La radio Michaelizer.
The guide promises to take you to every corner of the world, starting with the United States of America and all the way to Japan. The writers say to not worry as they'll make stops in other places of the planet such as France, Belgium, Brazil, Spain, The Netherlands, Germany to mention just a few.
Dozens of countries are included in this book. 'Sur les pas de Michael Jackson' will guide you all over the world, check it out, as your country might be part of the list! The book is only in french at the moment, but they're working on the English version – watch out for its publication!!
To read an extract from this high quality book, and enjoy some wonderful photographs please visit here.
Christophe and Antoine Cadinot have produced their own website and one section says that if,
"You own a restaurant or a hotel, a travel agency or a record store? You would like your place to be featured in the book? We offer you the chance to be part of the 'In Michael Jackson's footsteps' book by clicking the link below. Write us."
There is a contact form for you to submit your suggestions here.
In addition, if you own a Michael Jackson website or a blog and would like to promote the release of this book, the writers will give you the opportunity to feature your logo or link in the book and on their website, by writing to them.
You can be the first to receive the french edition of the book by ordering it now! The sale of this limited edition costs 31€ in Europe. To order you need to scroll down to the bottom of the page and there is also a contact email address. 
To be kept informed about the english release of 'Travelling With A King' why not subscribe on the website here for their free newsletter!
To read more about this definitive guide please go here.
Source: surlespasdemichaeljackson, MJWN, with sincere thanks to Paula Katsikas
Leave a comment