'Untouchable' Review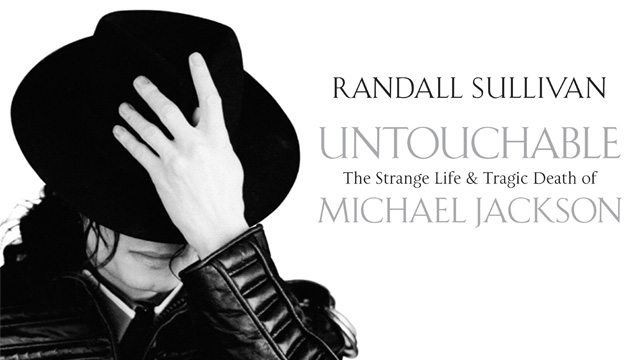 Kate Allen has sent us another review, this time on the controversial book, 'Untouchable: The Strange Life & Tragic Death of Michael Jackson,' by American journalist and author, Randall Sullivan. Here is Kate's review.
This, I know, is a book many fans find untouchable. And I thought so too…Until I actually picked it up and gave it a chance. Swayed by unfavourable online fan reviews, as well as the agenda-indicating title, I really hadn't considered adding 'Untouchable' to my book shelf. However, after hearing a glowing recommendation from broadcaster and journalist Danny Baker (author of 1981 NME article on The Jacksons – 'The Great Greenland Mystery') who praised this highly as the best Jackson book he has ever come across. With much doubt, I bought a copy…And it really did not take me long to reach the same conclusion as Baker.
A key factor about this eight hundred page book to me, that many fans seem adverse to, is that 'Untouchable' focuses on a particularly painful period of Jackson's life: the fallout from the 2005 trial. Author Randall Sullivan, a contributing editor to 'Rolling Stone' for over twenty years, takes on the daunting challenge of tracking Michael Jackson following his "not guilty" verdict. Sullivan's detailed investigations take us to Bahrain, London, Florida, Hamburg, Tokyo, Paris, Ireland, Las Vegas, Washington, New Jersey and Beverly Hills in quick succession and gives a startling sense of the nomad existence that became Michael Jackson's life from mid-2005 to March 2009 when he turned up in London to announce his 'This Is It' live shows. This wandering and reclusive period of Michael's life is a particular period that clearly fascinates the author and serves as one of the key topics that dominates this unconventionally structured biography.
And … thank goodness for Sullivan's ingenious organisation of information in 'Untouchable.' As I turned the first page to begin reading, I took in a deep breath, looked upwards and readied myself to digest the same history of impoverished Gary, Indiana and the musical family unit that lived at 2300 Jackson Street…However, Chapter One of 'Untouchable' drops us right into the eye of the storm with Michael landing at Bahrain International Airport in Manama, in the hope of leaving behind the emotional, physical and financial strains of court proceedings and attaining peace, seclusion and recuperation, all of which alluded him.
Sullivan describes the structure of this book himself as "a spyglass telescope" with sections that "fit over one another, and could be extended or retracted as needed." These sections consist of Michael's world travels in the search of a new home following the 2005 trial; the circumstances leading to Gavin Arvizo's accusations (which stretches as far back as 1993 to Jordan Chandler's allegations); the first thirty-five years of Michael's life filtered through these first two stretches of time; and finally the aftermath of Michael's sudden death in June 2009. As Sullivan explains, he felt that he was in fact writing four Michael Jackson biographies, but his narrative comes together quite seamlessly.
Since the majority of this book tells the story of a broken man, dogged by inept advisors and constant, convoluted lawsuits, it's clear why many fans find this biography difficult to accept. However, 'Untouchable' has really been written with people who already have an exhaustive knowledge of Jackson's rise and prosperous years in mind, and are now ready to learn about his twilight years. It's often not a pretty story.
Another area of concern for some readers will be Sullivan's interviewees and sources. As the author acknowledges, he dealt with a mass of "conflicting information" so, just as he had to select and edit his work, as readers we should also actively decide what we feel is pertinent here. Each chapter is accompanied by thorough notes and bibliographical information, should you wish to investigate further, which, yes, does sometimes include tabloid and anonymous sources.
Overall my experience of 'Untouchable' was that it was an engrossing read from start to finish (the finish being the point of Katherine Jackson preparing her case against AEG,) written in an inventive fashion that concurrently portrays the loneliness of Michael Jackson's life and the sharks that surrounded him, which forced him into a life and death he did not choose.
– Kate Allen
Leave a comment