Fans Celebrate Michael's Birthday In Italy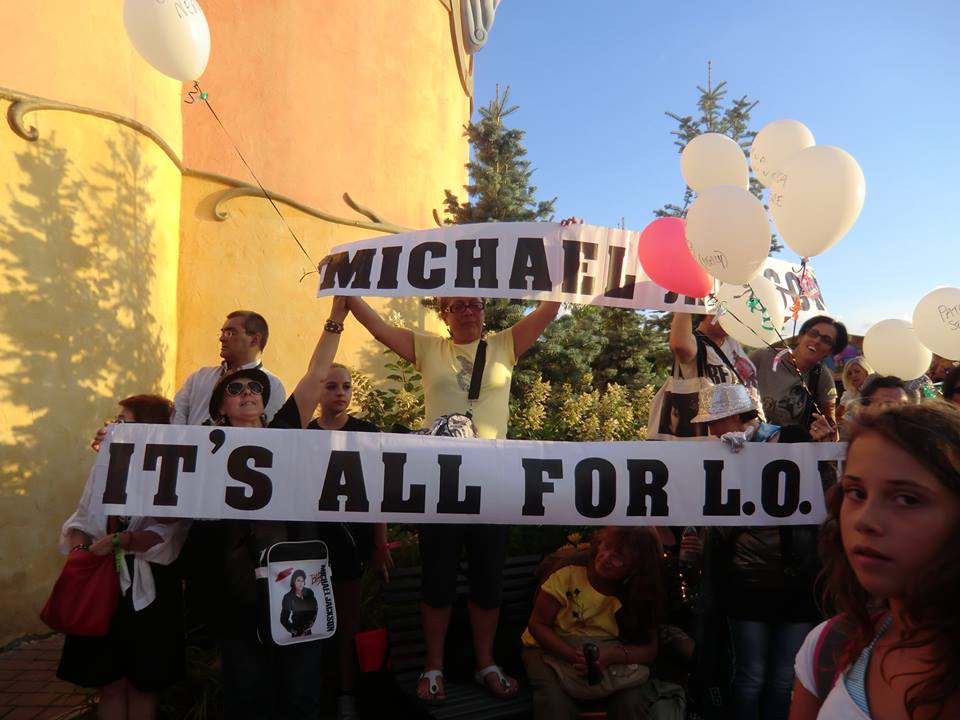 MICHAEL JACKSON DAY IN ITALY – 29th AUGUST 2013
On the 29th August 2013, fans from all over Italy, in collaboration with the Michael Jackson Associations, Forums and Fan Clubs of Italy, came together at the Rainbow Magicland Amusement Park in Italy, to honour Michael Jackson's 55th birthday and to celebrate his life.
Fans also took part in the inauguration of the first statue in Italy dedicated to Michael, designed and constructed by Luca Izzo and Jusana Hopas. It was a fun day dedicated to Michael that included Tribute Artists, music, parades, shows and various art exhibitions.
Carlo Moreno, a lifelong fan who attended the day's event, was kind enough to share with us a little of the day. Here is what he had to say:
"Rainbow Magicland is an amusement park located about 50 km outside of Rome. Rumours were that years ago Michael himself had this dream to create an amusement park here and planned to buy this piece of land through his company Kingdom Entertainment and his business partners, but the whole project failed and was discarded. It seemed right to hold Michael's 55th birthday here, at a place that he would have loved.
The event that was scheduled at the beginning of the year was totally sold out and attracted about 2,500 fans. Some had even purchased tickets as far back as January. Meeting all the fans was amazing! They came from every part of Italy, some having travelled all across the country to be here and had booked themselves into neighbouring hotels to attend the event. It was fantastic to notice that Michael Jackson fans ranged from the ages of ten to sixty, from all races and religions.
The gates opened at 10.00 am and it wasn't long before fans met and were already on the nearby dance floor and sweating in an attempt to duplicate Michael's famous dance moves. There was a special area designated for the children who were encouraged and cheered on by the adults to dance like Michael.
The morning show at the Pala Baleno Palace included several live tribute performances to Michael by some of Italy's talented artists.
The set list was as follows:
The Jackson Brothers with 'Jam',
The Unbreakables with 'Wanna Be Startin' Somethin'
Nunzia Marolda with 'Dirty Diana' Alessandro Russo
Angelo Pignatelli with a medley of 'Billie Jean,' 'Jam,' 'Dancing Machine,' 'The Drill' and 'Beat It'
Valerio Tosatti with 'Bad'
Roberta Corradini "Ass.Ne Stratos" with a medley of 'They Don't Care About Us' and 'Don't Stop 'Til You Get Enough'
Siska with 'Sacrifice'
Enrico Bonaldo with a medley of 'Jam,' 'Black Or White' and the Panther dance
Dancing For Michael with 'Remember The Time'
The Unbreakables with 'Dangerous'
Jacksology with a mega medley Nadia Mirelli with 'Earth Song'
Giorgio Jackson with a medley Spillenzia Band with 'Off The Wall,' 'Remember The Time' and 'You Rock My World'
The party atmosphere continued after the show as fans danced and mingled in the main meeting area. They were also given a surprise when told that Frank Cascio would be joining the celebrations in the afternoon.
The second show scheduled at 4.30 pm in the Main theatre the Gran Teatro, included:
The Dangerous tribute band with a medley
Michele Perniola with a medley of 'Wanna Be Startin' Somethin',' 'Beat It' and 'Billie Jean'
Stella with 'You Are Not Alone'
Anastasia with 'Hollywood Tonight'
Sofia Caselli with 'Childhood'
Emiliano Fiacchi with a medley of 'Bad', 'Beat It' and the Panther dance
Giorgia Fiore with 'I Want You Back'
Fame with 'We Are The World'
Dancing For Michael with 'Smooth Criminal' Angel with 'Will You Be There'
Michele Perniola with 'Man In The Mirror'
Shortly after the second show Frank Cascio finally appeared and walked on stage and greeted the fans. He recalled his childhood spent at Michael's and relayed how he came to realise that Michael was a Superstar when he was taken by his family to one of Michael's concerts. He asked his father; "Is this the same Michael that I see at home dad?" He did not understand who Michael Jackson was before, because to him, he was just his friend, Michael.
Frank then went on to stress how today everyone goes on TV claiming to be a Michael Jackson expert and passing judgement. "How can you speak of someone you never met?" he said.
After a standing ovation, he spent time signing autographs, greeting the fans, shaking hands and talking one on one with everyone, even posing for photos. He talked privately of his passion of football to me and asked if I was enjoying the event. At that moment Michael's kindness and how it affected those close to him came to mind.
Then came the highlight of the day, when Frank unveiled the Michael Jackson statue to a crowd of excited fans. At the base of the statue numerous stars had been etched with names of fans engraved in them as a tribute to their love for the King of Pop.
This was followed by hundreds of balloons released by fans into the sky that seemed to float to the Heavens towards Michael. The balloons were available for sale at the event and each balloon came with one of fifty-five famous quotes from Michael.   It was a stunning view as a sea of colour filled the sky above and a touching moment that left some fans in tears as they remembered and paid tribute to the man they call Michael Jackson.
As Michael himself would say; 'It's All For L.O.V.E.'. That's what the day was all about!"
Here's some footage of the Inauguration of Michael's Statue.
Some more footage from the day!
Here is another video of highlights from the day including tribute performances to Michael from the various artists!
Source: Paula Katsikas, Carlo Moreno & MJWN
Leave a comment