Hope, Love, Unity, 'ONE'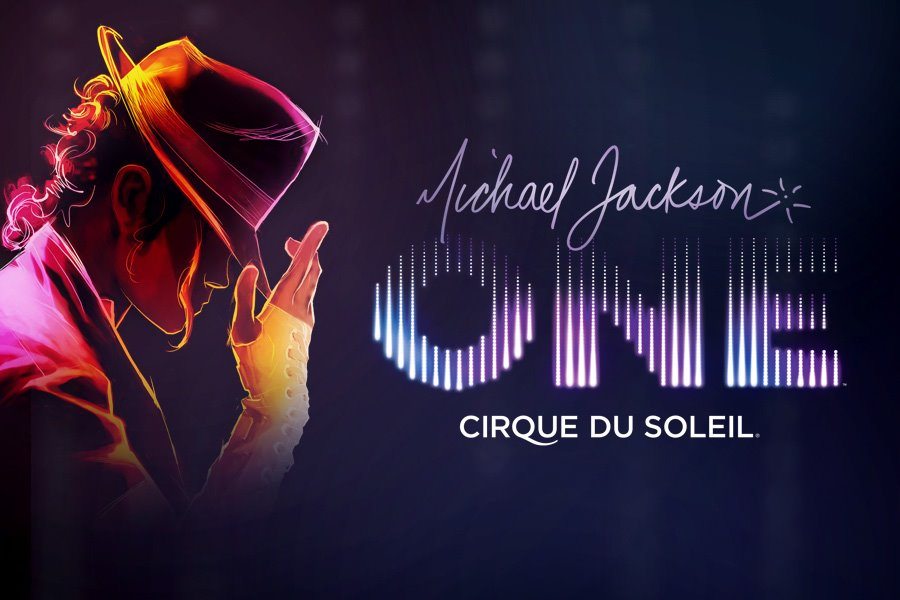 Entering Las Vegas via the southern tip of Las Vegas Boulevard, the first impressive building to greet us was the Mandalay Bay resort, stupendously displaying a single word across the top floors – Michael!
Mandalay Bay means business in landing Cirque Du Soleil's masterpiece 'Michael Jackson ONE,' as their keynote, resident show and their advertisement campaign reflects this. Taxis, carriages on the mini-monorail connecting Mandalay Bay, Luxor and Excalibur, and the latest edition of the 'MLife' Magazine all carry the significant, essential image of the show. Michael is impossible to miss in Vegas!
When you enter the Mandalay Bay resort, you are hit by the elegance of the casino and the prominent signage to the 'Michael Jackson ONE' theatre, where the 'ONE' Cirque show plays almost nightly. 'ONE' in the short time since its official premiere in June, has gained the critical recognition of fans, press and saged Vegas visitors alike, as THE show to see in Vegas!
They are not wrong! The show is not being over-hyped at all as the overall emotion I felt as I reluctantly left the theatre was "WOW!" Or as they would say in America "AWESOME!"
Okay, I could be accused by some, as having a biased view, being a seasoned fan and a member of the MJWN News team, but I can objectively state – 'Michael Jackson ONE' has the WOW factor!
During visits to Vegas in recent years I have seen many Cirque Du Soleil productions, two dedicated to the music of other famous musicians, and in my opinion 'ONE' excels in many ways, mainly due to Michael's music, Cirque's exciting interpretation of Michael's incredibly talented dancing and creativity, plus his message to the world, which are the underlying creative force separating this piece from its peers, resulting in the outstanding, dazzling show it is!
As you approach the' Michael Jackson ONE' theatre, there are long banners adorning the walls – images of Michael in 'Black Or White' pose, which is the significant emblem of the show! Others show performers from the cast.
On one side Michael artefacts are displayed, which are on loan from Michael's Estate, and I noticed most of the audience stopped to scrutenise and admire Michael's loafers and sparkling red jacket. Also here is the 'ONE' shop which sells a wide range of merchandise, from fedoras to t-shirts and trench coats to fridge magnets – there is something to suit most people's taste and pocket.
Along the wall is a panoramic series of photos of Michael performing his signature 'Billie Jean,' which are breath-taking in their size and importance. As I gazed at these iconic photographs I recalled the emotions I felt when Michael performed his famous 'Moonwalk,' during 'Billie Jean' on stage at Wembley and around the world, wowing audiences with his strength and dynamic moves! Michael was a special person with the ability to mesmerise an audience!
Many people took the opportunity to photograph themselves alongside these…. little did they know what was waiting for them once stepping through the theatre doors into Michael's world!
As you turn inwards towards the theatre doors there is yet another large dynamic photo of Michael pointing, plus I was able to glimpse the doors which are decorated with jacket fasteners – very Michael in design!
Once in the theatre foyer, the atmosphere changes to excitement, plus anticipation … here there is so much attention to detail before you even start experiencing the show itself – including all ushers dressed in Michael-style, gold-braided outfits including fedoras! I commented to one attendant;
"I bet you never thought you'd wear that uniform to work!" To which he replied; "I always knew I'd work for the man one day, I am honoured Mam!"
A strong feeling of respect and reverence for the main man, Michael, is very evident from all attendants, ushers, cast members and completes the vibes of the show itself.
After being greeted at the theatre doors, and given the red-carpet treatment you are instantly invaded by red-coated, black fedora wearing papparazzi, as you are caught up in Michael's world and the innovation of the 'ONE' show. This is how it feels to be famous! Papparazzi are everywhere, stopping audience members in their tracks – invading their 'Privacy!'
Stairs lead to the theatre, its walls etched with Michael's song titles and silhouette paintings of famous Michael poses! Every opportunity is tastefully taken to introduce the audience to Michael's realm and into the mood for the show of a lifetime!
The demographics of the audience were diverse from fans sporting fedoras to vacationers wearing shorts, enjoying the experience of a live Vegas show! Diverse in culture, origin and expectation – very much like the audience at one of Michael's tour shows!
Once inside the theatre, I settled in my well-positioned seat – central and towards the rear of the front section, which by the way aren't just the ordinary seats, as there are speakers that vibrate the entire music theme several decibels higher than it would normally play. Brilliant as a total fan of Michael's music!
As I gazed around the auditorium, absorbing our surroundings – it was difficult to take everything in as there is so much going on! On either side of the stage were structures, reminiscent of the 'Dangerous' album cover and tour stage, plus large video screens flashing ridiculous newspaper headlines before us, making ludicrous statements and using evocative vocabulary such a LIAR, however, superimposing pictures of the audience itself!! Fun!
You are immediately focussed on one element of the show – invasion of privacy, which everyone deserves in their private time, unlike the life Michael faced during his privileged life of superstardom and the sad downside of worldwide fame! Papparazzi continued to pop up spontaneously with their large cameras and flashlights, even as people innocently chatted, abruptly a pap's head would lean over their shoulders completely out of the blue – most people's reaction was laughter or total shock! The sound of rumbling incessantly beat in the background to the papparazzi antics.
Meanwhile there on the stage before us was a magnified, swirling, floating image of a fedora, a pair of sunglasses, a sparkling sequin encrusted glove, not forgetting the sparkling socks and loafers, around a single upturned stool, surrounded by spotlights….Michael's signature, iconic emblems!
A Neverland timepiece was projected onto the stage which housed these icons of Michael's career which symbolised an era! Meanwhile 'Privacy' reverberated around the theatre becoming increasingly intrusive.
Everyone's attention suddenly turned as out of the blue, a kafuffle started as four young people – the misfits – started to mingle with the audience, trying to sit in their seats and squeeze past, even climbing over seats, papparazzi immediately homed in on them as they ran towards the side of the stage, whence they disappeared into the 'Dangerous' world!
"Ladies and Gentlemen! No flash photography, cameras or recording devices to be used during the performance!" Cirque Du Soleil's 'ONE' began …
There is so much to this amazing fast-moving show that I don't wish to spoil it for anyone planning to book in the future, but I will highlight some segments, in no particular order. (To be honest it's all worth a mention, but the element of surprise adds to the show's effects! Don't wanna be a party-pooper!)
Where to start?
The guitarist aka Jennifer Batten (lookalike) takes the stage early in the production – Michael loved Jennifer on stage and her inclusion speaks multitudes of the understanding and thoughtfulness that has gone into this Cirque Du Soleil production.
In the opening sequence we are introduced to the evil elements of the world – a pack of journalists who have dog-shaped masks on. They flashed red neon words such as evil, hate, fear, greed, envy across their chests – they are there to prevent the four young misfits from finding Michael's hat, sunglasses, socks and loafers and glove which will give them special, magical powers to dispel evil forces. Anti-tabloid messages feature strongly in this musical, which reflects Michael's own experience.
'BAD,' 'Smooth Criminal,' 'Jam,' 'In the Closet,' they are all there – maybe not all in full but sound-bites and mixes! The costumes are Michael inspired with a twist – the colours are captivating – fedoras of all shades are well featured and of course the bling – very showbiz and very Michael! The choreography and dancing is exact and reflect the perfectionist Michael was himself.
This is best replicated in 'They Don't Care About Us' including the video planned for 'This Is It' and the very military, accurate choreography, performed with precision but as all fans understand Michael was enthralled by the military and uniforms. The sound of the drums resounding around the auditorium whilst the prison version of the 'TDCAU' short film was played, for me, was a ground-breaking moment for audiences around the world. The understanding behind the presentation of Michael's music is truly remarkable. I would hope that Michael would be more than satisfied with the efforts of all involved.
'Thriller' is just amazing as dancers appear from below ground, zombie aerialists appear from above and ghouls lumber up the aisles, surprising the audience as they shamble and lurch past. Zombies surround you from every direction! All are dancing and performing that stellar 'Thriller' dance sequence to the loud, thumping beat of 'Thriller!' The video screens show scenes from the new footage Michael created for 'This Is It!' I have to add that the audience reaction to this was heart-rendering as they gasped and clapped!
'The Way You Make Me Feel' – I think Michael would have loved this sequence. Michael's fans loved his strut as he wooed the girl in the video and tour performance of this song – well wow these Cirque ladies can certainly move and 'strut their stuff,' in their suggestive figure hugging costumes! The music is played at full-blast and is definitely an audience pleaser! I loved it! So up-lifting too!
'Stranger In Moscow' – Mother Earth floats above you entwined and surrounded by twinkling stars whilst sitting on a crescent shaped moon – she sings above us, she is beautiful, aerialists surround her as clusters of twinkling lights. Katherine Jackson, Princess Diana and Elizabeth Taylor's images flash onto the background screen, Michael's voice is heard asking us "Will you be there in my darkest hour, in my deepest despair?" Suddenly raindrops/snowflakes begin to rain down upon the audience – very moving and full of anguish – the audience feels Michael's gloom.
'Billie Jean' – I find it hard to find the right words to describe this segment of the show – well there is one – AWESOME! The costumes, including the built in lights, the stage-lighting, the choreography, including wall walking as in Michael's 'Ghosts' – they are all there and Michael moonwalking – the one and only 'Moonwalker' – this is fabulous, an earth-shattering moment in the show! People gasped, cried, wowed and were totally moved! Well done Cirque!
'Dirty Diana' – hmmmm – fabulous pole dancing at its best! That girl has got muscles on muscles – enough said!
The audio and visuals are dynamic to say the least – Cirque have definitely raised the ante in this production, as did Michael himself always wanting to "Reach For The Stars!" It's astounding. The visuals are state of the art as is the sound production, which tears right through you!
I wished I had pairs of eyes all around my head because there was so much going-on, above, below, to the sides and behind you that you must try not to miss any of this fast-moving action! It's everywhere.
I enjoyed the playfulness of the four misfits as they searched for their iconic Michaelie pieces. The humour that is added such as the glove slapping one across the face is all part and parcel of Michael. His fun-loving, joke-playing attitude to life. This was well-received by the audience! Mime played a part here too and paid homage to Michael's admiration and love of Marcel Marceau.
'Man In The Mirror' has always been one of my favourite Michael songs and this part of the show raised my saddest emotion, as I witnessed Michael's hologram dancing with earnest amongst the performers. One moment he was there and then disappeared in a sprinkling of golden magic dust only to reappear again and again and again! A magic moment!
At the close of the song Michael the man dissolves into Michael the child – the inner child – 'The Man In The Mirror!'
Michael himself is a strong force throughout this loving, thoughtful, incredibly creative, explosive depiction of his music and legacy – whether in the form of video shots, his voice, his dancing, his iconic, history making musical legacy and not least, his humanity.
The audience understands from the offset that this show is Michael's, as no performer 'plays' Michael – he plays himself! The theme promotes all the positive elements of Michael's character and personality which captured the world's attention, through generations, and continues to do so. There are few entertainers who have a charismatic soul and energy – Michael did, so reflected by the army of dedicated, devoted fans who continue to understand his magic, his love and understanding of people.
Of course Michael's message of healing the world, hope, love, unity and harmony – we are all one are the strongest themes that this show leaves behind in my thoughts! The staging of the giving tree, the inclusion of 'Speechless' and 'Earth Song' have the desired effect upon the audience. Michael felt this yearning for a loving world very strongly and it was a recurrent theme in his writings and music. 'ONE' achieves its mantra of 'We Are One.'
'ONE' suggests that the media got him so wrong and their misinterpretation is annulled by this Cirque adaption, if people allow it to. There will always be those doubters but the audience who shared this experience were mesmerised, MESMERISED by this up-beat, fast-moving show. No-one can deny Michael's musicianship, his talented dancing and creativity so ably interpreted by Cirque Du Soleil, unless they live in a world devoid of music, pathos, humanity and a fun-like approach to life!
As the show drew to its finale the audience were on their feet, dancing, clapping and singing along. The cast received a well-earned and well-deserved standing ovation as performers interacted with them as the audience yelled for more! What a fantastic addition to the Vegas realm of Entertainment and I'm sure 'ONE' will command the strip for years to come!
Cirque Du Soleil's cast of aerialists, incredible dancers, street-dancers, pole-dancers and all the awe inspiring theatrical effects, pyrotechnics and illusions they are known for, accompany Michael's amazing catalogue of music, providing a truly memorable, emotional, supreme experience – this Michael Jackson and Cirque Du Soleil collaboration is an event not to be missed!
Recommendation: Don't sit too near the front and be aware that this is an action-packed show that takes place all around you!
Overall verdict: Outstandingly brilliant!
– Lyn Dawber
Leave a comment