'She Was Lovin' Me'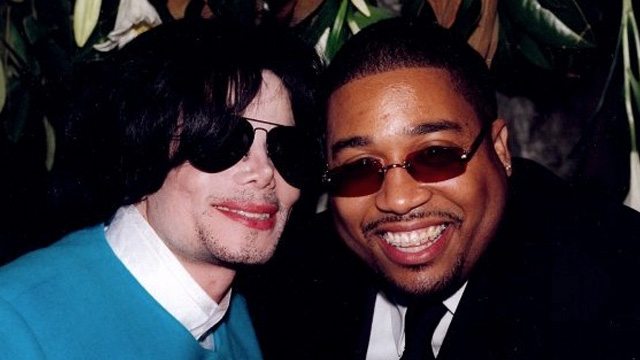 Damien Shields.com has featured an exclusive article on Michael's work on his 'Invincible' album emphasising a song entitled 'She Was Lovin' Me,' which remains unreleased.
The article, written by Damien Shields, speaks of Michael's work in the studio, his incredible attention to detail and his search for perfection!
"On February 24th, 1999 the Shrine Auditorium in Los Angeles played host to the 41st Grammy Awards, attended by the music industry's biggest artists, producers and executives.
At the time Elliot Straite, a talented songwriter and producer better known in the music industry as "Dr. Freeze," was fortunate enough to have recently begun collaborating with the King of Pop, Michael Jackson, on ideas for his next album.
They recorded in several studios including The Hit Factory in New York and Record One in Los Angeles, as well as at Jackson's personal studio at his Neverland Ranch.
However, at the time of the 1999 Grammy Awards, the pair were working out of Marvin's Room – an iconic Hollywood recording studio owned by John McClain – a mutual friend of Freeze and Jackson.
Jackson's record label, Sony Music, was hoping to release the work-in-progress album at some stage before the new millennium, however after several postponements it became apparent that Jackson was not concerned with meeting their desired deadlines. As of early 1999 the label had not heard any of the new material.
But that was about to change.
Cory Rooney, Senior Vice President of Sony Music Entertainment at the time, recalls being invited to the studio by Jackson for a rare listening session with some of the Epic Records executives.
"Michael invited us to the studio to listen to some music because we were all out there for the Grammys."
The prospect of hearing what Jackson was working on was mouth-watering for the executives at the label.
"You know, for Michael to wanna unveil some music, that was a big treat for us because he never did anything like that," Rooney explained. "You would rarely get the chance to hear what he was working on."
Naturally the Epic Records team, including Rooney, took Jackson up on his extraordinary offer and attended Marvin's Room, where Jackson was set to debut the music for them.
"It was myself, Tommy Mottola, John Doelp, Polly Anthony and David Glew – all the top Epic Records people," recalls Rooney.
"So we walked in the studio and he played one record. Just one record."
The song Jackson showcased in the session was the Freeze-produced "Break Of Dawn" – a track that would ultimately be released on the 'Invincible' album two-and-a-half years later.
Although they went in expecting to be shown more than just one song, the Epic executives were thrilled with what they heard. Tommy Mottola in particular commented that if the rest of the record was as good as "Break of Dawn", they had a guaranteed smash hit album on their hands.
Mattola's appetite had been whet. He wanted to hear more.
"Michael promised us that he would send another record a few weeks later", tells Rooney.
During their flight home, from Los Angeles to New York, Mottola proposed that Rooney, who had been achieving huge success producing hits for a host of other artists, should produce a song with Michael.
Rooney jumped at the chance and got straight to work.
"So I got home, went in my house, and I created this song – 'She Was Lovin' Me'. I did the music at my house, then I brought the musical track to the Sony studios to work on the demo."
Rooney had barely finished piecing the track together when Mottola heard it for the first time.
"Tommy (Mottola) came in the studio with Danny DeVito," recalls Rooney. "It's funny; Danny was intrigued. He loved the track so much he was like, 'Play that again, play that again. Oh my god this is amazing!'"
Mottola was impressed as well, and insisted that Jackson hear the track as soon as possible.
"Tommy took a very, very nasty, rough, scratch demo, and he said, 'Man this is a great song I'm sending it to Michael right now.' And he sent it to him – just in it's rough stage."
Initially Rooney was apprehensive, concerned that sending Jackson his incomplete demo may deter Jackson from wanting to record the track.
"I was actually like, 'I don't know if that was a good idea', because, you know, if he's gonna hear it in its rough stage then I might have blown my opportunity."
Mottola sent Rooney's rough demo to Jackson that night, a Thursday. Jackson, who was still in Los Angeles at the time, got it the next morning.
"Tommy (Mottola) sent it on the Thursday, Michael heard it on the Friday, and I promise you by that Monday he was in New York", recalls Rooney. "He called my house and he said, 'I'm ready. I'm prepared. I'm ready to sing the song.' And he was ready. I was blown away."
Despite already being an accomplished producer, songwriter and record executive, the opportunity to work with the King of Pop was a humbling honor for Rooney.
"I had already had so much success in my career with Mariah Carey, Jennifer Lopez, Marc Anthony, Mary J. Blige and Destiny Child – then all of a sudden you've got Michael Jackson calling you and saying, 'I love your song.' I couldn't believe it."
The Hit Factory recording studio at 421 West 54th Street in New York City would become Jackson and Rooney's home for nearly a month, between late March and mid-April in 1999.
Rooney was anxious about what the experience might be like with Jackson, and what his creative process was when recording other people's songs.
"Sometimes guys like Marc Anthony will say they love the song, but, they wanna change this verse and they wanna change this melody."
To Rooney's surprise, Jackson came in the studio and expressed that he loved the demo exactly as it was, and did not want to make any changes.
"Rewind it. Rewind it. I like the way you phrase that. Hold on. Let me do that again. I wanna make sure I get the timing like you got it," Rooney remembers Jackson saying.
"I was blown away. I'm like, 'This is amazing!' For this guy to accept and love every inch of my song, every part of it, you know, it was so surreal. It makes you emotional."
When it came time to lay the vocals for the track, Jackson had just one request. Under the advice of his longtime singing coach, Seth Riggs, Jackson proposed that he record the vocals for track over two separate days.
"The song 'She Was Lovin' Me' goes from him singing really low in the verses to singing really high in the choruses," explained Rooney. "So it was two different types of vocals. It was like Michael Jackson's 'Billie Jean' voice and his 'Dirty Diana' voice in one record."
"He was very polite. He asked me, he said, 'Um, if it's okay with you I'd like to sing the verses today because I've warmed my voice up for the low part. And then I'd like to sing the high chorus parts tomorrow, because when I'm doing songs and I'm screaming up, like a 'Dirty Diana' type of thing, I like to warm my voice up for that in particular.'"
"I thought it was amazing that he was asking me if it was okay, and for my permission to do it that way when you know, here he is, he's Michael Jackson."
"In fact, I was expecting him to tell me how he works – what he does and what he doesn't do – because so many artists are like that. If this was Jennifer Lopez, or even Lindsay Lohan, they'd be giving me orders. But not Michael."
After about twenty minutes of warm-up exercises Jackson, dressed in a red button-down shirt and black pants, removed his sunglasses and stepped into the booth.
"He was in the vocal booth at The Hit Factory and we dimmed the lights for him just enough for him to be able to read his lyric sheet," recalls Rooney.
"I met her on the way to Chicago, and she was all alone, and so was I so I asked her for her name," sang Jackson in a sexy low tone to the sound of clicking fingers.
"His vocals were so smooth and so perfect, but the most amazing part about him being in the booth was his dancing. He danced between the takes. He danced through the takes. He snapped his fingers. He stomped his feet. You could barely hear a take without him snapping his finger or stomping his feet to the rhythm."
"When Bruce Swedien recorded Michael he would create a whole stage, like a platform, for him to stand on just so it doesn't pick up on the mic so much – so he's not standing on the same floor as the microphone," explained Rooney. "But I didn't have a platform like that at the time. On all of my takes, when you strip down the music, you hear him singing but you also hear him snapping his fingers, shuffling paper, you hear him stomping his feet and the rhythm just takes over him."
"Some singers are in and out of the vocal booth. In and out. In and out. But Michael stayed in the vocal booth until he got the job done."
Once they had completed the first session – the lower parts of the track and the background vocals – Jackson asked Rooney what time he should return the following day to record the choruses.
"I said, 'Michael what time would you prefer to work?' And he said, 'Cory it doesn't matter to me – you're the producer. I'm here to work with you. You're the boss. So you tell me what time you want me to be here. If you want me to be here at 7 in the morning I'll go home and get some rest and I'll be here for 7.' It was mind-blowing."
The next morning, Jackson didn't show up. He'd fallen ill and wasn't feeling well enough to attend the planned session.
"Normally, if you're working with someone like J-Lo or Mariah [Carey], you can be in the studio for days just waiting for them to show up. And they won't so much as call to let you know they're on their way, or running late, or not coming at all."
Michael Jackson, on the other hand, was not only courteous enough to call – he sent a gift package to express his apologies for missing the session.
"He sent me a basket so big that I had to call a truck service just to come take it home," recalls Rooney. "It was full of DVDs, a DVD player, a little popcorn maker, all of these cool little books on the movies – almost like comic books – like little vintage magazines about vintage movies and stuff. So that was really, really cool man."
Accompanying the basket was a hand-written note from Jackson.
"The note on it, which I still have, I still save, it was just something he sent me to say, 'Forgive me for not being able to come', because of his illness."
Rooney called Jackson to thank him for the package, and the two ended up talking on the phone for quite some time.
After a couple of days rest Jackson returned to the studio, again with singing coach Seth Riggs in tow.
Jackson would invite Riggs to every session, and he would warm Michael's voice up based on what type of sound he was aiming to achieve during the session. In this case, it was the gritty "rock" style for the chorus parts.
Jackson, a true professional, knocked out the vocals quickly and flawlessly.
"You could feel the magic in the room. Everyone was excited about it. It was crazy!" remembers Rooney.
Once all the vocals had been recorded the only thing left to do was to review and compile them.
"Michael comped the final vocal himself," revealed Rooney. "He comped all his own stuff. He sat there with a pen and paper and went through all his takes and picked out all his favourites. He pieced it all together. It took him about half an hour because he did multiple performances of it."
"If you go back and listen to the takes you can hear him say little things and imitate the instruments and sounds. We even used some of the vocals I recorded from his warm-up with Seth Riggs. We used them as ad libs in the middle of the song because they sounded so amazing. He was very pleased with it."
Once Jackson was satisfied with the vocal comp he referred Rooney to his trusted arranger, Brad Buxer, to polish the transitions. Buxer, a talented musician in his own right, is best known for his contributions to some of Jackson's most acclaimed pieces, including "Who Is It", "Stranger In Moscow" and "Earth Song".
"Michael sent me to meet with Brad Buxer, who helped me do a few little edits here and there to clean up what we had comped together as his vocal."
Although the recording process did not take long at all, Jackson and Rooney spent nearly a month in the studio working on the track.
"We spent so much time – I would say we worked for a good two weeks – on tweaking alone. Not just the vocals but different things, comps. And it took two weeks because we spent more time laughing and joking and talking and having such a good time in the studio. We stretched it out just to have fun. In the end we spent most of April in the studio kind of plotting and planning. We used that as our kind of headquarters to really get the record in line."
At one point during their sessions at the Hit Factory, Jackson and Rooney left the studio to watch magician David Blaine performing a stunt where he buried himself alive.
Blaine was laid to rest about six feet into the ground at a Donald Trump development, facing New York's elevated West Side Highway, by the Hudson River.
"It was like a big display and everyone was going to see him. You know, where you could look down at the ground and you could see him through the Plexiglas. And Michael was like 'Wow!' So we went down there."
Although it was Rooney's job to produce hit songs for artists, he felt that Jackson needed more than just his name at the top of the charts.
He felt Jackson needed both an ally at the record label, and a friend. "I could have taken advantage of the situation and tried to produce six songs and get Michael to record them, but I didn't care for that. I just wanted to give him anything at that time that he needed. And I felt like he needed to have fun and to have a friend more so than some guy trying to push songs on him. That was genuinely what I truly felt in my heart. We had a great time."
Six weeks earlier, back at the Marvin's Room studio in Los Angeles, Jackson had promised he would send Tommy Mottola more of his newly crafted material. True to his word, shortly after wrapping up the "She Was Lovin' Me" sessions with Rooney, Jackson sent Mottola another track.
"I was in Mottola's office talking to him about something, and he was eating lunch, and he said, 'Oh while you're here, Michael sent another record. Let's listen to it.'"
"So he puts in the CD and all you hear is, 'Your love is magical. That's how I feel.' It's, you know, the song 'Speechless'. It was just amazing. Tommy was like, 'Oh my god did you hear that voice? Now that's the Michael I'm talking about!' I mean that intro alone with just his voice blew Tommy away. And then it just drops in, 'Speechless, speechless, that's how you make me feel.' It just really blew his mind."
"Speechless" was just the second track from Jackson's new project that Mottola had heard. At this point he had not even heard Jackson's version of "She Was Lovin' Me".
Jackson was highly protective of the music he put his voice on, and although the vocals were complete, Rooney had not yet completed the final mix for the track.
However, it was at that time that the collaborative relationship between Jackson and Rodney "Darkchild" Jerkins took over.
"It was up to me to finish the music (for 'She Was Lovin' Me'), to make the music track better and stronger," explained Rooney. "And I completely lost the opportunity to do that because I got so caught up in trying to help Rodney Jerkins deliver for Michael."
"'She Was Lovin' Me' was a great song, but it wasn't going to be the first single. It wasn't what the record label was looking for. Michael wanted it to be a single at some point, but he wanted that big rhythmic thing for the lead single, you know, and we hadn't got that yet for the record."
Rooney strongly believed that Jerkins was the man who could deliver the type of track that Jackson was striving for. However, following their first meeting regarding a possible collaboration, Jackson was not convinced.
"It's not that he isn't talented – he is very talented", Jackson said of Jerkins, tells Rooney. "But his work sounds like everything else that's out right now. I need a new 'Michael Jackson' sound. I don't want to sound like Brandy and Monica. I want to take people somewhere they've never been sonically."
So, instead of polishing the music for "She Was Loving Me", Rooney spent a good part of the next year nurturing the relationship between Jerkins, his "Darkchild" writing/production team, and Jackson.
To point him in the right direction Rooney recalls giving Jerkins some advice which had previously been given to him by Carole Bayer Sager – a friend and a co-writer of Jackson's.
"Carole told me that Michael is a storyteller. She said Michael loves to tell stories in his music. If you listen to 'Billie Jean', it's a story. If you listen to 'Thriller', it's a story. If you listen to 'Beat It', it's a story. He loves to tell a tale."
And so Jerkins and his team put that advice into practice, writing stories in the forms of hard-hitting R&B songs for Jackson. The results included songs such as "Your Rock My World" (the first Darkchild track recorded by Jackson and ultimately the lead single from the 'Invincible' album two years later), "Unbreakable" (Jackson's personal preference for the lead single), "Heartbreaker", "Privacy" and "Threatened"; among others.
"Before you knew it, the record was done," recalls Rooney.
"Then [Michael] and Tommy (Mottola) started to fall out. And because everyone in the world knows that I worked so closely with Tommy, people started to try and put things between us."
"Mottola kind of like played a little game and pulled me so far off the MJ project, and started a Jennifer Lopez album, a Marc Anthony album, and a Jessica Simpson album at the same time. So, I was so caught up in that, that the 'Invincible' ship started to sail and I couldn't double back to finish 'She Was Lovin' Me'."
By the time 'Invincible' was due out in late October 2001, things had turned completely sour between Jackson and Sony.
Jackson's concepts, including an 18-minute short film for the track "Unbreakable", were being overlooked and marketing for the album was being kept to a minimum. Sony refused to buy an advertising slot during Jackson's 30th Anniversary Celebration concert, which would have been seen by 26 million Americans.
Later, Jackson accused Sony – namely label president Tommy Mottola – of sabotaging the album's sales, among other things. And because of Rooney's close working relationship with Mottola, all kinds of rumors began to swirl; including an allegation that Rooney was acting as Mottola's personal "spy".
Rooney insists these rumors were completely untrue, and tells that Jackson pleaded with him not to let the media and agenda-driven record executives ruin their friendship.
"Michael reached out to me personally and said, 'Cory, do not let these people do to us and our friendship what they do to everyone else.'"
Rooney maintains that he saw himself as perhaps Jackson's only true ally at the label.
Once the 'Invincible' album had been released, Rooney began to wonder what the fate of the unreleased "She Was Lovin' Me" would be.
"Every time I talked to him or ran into him after 'Invincible' came out he would bring up the song. He would say, 'Listen; whatever you do, do NOT give the song to the record label, because all they're gonna do is end up throwing it on some compilation.'"
"The last time I spoke to him was around eight months before he passed away. We talked about the track and laughed and joked about a couple of things. He told me that he was in Vegas and that he was going back and forth. I told him I was going to be in Vegas at a certain time and I was hoping we could meet when I got there. But I actually never made it out to Vegas."
"In that final conversation we talked about using 'She Was Lovin' Me' for his next project. He was talking about getting in a position where he was going to start lining up new songs and things like that. He said, 'This record is so good we gotta figure out something good to do with it.'"
Unfortunately Michael Jackson never had the chance to hear "She Was Lovin' Me" in its final state. Instead Rooney, with the help of Jackson's nephew, Taryll, brought the track's music to completion following his death. The pair have done an incredible job.
Jackson delivers an emotionally powerful vocal on the track, packed with pain and frustration. The verses gently tell the intimate story of Jackson's encounter with a woman whom he believes was into him, before unleashing a rage of guitar-infused fury in the choruses.
"Anyone who has heard that song says it's one of the best songs they've heard from Michael in the last ten years of his career," says Rooney – and they're right. It's the King of Pop rocking out at his best.
"She Was Lovin' Me" remains unreleased to this day.
Source: Damien Shields & MJWN, with special thanks to Paula Katsikas
Leave a comment