Jon Jon Harreld On Michael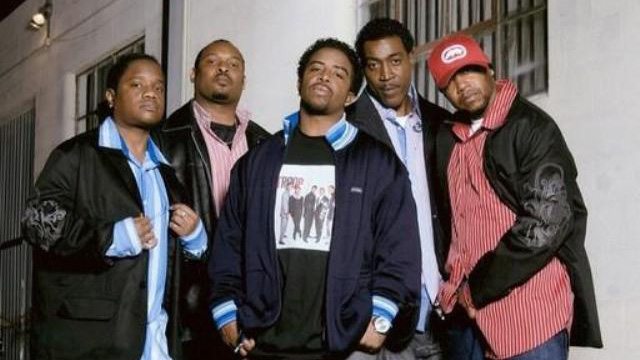 Paula has recently interviewed Jon Jon Harreld who is one of the members from Californian based R&B group TROOP. Here is Paula's interview.
Recently, I had the pleasure of speaking to Jon Jon Harreld one of the members of the R&B group TROOP (Total Respect Of Other People) who are from Pasadena, California.
TROOP has had huge success on the Billboard R&B charts with five Number One singles and ten Top Ten singles. They also have five albums of which three were certified gold and one certified platinum.
The group began in the late 1980's after they had auditioned and won a televised talent contest 'Puttin' on the Hits' that later attracted interest from record labels. They were signed to Atlantic Records and released their debut single 'Mamacita' from their self titled album in 1988. Following the release of their debut album came their second album 'Attitude,' which included their hit songs 'Spread My Wings,' coincidentally featuring Tommy O, Michael's guitarist from 'This Is It' playing guitar on the song and their beautiful Jackson 5 cover of 'All I Do Is Think Of You.' Both songs went to Number One on the Billboard R&B charts and remained in the Top Ten on the charts for several weeks.
Three more albums followed, 'Deepa,' 'A Lil' Sumpin' Sumpin'' and 'Mayday.' They have also toured with artists such as Boyz II Men, Brian Knight, Keith Sweat, Silk, Mario and Jon B and have appeared on numerous TV shows including; 'The Late Show with David Letterman,' 'Soul Train,' 'The Arsenio Hall Show,' 'Showtime at the Apollo' and in the feature film 'New Jack City' as well as singing Acapella on the 'New Jack City' soundtrack with Queen Latifah and Levert. There has also been solo albums produced by some of the members as well as song writing by Steven Russell for artists such as Chris Brown with 'Take You Down,' Jordin Spark's 'Air' and the Grammy award winning 'Invisible' for Jennifer Hudson.
What brings Jon Jon to us here today is that in addition to being a member of a hugely successful group, he is also a huge fan of Michael's and a family friend. And in this interview, he has kindly agreed to share with us a little on his admiration for Michael and of how he has affected his career.
Paula: Hi Jon Jon. What an honour it is for me to be talking to you today. I am a huge TROOP fan you know and I know that TROOP and you are huge Michael Jackson fans and love the man dearly. You even covered one of the Jackson 5 songs 'All I Do Is Think Of You' in 1990, where it went to Number One on the US Billboard and R&B charts. A beautiful cover I must say. Not everyone can get away with singing a song that Michael sang, but you guys did it justice and took it right to the top! I don't think I have heard another group do a cover of a Jackson 5 song so well. Can you tell us how that came about and what made you guys pick that song?
Jon Jon: The song was actually my idea. It's been one of my favourites and a beautiful, beautiful, ballad that Michael sings amazingly. I knew that Steven Russell who has also been a Michael Jackson life long fan, would do the song justice and it would showcase his voice as the song did for Michael. I said to him "that when you sing it you will sing it like Michael," well as close to Michael that anyone can. By the way, Steven also did a cover of 'Rock With You' as a tribute to Michael on his solo album 'So Random' in 2010. He thinks the world of Michael too. I always felt that choosing this song was a good idea, but I never ever dreamed that it would get to where it did!
Paula: Did you ever hear what Michael thought about your cover of 'All I Do Is Think Of You'?
Jon Jon: Yes, Jackie and Jermaine told us that everyone in the family melted when they heard our cover. They said that after Michael heard the song, he called the whole family asking if they had heard it. Michael loved it! He was thrilled with our cover, as 'All I Do Is Think Of You' was one of his favourite songs out of all the songs he had recorded with the Jackson 5.
Paula: Michael has inspired and influenced many artists. I have noticed that you guys can dance! I mean watching your video to your song 'Attitude' I can definitely see the Michael influence and a whole lot of attitude for sure! Tell us a little about the dancing in the group.
Jon Jon: Absolutely! I mean Michael and The Jacksons are who really started it for us. We use to watch Michael and his brothers on TV and footage of their concerts on DVD's for hours on end, studying their moves and every step they took. What they did on stage together and Michael in his solo years was magical. We wanted to capture that magic on stage as well. We wanted to let people know that it was more than just singing. We had to be able to put on a show just like Michael and his brothers did. We studied Michael as a solo artist and when he was with The Jacksons as well and we knew that, that is what we wanted to do as a group ourselves. We had to study hard to do that. That's what you do as an Entertainer, you study the greats and Michael was and still is the greatest!
Paula: Do you have a favourite Michael Jackson song?
Jon Jon: Michael's career in music spans a long long time. I have way too many favourite songs to name just one. I love them all!
Paula: I guess that was a hard one. I must admit it's the same for me. Far too many favourites…What about his music though. Tell us how important Michael's music has been to you?
Jon Jon: I used to watch and listen to him as a child. His music has always been important to me. His music changes how a person feels inside. You know you may be having a situation where you are maybe angry or upset about something, and the situation is going to be different once you've listened to Michael. I can put on one of Michael's, or when he was with the Jacksons CD's, and it instantly calms me down. That's how important Michael's music is to me! The music is so powerful, that he's not gone! He will always live! The connection is so strong!
Paula: Can you recall a special memory of meeting Michael?
Jon Jon: Yes, I remember at one meeting, I think it was in 1989, where we were having a conversation and he was telling me how good the group was looking and how he loved what we do, saying; "Love all the dancing you do! You guys are awesome!" Having Michael say that to you as an entertainer yourself, it just doesn't get any better than that!
Paula: What about Michael in concert? Is there a special one for you?
Jon Jon: I'd have to say going to a concert from the 'Victory' tour. As a member of a group myself, seeing Michael and his brothers do what they did on stage was just magic! For anyone that wanted to be in a musical group, you had to go and check out Michael and The Jacksons. That's what we all strived for. I knew I wanted to do what they did way back then. Michael and his brothers at Dodger Stadium, incredible! Incredible! Not everyone can say that they saw Michael Jackson perform at a 'Victory' concert.
Paula: What about any special moments with Michael's family or a time when they may have referenced Michael to you, that you would like to share?
Jon Jon: I was speaking to Tito's son Taj one day and I remember his words; "You guys recorded our uncle's song and made it number one!" He was referring to Michael and 'All I Do Is Think Of You.' That meant a lot to me. That was a special moment! He acknowledged Michael and us doing well with our cover of Michael's song. You never know who's watching you. Michael and his family watched TROOP. Another time was at the 4th Annual Soul Train Awards in 1990. We were there to present an award. At the after party there was a big long table full of cakes. Papa Joe went to the table and I walked over and introduced myself to him as Jon Jon from TROOP. "Come over and meet the family," he said. So I walked over with him and met Michael's family. Meeting Michael's family was an experience I will never forget.
The only Jackson that I hadn't met was Marlon, and I had the pleasure of meeting him last year at 'The Greek.' I was backstage with Michael's brothers, when right at that moment they started singing 'All I Do Is Think Of You' in Acappella to me. Being in their presence and having The Jacksons sing their song to you, that you made Number One, now that's just huge! There's nothing bigger than that for me other than to have had Michael there to sing it to you to. They had noticed TROOP!
Paula: TROOP also has made a few appearances on Soul Train including your performance of 'Mamacita' in 1989 and then again in 1990 with 'Spread My Wings' and 'I'm Not Souped.'  Performing on Soul Train, now that's just huge in my books! So much great talent has gone through that show, including the greatest of them all, Michael. What did that feel like to be performing on the same show that Michael and so many other great names had performed on so many times?
Jon Jon: I remember watching the greats on Soul Train and remember being in the audience at the 1993 Annual Soul Train Awards and witnessing Michael, even when injured and from a chair, blow us away with his performance of 'Remember The Time.' But actually having the chance to be able to grace the same stage on Soul Train as Michael and so many other greats had, now that's a blessing and an honour.
At one performance the Temptations were actually there with us that same night and they 'handed us the torch,' so to speak letting us know that they loved what we did and that it was our time now. I don't think there is one group out there that hasn't been inspired by the Temptations, including Michael and The Jacksons. I have heard Michael say that many times that they were an inspiration to him to. Performing on Soul Train and places like the Apollo that Michael and the Jacksons had also performed, a truly great feeling!
Paula: June the 25th, 2009, changed the music world forever and a very sad day for all Michael Jackson fans. I know that it would have affected you. Can you recall that day? Where you were and how you reacted?
Jon Jon: I was with a friend, Dillon Gorman, the son of the late Freddie Gorman, whom I have known for a long time. We were sitting outside in the car just talking and listening to music when we kept getting messages on our phones, one after the other, and I kept deleting one after the other as they came through. I just didn't want to believe it. The messages kept coming when Dillon said "Let's go inside and find out what's happening." We went inside and turned on the TV and it was chaos! On every channel! No one could see it coming and all I could think of was NOT Michael! Out of everyone, not Michael! It's still rough to talk about.
Paula: Any final words that you would like to share with Michael's fans?
Jon Jon: I would just like to tell the fans to show support for mum Katherine. Pray for her, a mother that has lost her son, and pray for Michael's children for they have lost a father. They've gone through a rough time and still are. The children and the family need our prayers. Finally, remember Michael and what he stood for, for he wasn't just the Greatest Entertainer, but a man with one of the most loving and caring hearts.
Paula: Thank you Jon Jon from me and MJWN. It's been a real pleasure chatting with you and having you share your love for Michael with us. I know that he still means so much to you. I wish you and TROOP all the best and blessings in whatever venture you undertake next. I know that you are working on some solo projects at the moment including a new record that you are just doing the finishing touches on and I know that TROOP are also working on something new. Looking forward to hearing more from you and TROOP and who knows, maybe even another great cover of a Michael or Jackson 5 song.
Jon Jon: Thank you!
Source: Paula Katsikas for MJWN
Leave a comment