Making Music With Michael Jackson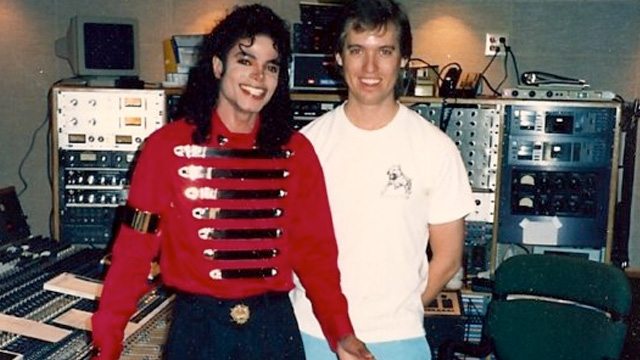 Technical director to Michael Jackson for nearly two decades, Brad Sundberg has announced a series of informative seminars to take place this June in New York City. At this one of a kind event, Fifty Michael Jackson fans will have a rare opportunity to see, hear and experience what it was like to work side-by-side with the King of Pop.
Brad will be sharing behind the scenes stories and little known facts from his time working with Michael on the 'Bad,' 'Dangerous,' and 'HIStory' albums. Additionally he will share stories and background about the years he spent installing music and video systems on the rides, attractions and residence at Neverland Valley Ranch.
What? 'In the Studio with Michael Jackson' seminars with Brad Sundberg.
Who?  Meet Brad Sundberg, technical director and engineer to Michael Jackson for 18 years.
When? June 29th 2013 at 11am and again at 5pm.
Where? Smash Studios 301 W 36th Street New York, NY 10018.
This interactive, music and video -filled seminar will bring fans closer than they could ever imagine to working with Michael 'In the Studio.' Brad will share the backstories from the projects he worked on, including first-hand experiences of being with Michael when we wrote and recorded his demos and songs.
He will share music, video, photographs and memorabilia from his personal collection. In addition, there will be an exclusive question and answer segment, encouraging fans to further discuss and analyze Michael's creative process. Those curious about Michael's working style, will surely enjoy the unique chance to be a part of this event.
Brad Sundberg has remarked that his years working with Michael encompassed, "a portion of his career that he wouldn't change for the world." He adds, "If you appreciate the amazing sounds and layers that you hear in his albums, you will enjoy this seminar. If you are curious about what it was like to work with one of the most creative forces in the entertainment industry, yet also one of the kindest men I have ever known, you will enjoy this seminar.
I invite you to spend some time with me and hear Michael's music and my stories. He was a genius, an entertainer, my employer and my friend. His name is Michael Jackson, and I would like to introduce him to you.
Here are some testimonials from previous seminars,
Davy wrote,
"It was an unforgettable day. It took me several days to land back to earth. It's one of the very best Michael Jackson moments in my whole life. To this day, I'm still trying to figure out how to put this experience into words.
Brad you're a wonderful and generous person. We have all been touched by your kindness and your presence. Thanks to all those who have made this event possible."
"Thanks for the spirit of your seminar. With your help, we got closer to the essence of the creation, of what's hidden in the studios. Your extreme generosity gave us access to years of experience, excitement and knowledge of music. This event went beyond my wildest expectations. And it was such an emotion to be a part of that session… I would define it, as, "Keeping Michael's music alive"… and we are now friends forever." Alan
For a limited time only, tickets are available for purchase at 30% off of the regular rate. To purchase tickets and find out about VIP front row seating (including a catered dinner of Michael's favorite studio meal) and a private meet & greet with Brad Sundberg, log on to,
www.inthestudiowithmichaeljackson.ticketbud.com
Cell phones, cameras, recording equipment, etc. will be checked at the door by security.
Out of respect for Michael's legacy and the content being presented, it is requested that MJ apparel be limited to shirts, buttons, etc. No costumes, please.
Follow the official Facebook page, where you can find additional information about this exciting seminar.
Or 'contact Iaisha of 'Legacy of LoveMJ Fans United,' NYC, at mjsliberiangrl@aol.com
Source: MJWN, with grateful thanks to Iaisha
Leave a comment