'Christmas Again' With Sugarfoot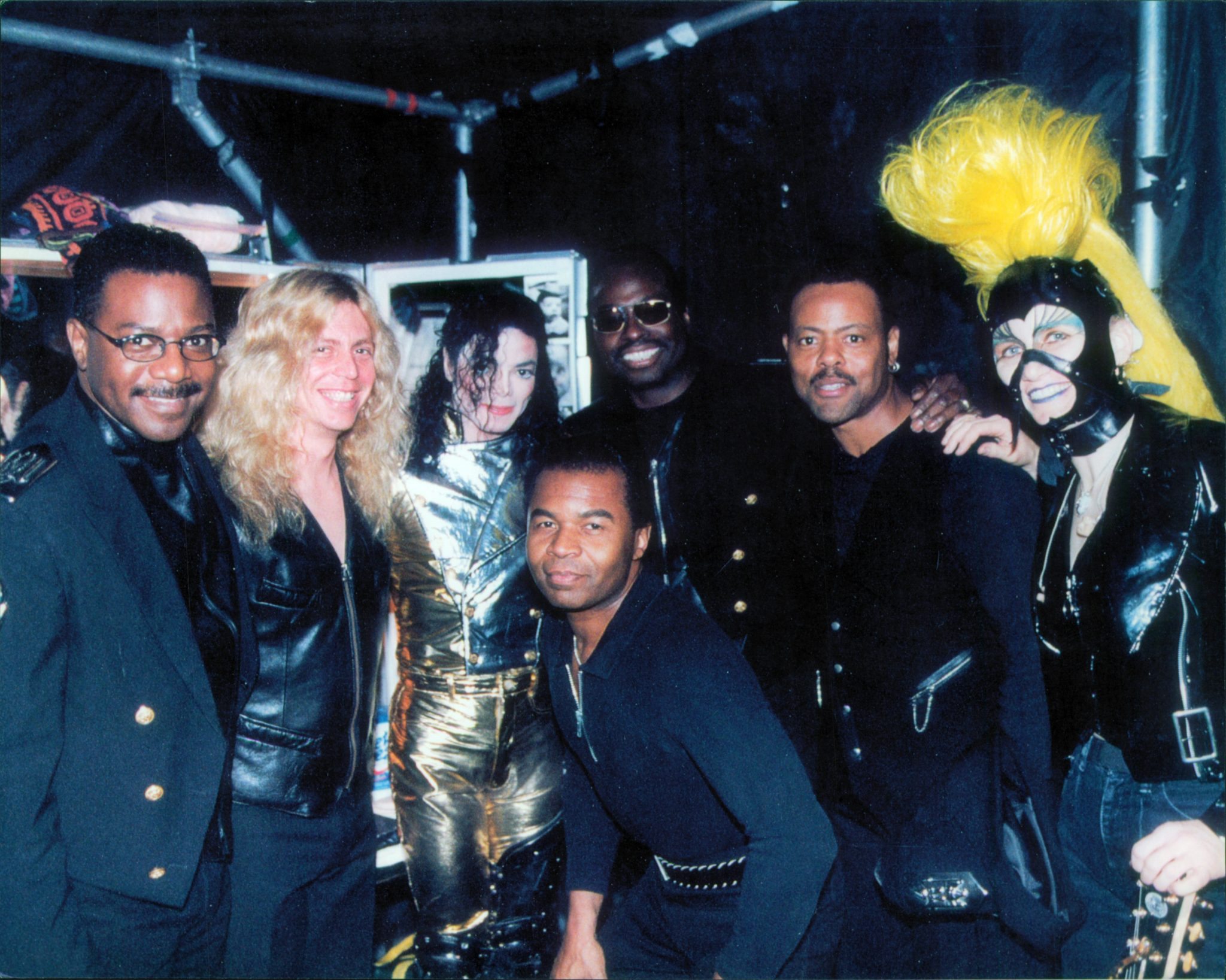 Touring and working with Michael has been a major part of Jonathan's life but this year he is going to share something else very close to his and Michael's heart, in fact, what Jonathan calls; "The Project Of His Heart." He is going to share 'CHRISTMAS AGAIN,' which is a celebration of Christmas through Jonathan's music and dedicated to Michael. In addition to this, part of the proceeds will be going to the Make A Wish foundation, a foundation that brings magic and joy to children with life-threatening illnesses.
Jonathan shares his sentiment of how he hopes to brighten the lives of children who can't normally afford it or are ill, with a surprise at Christmas. Quoting Jonathan, "I'm doing my part without hesitation by donating part of the proceeds from the songs purchased to this cause for children. In the spirit of Michael's love, through giving, and his principal for humanity, as in the ending lyric of one of my Christmas songs, lets "Spread the Love!"
Jonathan brings us his personal and artistic musical expressions in writing, producing and singing as well as the message of Christmas in his Christmas songs. He adds how all of the songs were composed and mixed in the light of the character of the old Christmas classics, that both he and Michael adored, yet with a modern day pulse and recording quality.
When asked why a Christmas CD? Jonathan replied; "It's been a twenty plus year journey with this project which began with me simply wondering, "I wonder if I can write a classic Christmas song" and progressing from there. As a Christmas dedication this season, through my own love for it and in Michael's honour and love for Christmas, and in the spirit of love he projected each and every single day I'd known him the past thirty years of both our lives, I bring out the end result, my 'Christmas Again' album. It was his and my most favourable holiday, which we both expressed openly and hence the song from my album, which happens to be the last one I wrote and produced in the early 2000's, 'Christmas Is My Time Of Year.'
As a gesture of thankyou and in appreciation from Jonathan to those that are helping the less fortunate and sick children receive gifts this season and for every holiday season to come, he is also giving away a free copy of his 'Flame' tribute with every purchase of his Christmas songs" He says; "This is one way to keep breathing life into Michael and Michael's dream "To help the children and not forget about them. After all it was, and still is, "All For Love!"
Jonathan would also like to share one of his memories and conversations with Michael about Christmas: "I had always of course been aware of Michael's love for Christmas as he would ask me smiling like a small kid, '…Foot…you love Christmas time don't you?' and of course I could tell he knew that I loved Christmas too, as when I'd say, "…Yes, I love Christmas all my life, it's my favourite time of year." He'd then say, "I know, I could tell!" in a boyish innocent childlike way, while giggling and laughing. Both of us were excited to be talking about it. He said that he loved all the toys, games, presents and that the 'giving part' was what he enjoyed the most. Strangely, I felt the same way throughout my life-time of Christmas history. Each time we would be together on a tour it would come up, again and again, as if we had never said it before."
Jonathan's album contains fifteen beautifully put together Christmas tracks, nine of which are his original songs, with an additional five of them in 'Instrumental Chorus Versions,' showcasing Jonathan's talents. From the enchanting melodies on the instrumentals like 'Happy Holiday' to the joyous and playful lyrics of 'Christmas Is My Time Of Year' and 'Christmas Is Coming,' his unique rendition of the classic 'Little Drummer Boy' and the catchy swing like tune of 'No One Should Be Alone For Christmas,' which was the first song he wrote back in 1988, to the song that says it all and the title track of the album 'Christmas Again,' it is sure to impress and put a smile on everyone's face. Even catering to the Country & Western fans with 'Kids Dream Of Christmas Day,' the album has a versatile mix of genres of music and styles with songs that both children and grown ups alike can relate to and in Jonathan's own words; 'It has something for everyone!'
'CHRISTMAS AGAIN' is a heart warming album that brings out the Christmas spirit and is sure to delight everyone that loves Christmas. A Christmas Gift, dedicated to Michael, straight form Jonathan's heart!
TO VIEW THE TRACK LIST AND PURCHASE THE SONGS AND ALBUM CLICK HERE.
Let's all light a 'FLAME' a burning candle to remember Michael with this Christmas! – Jonathan Phillip Moffett
I remember
The times of our lives
Memories so warm and tender
Hypnotizingly brings me back in time
And though I know we've been taught from youth
That time will bring change
Still I find it so hard in the truth
That nothing can bring you back again
So I Surrender
To the hurt and the pain
Though I try as I do
There's no substitute, life can never be the same
In the loneliness, there's a need to cry out your name
In my longing I feel incomplete
Oh what a shame to try in vain
All we can do is light a Flame
A burning candle to remember
The times we've shared in our lives
Light a Flame, a burning candle to remember
Love for you
We all should light a Flame
A burning candle to remember
The times we've shared in our lives
Light a Flame, a burning candle to remember
The love that never will die
Light a Flame, a burning candle to remember
The times, that live in our minds
A burning Flame, a burning fire to remember
You…
A Christmas Message From Jonathan
There are ten songs, nine of which are my original works. The tenth song is a remake of one of the most popular, famous and most appropriate songs for me to choose to do 'The Little Drummer Boy' which is the perfect Christmas holiday classic cover song, best suited for 'Sugarfoot' to put his personal touch and taste on! With a vocal falsetto twist on it, I hope it lends a fresh new feel and flavour on my presentation, and lifts the spirits on high, breathing new life into this most beautiful treasured holiday classic! Included also are five 'Retro Old School Instrumental Chorus' tracks, five of my original songs! Music to put up the tree to, turn on the lights to and to get you in the mood for this holiday's delight, showing that 'Christmas Is Coming!' You can also listen whilst you're wrapping those presents and gifts, that'll bring big smiles to the faces of the ones you love! So, I hope to bring the spirit of Christmas into your home this year with the songs very close to my heart! For after all, "Christmas 'Is' Coming," as you'll begin to see "The Signs Of Christmas" soon, everywhere, when it'll come time to begin wishing "Merry Christmas To Your Neighbour" because "No One Should Be Alone At Christmas" especially when it's time for a "Happy Holiday" to all who come your way! So do just as I do, because "Christmas Is MY Time Of Year", bringing happiness to 'This' little boy's heart, and just like "Kids Dream Of Christmas Day" I do too!" For 'This' little drummer boy knows that pretty soon, it'll be "Christmas Again" : )
Merry Christmas "To One And ALL!"
About Jonathan Moffatt
Jonathan 'Sugarfoot' Moffett accomplished musician, songwriter and producer, was born in New Orleans, Louisiana. The third son of a musical family of siblings, Jonathan began playing on a marching snare drum at the tender age of six and after arriving in Los Angeles in January 1979, he had his first contact with Michael and the Jackson brothers. Just six weeks later in the spring of 1979, Jonathan embarked upon his first major tour with the Jackson family, known as the 'Destiny' tour. What followed was a long relationship with three more tours with the Jacksons, one referred to as the 'Off The Wall' tour in the fall of 1979 and another, the 'Triumph' tour in 1981. The 'Triumph' tour resulted in 'The Jackson's Live' album, a live album by the brothers recorded during this tour that went on to sell over two million copies worldwide, and in which Jonathan was involved in. In that same year of 1981 he was also hired to record and play on Michael's production and song writing of Diana Ross's hit 'Muscles' and in 1983 he was a part of the infamous Pepsi commercial.
The Jackson relationship continued, with the last of the Jackson tours, for the massive 1984 'Victory' Tour, which occupied the greater part of that year, and then again in 1986 when he toured with Jermaine and was showcased as Jermaine's musical director.
Michael also called upon Jonathan's services in 1988 to play behind the scenes on the Grammy's show in New York.
In the fall of 1996, he began what would have to be the biggest tour yet with Michael in the 'HIStory' World Tour, and 'HIStory' was certainly made during the next sixteen months.
Then in 2001 on the Michael Jackson 30th Anniversary Special he was again helping backstage with the production as requested by Michael.
His impressive list of credits doesn't stop there. He has also toured with other big names in the music industry, working alongside Madonna, Elton John, George Michael, Janet Jackson, Cameo, Stevie Wonder, Kenny G and Kool and The Gang, to name a few. His portfolio also includes several television appearances, studio recordings and video credits throughout the years, even writing, arranging, producing and singing background on a song for the Eddie Murphy/Arsenio Hall hit movie, 'Coming To America.'
His destiny though, always seemed to lead him back to Michael. They joined forces again in 2009 for 'This Is It' again finding themselves together on stage in rehearsals. Though the concerts were not meant to be, Michael was always meant to be close to Jonathan, for even after life here on Earth, Michael again has led Jonathan to where he is now in 2012, as an integral part in the spectacular production of Cirque du Soleil's 'The Immortal' show, working with other musicians in bringing Michael's music to life and helping in keeping his legacy alive. To this notion Jonathan says; "We, he and I, were bonded for more than half our lives together, through music, creativity, love and friendship, and in brotherhood."
Jonathan's connection with Michael may have started in 1979 but it certainly did not end in 2009. Thirty-three years later the bond with Michael is still strong, both professionally and personally, as is Jonathan's love for him. He expresses this in the release of his sincere and touching tribute 'Flame.'
"'Flame' is a song that I held onto for some years now, knowing of its very special message and sentiments for the right situation it would relate to someday. I finally released and let go of 'Flame' for the love of MJ, after his tragic passing and graduation to heaven," Jonathan explains.
Source: Paula Katsikas with special thanks to Jonathan 'Sugarfoot' Moffett
Leave a comment