20 Reasons To Revere 'Thriller'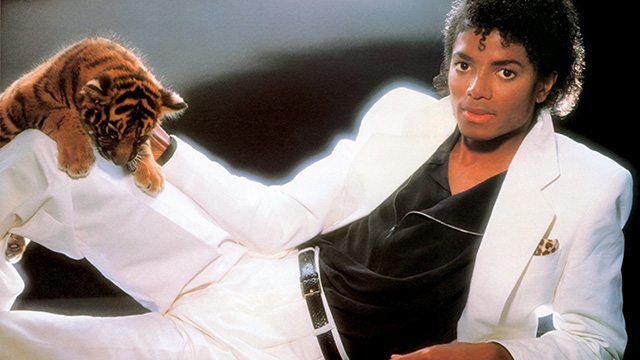 tampabay.com has written an article about Michael's 'Thriller,' and lists 20 reasons why it should be revered. We have listed them here for you.
1. The album had nine songs and a production budget of just $750,000.
2. Of the nine songs, seven were released as singles – each of them reached the top 10.
3. It took just more than a year for 'Thriller' to become the best-selling album of all time.
4. In the United States, 'Thriller' basically shares the "best-selling" title with another group: The Eagles and Their Greatest Hits (1971–1975), though Michael probably regained the record after his death fueled sales again.
5. It wasn't Michael's only album in 1982. That same year, MCA Records released an album of Michael reading 'E.T.: The Extra-Terrestrial' and performing the song 'Someone in the Dark.'
6. 'Thriller' was the most notable long-form video from the album, but it wasn't the only one. 1985's 'The Legend of Billie Jean' was believed to be based on Michael's song, though the connection seems fairly weak.
7. Ever notice that weird knocking song just as Eddie Van Halen's guitar solo begins in 'Beat It?' Legend has it that it's either a person knocking on the studio door as it was being recording or Eddie knocking on his guitar.
8. The 'Billie Jean' video was directed by Steve Barron, who also directed the landmark video for A-ha's 'Take on Me.'
9. The UPC code on the album cover contained 7 digits that were rumored to be Michael's telephone number.
10. Vincent Price told Johnny Carson that when he did the narration for 'Thriller,' he had a choice between taking a percentage of the album sales or $20,000. What did he pick? Because of his advanced career and age, Price took the $20 grand.
11. Eddie Van Halen played the guitar solo as a favour to Quincy Jones and was not paid. Later he would tell an interviewer, "I didn't want nothing. Maybe Michael will give me dance lessons someday."
12. The sound and feel on 'Beat It' is loosely based on The Knack's 'My Sharona,' which had been a huge hit in 1979. Jones suggested that Michael use it as inspiration.
13. The lyric "Show me how funky and strong is your fight," is often misheard as something you can't say on the radio or print in a blog.
14. Sheryl Crow performed with Michael on his 'Bad' tour. She later told Rolling Stone, "My favorite memory of Michael was watching him do 'Human Nature' every night. He'd cry, and those tears were so directly linked to the wounds that drove him to anesthetize himself."
15. The infamous chorus to 'Wanna Be Startin' Something' is: "Ma ma se, ma ma sa, ma ma coo sas." It's borrowed from Manu Dibango's 1972 song 'Funky Soul Makossa,' but borrowed is the nice way of saying Michael would later have to reach an out-of-court settlement with Dibango for its use.
16. Do you know which single was released first off 'Thriller?' It was actually 'The Girl is Mine,' his duet with Paul McCartney. The former Beatle's participation guaranteed plenty of radio play. It was released a full month before the album was released.
17. Janet and La Toya Jackson are the backup singers who provide the "na-na-na" in 'PYT (Pretty Young Thing).'
18. More than 80 real-life L.A. gang members appear in the video for 'Beat It,' which was shot on L.A.'s Skid Row for then an incredible amount of $150,000.
19. In 'Human Nature,' the words "why, why, dah dah da-dum dah dah, why, why," were originally dummy lyrics that were supposed to be replaced with real words before the song was completed.
20. The New York Times, in its review of 'Thriller,' said 'Human Nature,' "should be an enormous hit." Continuing the reviewer wrote, "But there are other hits here, too, lots of them. Best of all, with a pervasive confidence infusing the album as a whole, 'Thriller' suggests that Mr. Jackson's evolution as an artist is far from finished. He is, after all, only 24 years old."
Source: tampabay.com & MJWN
Leave a comment