Michael's 54th Birthday Celebration
Another year has passed since Michael's last birthday and another year where a group of MJ friends have gathered together to celebrate and honour Michael's 54th Birthday here in Adelaide, Australia. We may live on the other side of this planet, in a country often referred to as 'The Land Down Under' and at times, we tend to be forgotten when it comes to MJ events in our country, but we never forget Michael and all the amazing things he stood for, especially not on his Birthday.
We had all decided to meet at a local venue for dinner. As I looked around the tables at the now familiar faces, it was hard to believe that three years ago many of us didn't even know each other, most met at the first Adelaide World Cry held here and our mutual love and respect for Michael has kept us friends ever since, both off and online.
Stories and feelings about Michael were shared over a meal during the night with the gentle sound of Michael's voice singing in the background. It wouldn't be a birthday celebration without any Michael music. There were smiles and a few tearful eyes as we recapped the joy and laughter that Michael had given us throughout the many years. We all wished for the same thing, that Michael was still alive to celebrate his 54th birthday with his children.
A beautiful cake in the shape of a white fedora with a glitter glove adorning the side was later brought to the table where "Happy Birthday to you, Happy Birthday to you, Happy Birthday dear Michael," was sung by all in unison.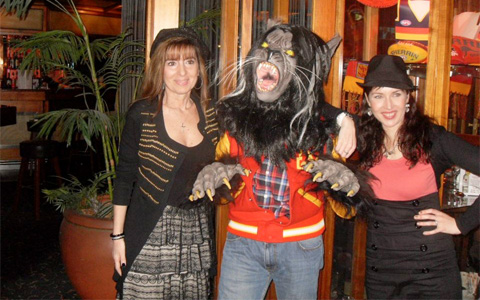 We were also surprised by what had to have been the highlight of the night, by a 'Thriller' werewolf, complete with Michael's 'Thriller' bomber jacket. He seemed to suddenly appear out of nowhere to the tune of, "It's close to midnight and something evil's lurking in the dark…" and we were all waiting for him to break into the 'Thriller' dance. He made us all laugh as we stood next to him for photos and certainly made a few heads turn in the restaurant. A werewolf is definitely not something you normally see at a dinner table. But if he made even that one extra person that wasn't part of our group remember Michael and the masterpiece that he created, Mr Werewolf had done what he was suppose to.
It was a good turnout and a fun night with friends that all had the same passion for Michael and wanted to pay tribute for another year of Michael's life. He may be gone in the physical sense but his spirit will live on in us forever through every passing year.
I am sure that Heaven will be throwing a huge Birthday party for Michael and he would be celebrating with all the other greats that we have lost along the way. For the incredible entertainer that you were and the beautiful human being that we saw in you, HAPPY 54th BIRTHDAY Michael from all of us that love you in Adelaide, Australia.
Source: MJWN with special thanks to Paula
Leave a comment