Kenny Wizz Performs As Michael
Below is an article by Paula Katsikas regarding Michael performer, Kenny Wizz, who she went to see last Friday.
Kenny Wizz As Michael Jackson In 'HIStory Does Repeat & This Is It.
Last Friday night in Adelaide, Australia we had the pleasure of having Kenny Wizz present his world tribute to Michael Jackson show; 'History Does Repeat & This Is It.' At first I had reservations of going as my thoughts were, this is not Michael, but I am glad that I made the decision to go, because Kenny delivered a brilliant, entertaining and
respectful tribute to Michael from start to finish and he had me and others in tears from about the third song, 'You are Not Alone.'I was even pleasantly surprised with his vocal talent.
Born and raised in the city of Los Angeles, California, United States, Kenny found himself thrust into the world of entertainment at an early age. He eventually moved to Las Vegas where he spent many years performing as a Michael Jackson tribute artist, and rightfully earned the name of 'The World's Number One Michael Impersonator.'
He starts his show with 'Jam,' just like Michael did in the 'HIStory' tour and performs many of Michael's iconic songs such as 'They Don't Care About Us,' 'Beat It,' 'Smooth Criminal,' 'The Way You Make Me Feel,' 'Billie Jean' and 'Thriller' to name a few. Each performance is executed complete with replica outfits that had Michael worn, dancers and theatrical back up. The most moving part of the show was when he did his rendition and tribute to Michael of 'Gone Too Soon.' With flashing images of Michael on the big screen behind him, a glitter glove and microphone on top of a fedora placed on a stool in front of the stage, a scene any Michael Jackson fan would know, it was hard to restrain one's emotions. Kenny used the whole stage to his advantage and gave a very energetic performance, even interacting with the audience in certain songs.
After the show, people did have the chance to meet Kenny. I thanked him for his tribute and in helping keep Michael's music and memory alive. His reply was a sincere; 'I do this because of my love for Michael.'
Unfortunately, we will never see Michael perform live again, at least not on this earth, and for those that never had the chance to see Michael perform live at all, they are able to experience a little of Michael's magic through Kenny.
Paula Katsikas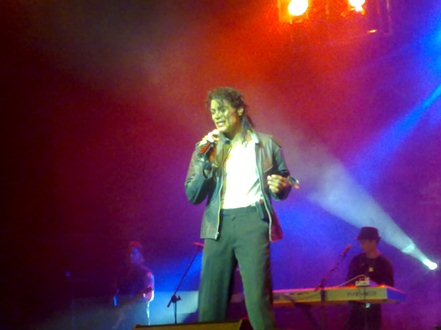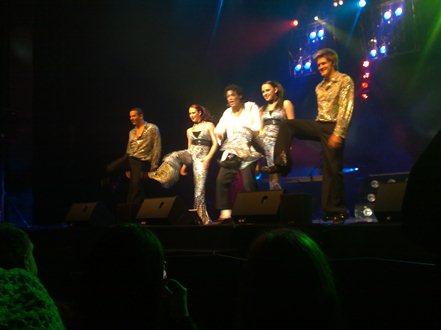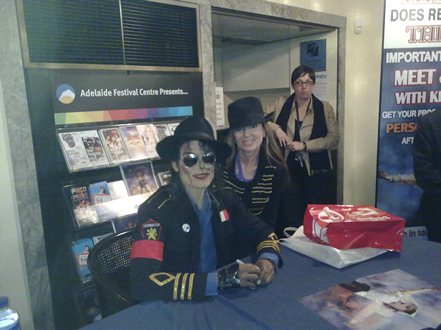 Leave a comment