Jonathan Moffett's Tribute
On October 6th, Paula and her husband attended Jonathan Moffett's tribute to Michael in Adelaide, Australia. Please find Paula's report below.
Last night my husband and I, along with a group of friends, had the pleasure of seeing Jonathan 'Sugarfoot' Moffett perform live in Adelaide at his tribute to Michael Jackson concert that he is currently taking around Australia. We really didn't know what to expect, and we went there with an open mind, but he captivated us and all the audience right from the first song. The man was just awesome. The audience ranged from seventy and sixty year olds to minors, from mothers and daughters, and mothers and sons. They had all come to see Jonathan of course, but with one common purpose, their love for Michael and people close to Michael, and wanting to keep his memory alive.
Jonathan started the show with a number of Michael songs from his list for the night, ranging from 'Wanna Be Starting Somethin'', to 'Jam' to 'Smooth Criminal', 'Billie Jean', 'Man In the Mirror', 'Earth Song', 'Black and White', 'Scream' and 'Beat It'. He displayed his immaculate drum work to Michael singing on two large video screens either side of him. He then went on to showcasing some of his own freestyle drumming techniques and he blew the audience away, getting a standing ovation at the end of his routines.
After his freestyle routine, he spoke of how during performing with Michael he had always wanted to go crazy with a solo freestyle turn in certain songs, but jokingly stated that he knew better and didn't dare. He added with a grin that he knew that if he did, the next morning he would probably be on the next plane home. "I am no dummy," he said, "I don't wear a dunce hat. I know when I am on a good thing." He then explained how Michael wanted the songs to be performed exactly how they sound on the record. That was very important to Michael as that was what the audience wanted to hear, which Michael clearly states in 'This Is It'. Jonathan also commented on how the fans were so important to Michael and of how the songs he did choose to perform on his tours were the songs that the fans had asked to hear. When a certain band member would suggest, why don't we do this song, or this one, Michael would always reply we have to stick to the songs that the fans have chosen.
He then gave us a background of his career and of how he started playing the drums in New Orleans, his home town, at the age of only six years and then went on to play in his older brother's band 'The Cavaliers' at the age of ten. Then he told of how he moved to LA in 1979 and of how he came to meet and perform with the Jacksons and Michael.  He talked about his first meeting with Michael, and of how he had just finished auditioning for the 'Victory' tour when he was told that Michael wanted to see him in his room. He remembered how nervous he was at the time while walking down what seemed to be a never ending corridor, thinking, "Oh No, what did I do wrong, did I miss a beat, or perform the wrong song?" He told of how Michael was asking him things like "When I did that move, how did you know I was going to do that and at that time?" Jonathan remembered replying back, "I was watching you and sensed it, I could feel it."  I guess with replies like this from Jonathan, well the rest is History. Jonathan then commented on the magic that existed between him and Michael.
A segment was also devoted to answering various questions from the audience. Questions such as "Who was his favorite drummer?" to which he replied, that he didn't have a favorite, that there were so many brilliant drummers that he loved and went on to name a few. Another question asked was "Did you ever visit Neverland?" His reply was that he did on many occasions and of how Neverland was a magical place that Michael not only used as a home, but also to give happiness to so many sick children that visited. When asked if he had to work out for his, what seemed like a strenuous routine? His reply was that his work out was the long hours he put into his drum playing.
After the questions, he then went on to do another amazing solo routine and then a couple more Michael tributes to finish the show off with. But this was certainly not the end of the night for Jonathan because he then would have spent at least a couple of hours signing autographs and meeting the fans. The time he gave to the fans that had come to see him was something that has left a lasting impression on me and so many others I spoke to on the night.
A truly amazing night with a truly amazing drummer. Like I said to him, it was easy to see why Michael hired him and why they worked together for thirty years. Michael only worked with the best!
Jonathan, Australia thanks you for a truly memorable night and thank you for keeping Michael's legacy and music alive. You were a real delight to have here and we hope to see you back soon. We will be the first in line for tickets.
Paula Katsikas
Australia, Adelaide
Source: MJWN with special thanks to Paula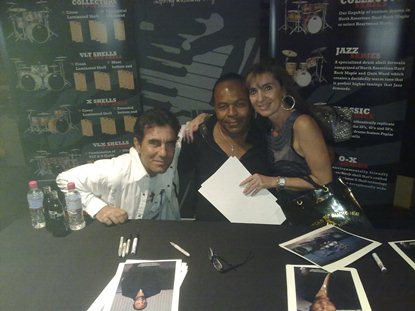 .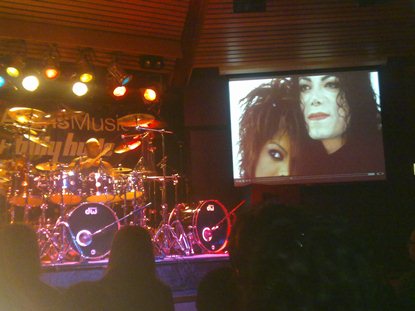 .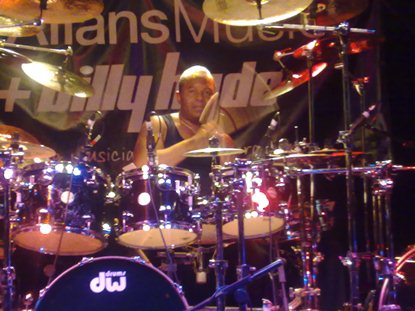 Leave a comment