A Visit To 2300
Debbie Jackson from New Zealand has sent us another article, this time about her visit to 2300 Jackson Street on Michael's birthday this year. Please see her article below.
MY VISIT TO 2300 JACKSON STREET, GARY INDIANA ON THE 29TH AUGUST 2010
In brief about me
For over 42 years, I have been a loyal fan of Michael's with total adoration of his music, his dance, and his humanitarian efforts, but most of all for the "Tsunami of Love" that I felt surrounding me from this amazing person through all the up's and down's during my life. I became totally devoted to him during the mid 80's after 'Thriller,' and in particular when 'Billy Jean' was released. Michael's very existence on planet earth has made it a better place for me, and has inspired endless hope and positive energy into my personal universe, via his music, poetry and his continuing messages of love.
I also am a large collector of Michael's memorabilia, which plays an important part to me of showing my love and affections for him. To be surrounded by things of Michael, gives me great comfort.
Throughout the many years gone by, I have felt closely connected to Michael i.e. sharing his tears, his pain, his frustrations, humiliation's and also his joys and achievements and successes.
I was blessed to be able to see him live in the 'History' tour when he visited Auckland in 1996, and in August 2003 to attend his birthday party. 'The Celebration Of Love' in Los Angeles, as one of his 50 Ambassadors. In April 2009, I had fully paid for my flights, hotel and tickets to 3 London Concert's for 'This Is It.' Hearing the announcements made on the 25th June 2009, left my world shattered and my heart bleeding and I became emotionally paralyzed and vulnerable.
After much deliberation about how to move forward, I later changed my plans and went to America only, participating in birthday events put on there for Michael, inclusive of 'Las Vegas Celebrates Michael Jackson' and the unveiling of his star in the Palms hotel. I briefly met Joe Jackson during this event. I went also to 100 North Carolwood Drive in Hollywood, and Havenhurst to see where Katherine and the children live.
This year, I went to America again to be a part of celebrations for the 25th of June, attending Julien's Auction's on this day. I was rewarded for my attendance a day earlier, by being given Michael's Victory Tour glove to hold. Later, I left my poster of love and candles on Michael's star on the Hollywood Boulevard. Once again I went to 100 North Carolwood Drive, and also to Neverland Ranch, the 'Thriller' house, Palace Theatre, Staples Centre, The Grammy Museum, Forest Lawn, UCLA, and other places that were reminiscent of Michael during my trip to follow in his footsteps.
Regardless of the fact that I had only been back in New Zealand for less than 7 weeks, I returned once again to America to meet up with friends. My goal this time was to see Captain EO at Disneyland, and more importantly to visit Gary Indiana to see the home Michael was raised in as a young child.
Michael, "There isn't a mountain high enough, or a river wide enough, to keep me away from you."
The outcome of my 13,200 Kilometer journey to 2300 Jackson Street from Auckland, New Zealand.
On the 29th of August, I was collected from my hotel in Downtown Chicago and taken by friends on the journey to Michael's home. We got lost, so it took rather long in arriving there. When I first saw the sign on the corner of the street, I recognized it immediately and my excitement mounted. Upon turning into the street, I noticed that it was crammed with traffic from many other fans that were also there, and we wondered just how we would find any parking. The first thing I saw,(when approaching the property by foot) was a man selling photos taken by his giant pictures of Michael, but when I saw the fencing of the actual house on the corner of Jackson Boulevard and Jackson Street, I became temporarily oblivious to anything else.
I quickly approached the side gates with my poster, candles and stems of miniature red silk roses, and also the poster's of two friends from New Zealand, (which I had put in my suitcase to bring with me for them). I talked to a man on the inside of the gate, who later revealed himself to be Ron Jackson, Michael's first cousin. I pleaded with him politely, to let me inside to put my gifts to Michael on the Memorial. I also talked with another man at the gate and gave him my card, (after he looked at my posters) and he then disappeared.
Ron Jackson allowed me inside for 10 minutes or so, to take photos and video film. He arranged my gifts directly on the Memorial, just how I asked him to. I could not do this myself, as there was a little picket fence between me and the little pathway to the Memorial, (a distance of about 4 foot) to stop people trampling down the lawn there. Ron then took photos of me, and I video taped his conversation to me, which mentions him thanking me for coming so far. Only my posters, and those I brought with me for my friends, were lucky enough to be placed directly on the Memorial for Michael's 52nd birthday. After this, Ron Jackson informed me my time was up, and asked me politely to go outside again. I did as he requested, but within a few short minutes, the other man who had taken my card, called to me over the fence, and said Joe Jackson had invited me back in and was coming out to meet me. I can only assume that Joe after viewing my personal card took pity that I had come all the way from Auckland, and perhaps that he also recalled me from Las Vegas a year earlier?
I went back inside the gate with Joe's messenger, and saw Joe coming out of the house towards me to greet me and chat briefly. We had our photo together, and then I took other's of him and also video film of Joe talking to fans on the outside of the gate. I was given a seat and also a bottle of water, and treated kindly until I later went outside to join my friends again. I had never dreamt I would get inside the gardens of 2300 Jackson Street, but the reality is that if you don't ask, you don't get. To then be invited inside a second time by Joe, was more than I had expected, and I am indeed honoured that he acknowledged how far I had come across the planet to this little town of Gary, just for Michael on his birthday, and subsequently that he wanted to meet and greet me.
I did some shopping inside the grounds of the house, and later from the surrounding stalls. I also enjoyed my piece of Michael's birthday cake, which was given away to fans outside the front entrance gate.
The 29th of August for me, achieved a huge goal,(and more than I thought possible)of going back to the very beginning of Michael's life to his original home, and being able to imagine him there as his life begun 52 years ago. I could almost picture him outside playing. It was an amazing experience, and one I'm blessed to have participated in.
WHEN SOMEONE IN THE DARK REACHES OUT TO YOU,
AND TOUCHES OFF A SPARK,
THAT COMES SHINING THROUGH,
IT TELLS YOU NEVER BE AFRAID.
THEN SOMEWHERE IN YOUR HEART
YOU CAN FEEL THE GLOW,
A LIGHT TO KEEP YOU WARM
WHEN THE NIGHT WINDS BLOW.
LIKE IT WAS WRITTEN IN THE STARS,
I KNEW, MY FRIEND,
MY SOMEONE IN THE DARK "IS" YOU.
Thank you Michael for being you; the genius, the poet, the entertainer and the great humanitarian.
I WILL LOVE YOU ALWAYS, DEBBIE JACKSON
Source: MJWN with special thanks to Debbie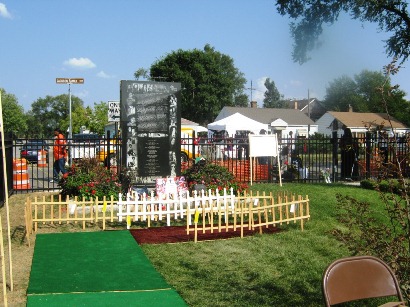 .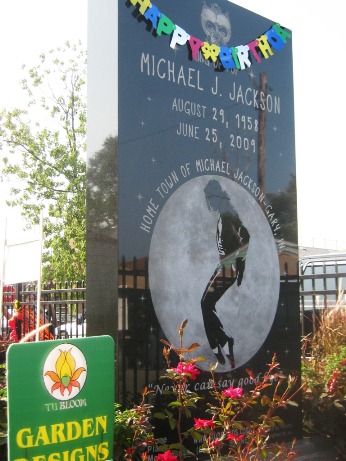 .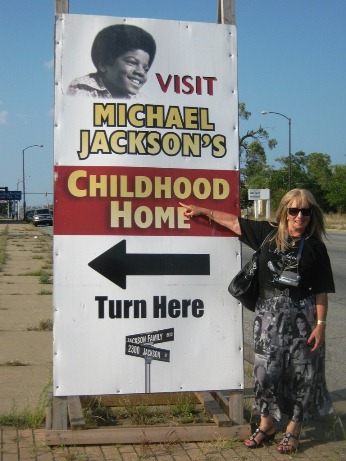 Leave a comment