Earth Tree For Michael
The Magical Child, Michael Jackson Fan Club Belgium, is proud to present her unique project called 'The Earth Tree for Michael'. In spirit of his 'Earth Song', we have decided to put his words into action. But we can't do this by ourselves; we need the help and support from as much fans and supporters as possible in order to give the Rain Forest in Peru the new trees she desperately needs!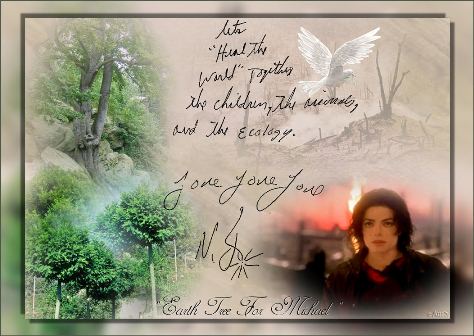 TMC has decided to have two legs on her project: we have our National program in which we hope to receive as much money as possible in order that our partner organization, the 'Flemish Forest Organization', can let us plant the trees we bought in person! It will also give fans the opportunity to have a place to come together or to visit in memorial of Michael.
We also have an International leg in our Program in which we need to help our other partner organization, 'Greenheart' planting new trees in the Amazon Forest of Peru. In his 'Earth Song' Michael sang about how badly the ongoing deforestation is hitting the Tropical Rainforest and we feel the need to help to improve the ecosystem because they aren't called 'The world's lungs' without a reason!
Would you love to see some more green in Flanders? Help us to plant as much trees as possible and donate money to the Flemish Forest Organization account IBAN BE57 7310 0909 4935 (BIC KREDBEBB) and mention 'Earth Tree for Michael'. For donators outside Belgium: indicate 'Our costs' so your donation goes completely to the project.
Are you against the massive cut in the Amazon area? Would you like to contribute in healing the Rainforest in Peru, then donate to Greenheart on the bank account IBAN code: BE10 0000 0000 0404 / BIC code: BPOTBEB1 and mention 'L82261.005-Earth Tree Peru-Groenhart '. PayPal donations will be arranged, we will inform you later.
Help us keeping Michael Jackson's spirit alive while helping to recover nature by planting trees, acres and acres of trees to become the forest of Michael Jackson's fans.
Winner of the Belgian program 'My Name is Michael' – Christ'OF – MJ Impersonator, who also performed for Michael himself, has agreed to act as a Godfather for this project. He will be present at the launch of our project on the 29th of August in Ghent, Belgium.
Of course we will offer lots of new gadgets in our sales corner! But there is more: TMC is proud to present her self-created Birthday Calendar with unique private photos. We couldn't do this alone, so big thank you to all supporters. On this Calendar you can see Michael in Belgium, Germany, France, UK, USA, Seoul, Japan, South-Africa and a special tribute of Brazil. It won't be a casual year calendar but one you can use for years to come to mark the birthdays of all your family members and friends. We've already marked two important dates. This will be a limited edition and all proceeds will be donated to our project!
The project will officially be launched on Michael Jackson's Birthday and will run over one year. In meanwhile we plan to organize some events to keep everyone informed on how things are going. But just spending some more time all together with a common goal is another benefit we want to stress! Let's all come together and support to heal the world and the ecology.
Please click here for more information.
We already have the full support of
MJFC USA
MJFC Italy
MJ fan club Nepal
MJWN
World Cry
Christ'OF and Management Move Events & Move Dance Center www.mjxof.com and www.move-dancecenter.com
François Glorieux
Roger Meert and Gilbert Lambert (designers MJ Pets) www.roger-meert.be and www.iowamouse.com
Agnes Meyer and Inneke Maes (Sony Pictures Belgium)
Le Bateau (event boat Belgium)
Deejay Vince
Isabelle Duchene
Vera Siccard
Leave a comment