New Kinect Game
Ubisoft's new Kinect game, Michael The Experience, is a groundbreaking new way to play games. Players will use Microsoft's new controller-free motion sensor Kinect. After scanning your body shape into the console, the software lets you step on to the stage and transforms you into one of music's biggest legends. The console mirrors your movements and gestures, projecting them on screen in front of you, complete with a Michael video backdrop, then as you move around and hit successful combos, you trigger video effects.
You can learn to Moonwalk thanks to a tutorial in 'school mode,' and the game will also enhance your voice with top studio effects. The Michael Jackson Experience is expected to be the first game to realise the full potential of the Xbox Kinect and is set for release in time for this Christmas.
The game will be unveiled this week at GamesCom in Cologne on the Wii, the Kinect version will hopefully be at the Tokyo games show in mid-September.
Ubisoft Montreal and Ubisoft Montpelier have developed the game and it will be available on Xbox360 (Kinect), Playstation 3 (PS Move) and Wii. PSP and DS versions are also planned.
Michael songs to be included in the game are 'Beat It', 'Billie Jean', 'Bad', 'Don't Stop Til You Get Enough', 'Earth Song' and 'The Girl Is Mine.'
Source: newsoftheworld.com, gamefocus.ca & MJWN
.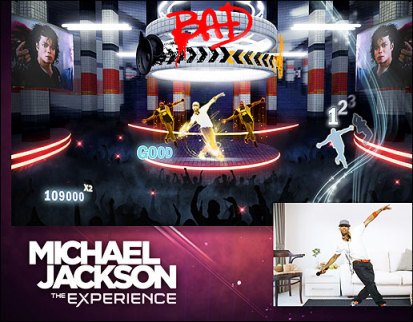 Leave a comment