'The 'Magic' Of Michael Jackson'
'The 'Magic' of Michael Jackson' is great collection of tributes in poetic form, all dedicated to Michael by poets worldwide. Below is an official release relating to the book.
The 'Magic' of Michael Jackson
By Poets-World-Wide
A 'Passion for Poetry' Production
The 'Magic' of Michael Jackson is one of the many books done by Passion for Poetry by Poets-World-Wide.
These poets are extremely versatile and well known writers of this era. They came to call, from all over the world, when Patricia Ann Farnsworth- Simpson asked for tribute poems for Michael Jackson when it was heard that Michael had died.
The caring natures of the poets involved took action. Poems were written about Michael Jackson's impact on the world by writer from one end of the globe to the other.
The love for Michael's singing, dancing, general entertainment value and his humanitarian gestures are all well stated throughout the book.
Click here to see the YouTube video that portrays all the participating poets along with wonderful pictures of Michael.
The book was released the day of Michael Jackson's Memorial Service. This is quite an accomplishment for Patricia Ann, a woman who put in countless hours into this project.
At this time the book is available at P.F.P.stores at www.lulu.com and directly by clicking here.
It will be available on all internet stores very soon.
Contact Information
For more information in the UK, contact: Pat Simpson patsimpson@hotmail.com or pfppublishers.com
In the USA please contact Daveda Gruber at Daveda@Roadrunner.com or at 724.301.4652
To read a review on the book, please click here.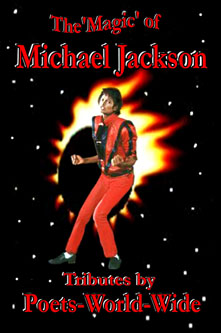 Source: MJWN
Leave a comment