Kids React To Michael Jackson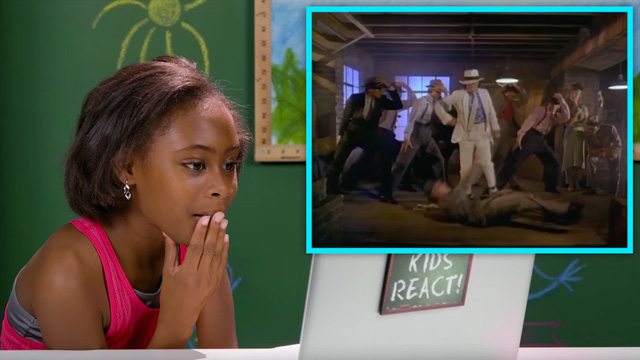 The very popular and award winning 'Kids React' YouTube series, which has been making videos for years, have turned their attention to Michael Jackson.
Many of their videos have focused on children being introduced to something retro and nostalgic and to get their take on it. Despite their young ages though, all subjects involved in this video knew who Michael Jackson was. Not only that, but as they were introduced to unfamiliar songs and music videos of his, they were all highly impressed. Some of the highlights the kids said were:
"He is definitely one of the greatest people there is"

"I love Michael Jackson"

"The dance moves are so great"

"I miss Michael Jackson"

"This is great! People need to make music like this now"

"All the music videos are so interesting"

"Oh my gosh, that was…COOL"

"They're all great, they're all catchy and they all have a really great meaning"

"I have to say that's better than Beyonce and I can't believe I'm saying that"

"I loved all of it, it was so good"

"I wish he was alive today"

"Everybody should know who he is, he's the King of Pop"

"He is AWESOME"

"I love him so much. I wish I could just see him again"

"He just pops!"

"I don't even remember when I found out about him, I just feel like I always knew him"

"His music changed people"
At the end of the video they're asked a number of questions, including if they know about any of the controversies in his life. The answer was a long stream of no's.
What's great about this video is it shows that Michael transcends the generations in which he was alive and that his legacy isn't locked to a timezone. And no matter what was said about him, the only thing that will live on forever is his music. As can be seen there's still a whole new generation ready to be introduced to the King of Pop.
Source: YouTube & MJWN
Leave a comment