Michael Bush Exhibition Q&A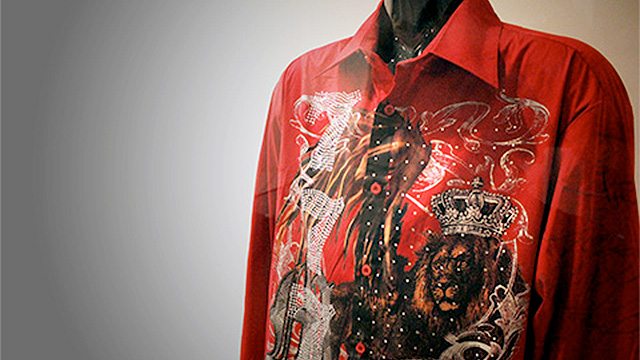 Michael Bush has brought a collection of Michael's personal and concert outfits to the UK, which is currently on display at The Getty Gallery, The Street, in Westfield in London. The exhibition, which is named; The Collection of Tompkins & Bush: Michael Jackson Wardrobe,' is now running and will be there until November 4th. Shane McCusker has been working at the exhibition and alongside Michael Bush for a couple of months now, and Shane taken a lot of great photographs, and also agreed to do a Q&A on some of the items included. Please also be advised that the outfits have now changed and are not the ones that were first on display. The exhibition now includes Michael's red lion mission 777 shirt he wore on June 23rd to rehearse 'Thriller,' 'Wanna Be Startin' Somethin',' 'Human Nature,' 'They Don't Care About Us,' and 'Dangerous' for the 'This Is It' shows.
How many costumes and outfits are featured at the exhibition?
We have over 50 exhibits on display, we've just changed EVERY single item in the exhibition, we have a whole new collection on display now; we wanted to put everything in at once, but there simply wasn't space. The collection of items that Michael Bush owns is just so vast, we found we have enough items to run two exhibitions at the same time and we are; one here, and one in Japan!
Can you tell us about some of the outfits?
Well, they are all very different and all very special. There is a fascinating story behind each and every one of them; my personal favorite (from the new updated collection), is the red lion mission shirt, which MJ wore to his This Is It rehearsal on June 23rd 2009. Obviously, it's one of the last things he ever wore, and so much of the This Is It footage shows him wearing it, it brings a lot of memories back, especially as on the inside collar it not only has 06-09 (written by Michael Bush during rehearsals as he made some customizations to it), but it is also heavily make-up stained. It is definitely one of the most recognizable pieces now, as almost all of the promotional images and clips in the documentary feature MJ wearing this exact shirt.
What other items are available for Michael's fans to see?
We now have the gold & silver HIStory Tour suit, a couple of variations of the 'Beat It' jacket from different eras, and some Jackson 5 items. We've also ordered the items so that when you enter the exhibition, you start with the Jackson 5 outfits, then walk around through each era, right up until the This Is It time, this collections spans his entire life, from childhood, right up until just 2 days before he passed.
Is there an illustrated brochure/programme the fans can purchase about the exhibition?
Absolutely! We have a beautiful golden glossy programme available at the gallery for just £5.00. It features images of the items on display, descriptions about them, plus loads of beautiful images from the vast Getty Images Archive.
Will there be a chance to purchase copies of Michael Bush's book at the venue?
Yes, there will be a book launch day later this month, where Michael (Bush) will be in to meet fans and sign copies of the book. It's great value for money; I was lucky enough to have Michael Bush read it to me, quite literally page-by-page, which is 4 hours I will never forget; it's only £30.00/$45.00, and the book is HUGE! Gloss paper, hardback; it's a coffee-table book, a true collector's item, plus the fact MJ is the one who suggested that this book be released makes it that little bit more impressive, as it's kind of like the loose ends of one of his many incomplete projects finally being finished off and shown to the fans.
Will Michael Bush be present at any time during the exhibition?
He will indeed, currently he is scheduled to appear at the exhibition on the 30th of October, however with this industry, things can change, so I would highly recommend that fans follow Michael on Twitter (@Tompkinsandbush) or us (@WiderHorizon) for daily updates on the exhibition and book signings in the UK.
How much does the exhibition cost?
The exhibition costs £10.00 each per person, under 5's go free. We also have certain days in which tickets are available with 25% off, so keep an eye out for those!

How do you obtain tickets?
Tickets are available at the reception desk or at Ticketmaster.
Do you know where else in the world the exhibition is going to be taken?
The exhibition has come from Chile, to Ireland, we also have one in Tokyo, and from London & Tokyo it will converge back in LA for the auction in December.
For directions on how to get to the exhibition and further information, please click here.
Source: MJWN with special thanks to Shane McCusker
Photographer: Shane McCusker
Leave a comment