Prince Michael's Charitable Efforts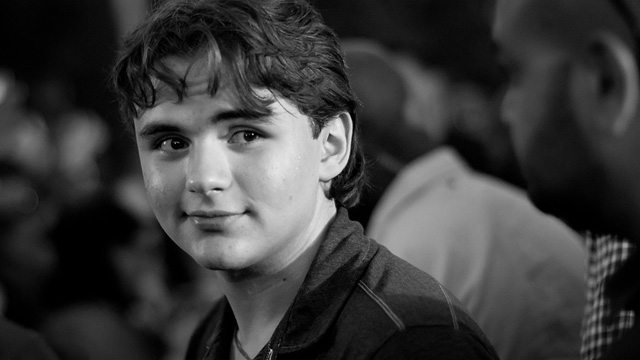 Prince Michael Jackson is doing his part to make this Christmas as bright as possible for underprivileged children, for which, he credits his father as his inspiration and motivation to try and help others.
ET's Nischelle Turner interviewed Prince at Heal Los Angeles' Boys & Girls Club Christmas event which took place at the Los Angeles Harbor last Thursday. Prince spoke about his hope for the 'Heal The World' student organisation, which is named after Michael's 'Heal The World' Foundation.
"I would love to see this as the ripple that goes to other schools and to other states and to hopefully other countries," Prince said. "Our generation, they focus on the wrong things, like, 'Who's wearing what? Who's doing what? Who's vacationing where?' There are real problems going on in the world that can be helped not by powerful people but by everyday people who just go in and devote their time.
You should be decent enough to help out or want to help out your fellow man or woman," he added.
As for what his father would think of his son's efforts, Prince said; "I think he would be very happy."
The Boys & Girls club event included a visit from Santa Claus and some Disney characters including Mickey, Donald Duck and Goofy, who hold a special place in Prince's heart.
"When I was younger my dad always told me about how Disney was such a happy place and I grew up on the cartoons. And I remember watching Mickey Mouse and all of the cartoon characters and how happy I would feel and I know that was because of my dad. It's good to know that I'm doing that for the kids."
Activist and community organiser Prince explained that he "hopes to lead by example" when it comes to taking a hands-on approach to helping others, "not just for my siblings or my family members but also for the younger generations."
In the end, Prince says his devotion lies in his charitable endeavours and his family, including his sister Paris and his 14-year-old brother, Prince "Bigi" Jackson. "I have a great sense of loyalty and devotion to my family," he said. "They inspire me and I hope I inspire them."
You can find more information on Heal Los Angeles which supports families in the L.A. area with focusing on ending child abuse, homelessness and hunger at
https://twitter.com/heallosangeles
You can hear more from ET's interview with Prince here.
Source: ET online & MJWN
Leave a comment