BBC Proms Honours Quincy Jones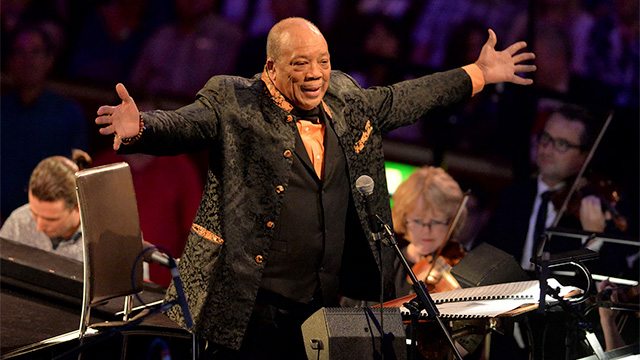 Last night the famed BBC Proms, which takes place every summer in central London's Royal Albert Hall, honoured Quincy Jones with a special prom dedicated to his life and career. Predominately reserved for classical music, the Proms have started to take a new direction over the past few years to try and attract a new audience. The Quincy Jones Prom was conducted by Jules Buckley and the man of the hour came on stage to a standing ovation at the end of the concert to conduct the final tune.
Jones extensive career in the music industry has become one of legend and a huge feat for African Americans. The Seattle-raised former trumpeter's success lies in his spectacular six-decade output of movie scores, disco anthems and jazz hits, production partnerships with stars from Ella Fitzgerald and Frank Sinatra to Ice T. However we know him and he may well be best remembered mostly for his collaboration with Michael Jackson and his role in producing the biggest-selling album of all time 'Thriller.' In total Quincy worked with Michael on his first three major solo albums 'Off The Wall,' 'Thriller,' and 'Bad.' They first met in the late 1970s whilst Michael was filming The Wiz, of which Quincy produced the soundtrack for. The rest is history as they say.
At the Proms last night 22 year old upcoming singer Jacob Collier did a new take on Michael's classic 1982 ballad 'Human Nature,' which was originally written by Steve Porcaro and John Bettis. 'Billie Jean' and 'Wanna Be Startin' Somethin" were also performed.
The full concert is available for the next month to listen to on BBC Radio here.
Source: BBC & MJWN
Leave a comment