Beyoncé Channels MJ Receiving A Fashion Icon Award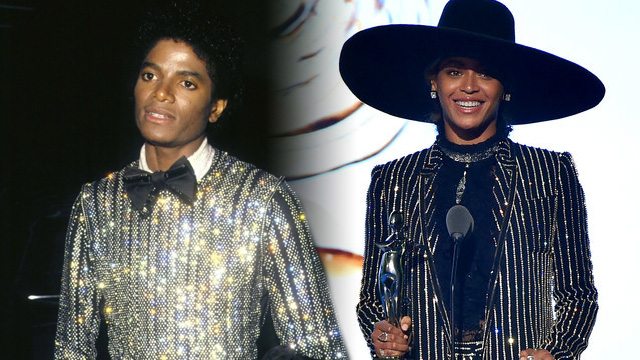 Beyoncé was awarded the prestigious CFDA Fashion Icon Award at the CFDA Awards earlier in June. The outfit she wore that night may have triggered deja-vu for some of you…remember Michael's 1979 video for 'Rock With You'?
Beyoncé's pinstripe sequined Givenchy suit and wide brimmed hat were the talk of the event – and harked back to the sparkly outfit worn by Michael in the video for the 'Off The Wall' track.
Beyoncé has previous; at the Superbowl half time performance of February this year, she wore a black and gold ensemble in tribute to Michael's opening 'Dangerous' tour outfit.
The fact she chose this outfit to accept her fashion icon award was a great way to pay homage to Michael, and demonstrates his continuing legacy.
Source: Hollywood Life & MJWN
Leave a comment