4th Annual Michael Jackson One Celebration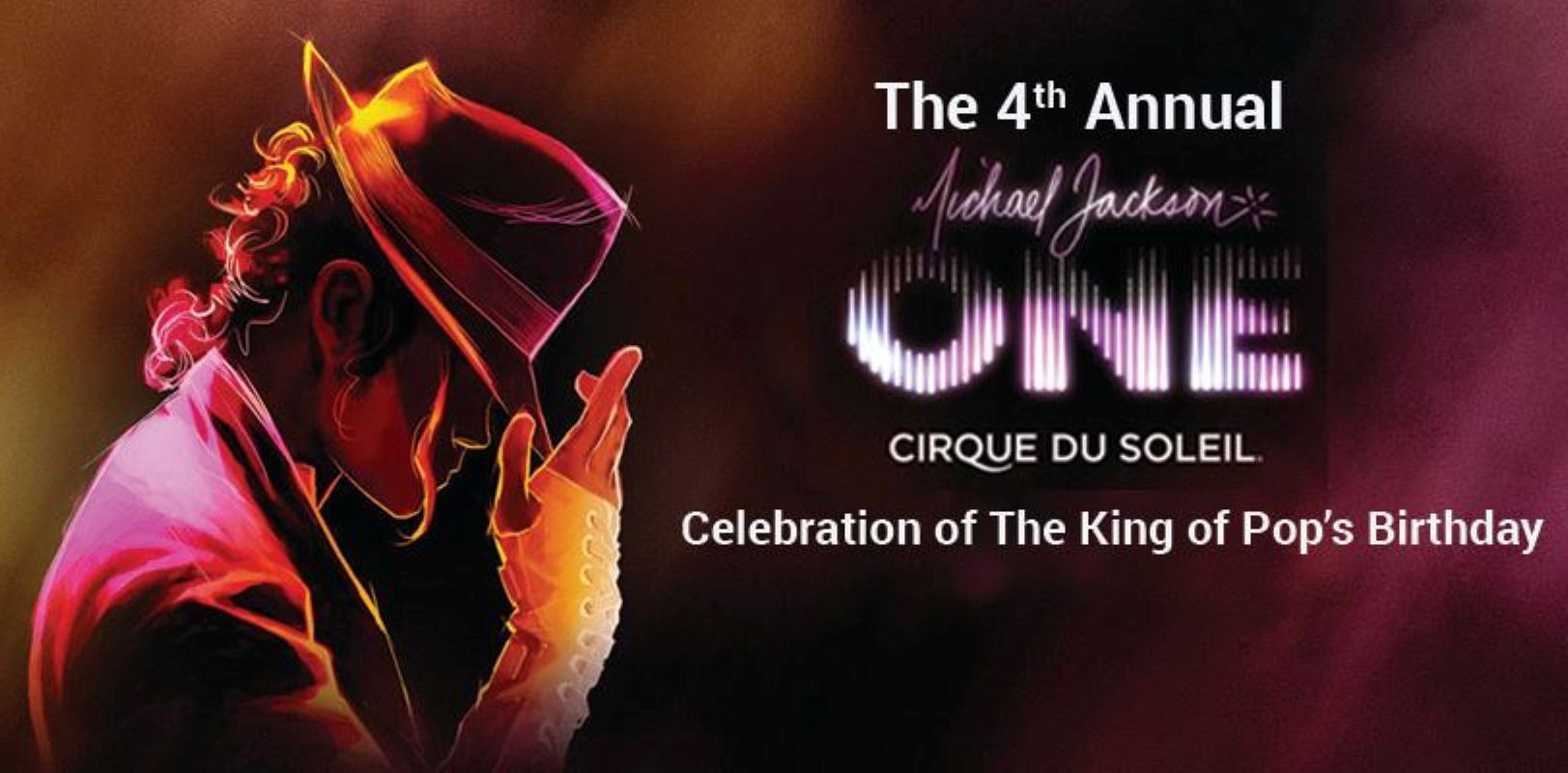 With Michael's birthday falling on a Monday this year, the Estate of Michael Jackson and Cirque du Soleil decided to make the 4th Annual 'Michael Jackson ONE" Celebration in honour of the King of Pop's birthday a three day affair starting on Saturday, August 27.
There will be a special meet and greet with members of the Estate team and other special guests before the p.m. performance on each of Saturday, Sunday and, of course, Monday night. Each meet and greet will offer something unique.
During the meet and greet on Saturday evening, the Estate, joined by members of the 'Michael Jackson ONE' cast, will reveal a change to the decor of the theater lobby that will be seen for the first time by those attending that evening's performances. More details about what that change is and on  the other two meet and greet events will be posted in the coming weeks.
For the afternoon of Michael's birthday, there will be a book signing hosted by the 'Michael Jackson ONE' Boutique, a special performance by the 'Michael Jackson ONE' cast in the theater and a super special activity that gives a few very lucky Michael Jackson fans an opportunity to display their knowledge of Michael's music. There will also be a special 'Michael Jackson ONE' Commemorative Ticket for these shows that guests will be able to keep as a souvenir. More details on Monday afternoon's activities and how to be chosen as one of those lucky fans will be coming soon.
All activities during the three days will be open to those attending any of the performances of 'Michael Jackson ONE' on the Saturday, Sunday and Monday of the celebration and we are pleased to once also extend an exclusive offer from Mandalay Bay Resort and Casino for the birthday week including special room rates and a gift bag.
Gather together with other Michael Jackson fans for a festive celebration in Las Vegas and spend all or part of the three day MJ weekend enjoying the city, the Mandalay Bay property and, of course,
'Michael Jackson ONE,' an electrifying and heartfelt tribute to the work, innovative spirit, and legacy of Michael Jackson – the King of Pop.
Join the Estate of Michael Jackson and Cirque du Soleil to celebrate Michael's birthday and stay tuned for more details to come!
To book rooms, visit Mandalay Bay (http://smarturl.it/mbmj) and to purchase tickets, visit Cirque du Soleil (www.cirquedusoleil.com/mjone).
Source: MJOnline & MJWN
Leave a comment