Bubbles Enjoys Retirement In Florida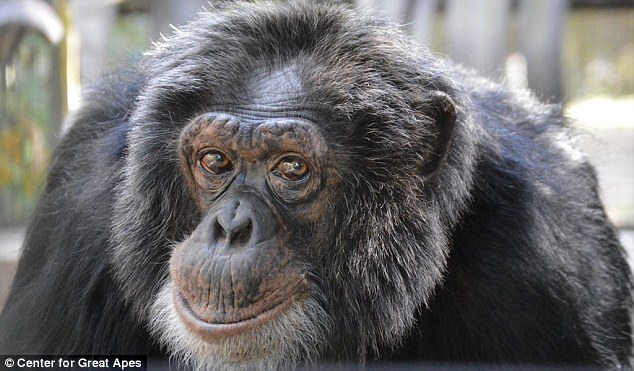 Bubbles used to hang on Michael Jackson's hip as they donned matching outfits, he accompanied Michael to Japan during his 'Bad' world tour and once drank tea with the mayor of Osaka. But today, Bubbles, the four-and-half-foot tall chimpanzee, calls home a sanctuary in Wauchula, Florida where he's been since March 2005. He is now the dominant male in a group of chimpanzees.
The 185 pound chimp who gained fame after he was purchased for Michael, enjoys painting and resides among other semi-celebrity orangutans and chimpanzees including his best friend, Riley, who once in an episode of 'Seinfeld ' and spat water on Kramer, The Miami New Times reported. "He's big!" One of his caretakers said, "but he's a sweetie."
Bubbles is now thirty-three years old and has come a long way from the days of being in the spotlight. In fact, he dislikes being in front of the camera and will often turn his back if he sees one, even spitting water or throwing sand when becoming annoyed with cameras. However, the chimp is described as being "extremely gentle," according to the sanctuary's website.
Bubbles was born in 1983 in a Texas bio-medical laboratory before he was taken from his mother when he was only a few months old, reported the Miami New Times. He  made appearances in music videos, TV shows and movies before he 'retired' at the age of six or seven, according to the sanctuary. By 2003, as he became too strong to be around people, he went on to live at his trainer's California animal compound before eventually arriving at the sanctuary, which was founded in 1993. When he first arrived with Sam, a chimp fourteen years his senior, Bubbles was described as being "very shy" for a couple of years and was even "nervous around the girls," however, he eventually opened up. After his close friend Sam's health began deteriorating, Riley arrived at the sanctuary a few years later and Bubbles and him "connected right away." They eventually consoled each other when Sam passed away of heart failure in 2011, according to the Miami New Times.
At the Centre for Great Apes, Bubbles lived a life mostly out of the public eye until 2009 when Michael passed away. Patti Ragan, founder of the Centre for Great Apes, said they did not ever tell Bubbles that the pop star had passed away, simply because he would not understand it. "It wouldn't make sense to him," she told the Miami New Times of trying to explain the concept of death to an ape. "We could tell him," she added, "but he would not get it." He was eventually shown a video of Michael's memorial, which Ragan responded "no" when asked if Bubbles seemed sad. In regards to reports that had included his favourite pet in his will, the sanctuary said this was not the case and that they rely on funds from supporters to care for Bubbles, according to its website. To care for the animals it costs the centre $20,000 per ape annually, according to the Miami New Times.
As he has put his life in the spotlight far behind him, Bubbles still sometimes receives gifts from fans from all over the world, including a blanket with Michael's face that he was gifted a few years ago.
For now, he seems to be enjoying life at the sanctuary where he lives among forty other chimps and orangutans including Oopsie, a chimp who starred in 'BJ and the Bear' in the 1970s; Tango, an orangutan who did judo in the Tango drink commercials and his dear pal Riley who starred in 'Ace Ventura.'
Source: The Daily Mail & MJWN
Leave a comment