Will Michael Jackson Perform With Katy Perry At The Super Bowl?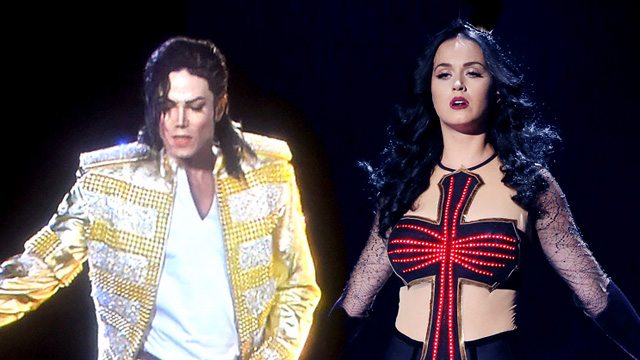 As we gear up for the Super Bowl every year, we can't help but remember the amazing performance Michael Jackson did there in 1993. His part of the show set a new bar for what should be expected at halftime and a host of high profile entertainers have followed his footsteps, from Madonna to Sir Paul McCartney to Beyonce and even his sister Janet.
This year Katy Perry is taking to the stage and rumours are swirling around that Michael Jackson may make an appearance too, 22 years after his groundbreaking performance.
Last year Perry and Michael shared the same stage (though at different times) during the Billboard Awards, where a breathtaking hologram of Michael was shown. As the light show, which closely represented the King of Pop, dazzled us with a dance routine to 'Slave To The Rhythm', you couldn't help but think you were watching the future. With all this money spent on making this hologram, surely they'd want to use it again?
Roll the clock forward six months and it's announced that Katy Perry will be performing at the Super Bowl XLIX halftime show in 2015. In her video commercial, which you can see below, at 1:07 she casually states:
"I got my time machine, bringing in my very special guest"
Whilst the video was a tongue in cheek promotion, we can't help but wonder if that element could be true and if indeed we're going to be getting a glimpse of the Michael Jackson hologram again!
If we do, the performance will no doubt generate a mass hysteria around Michael again. The Super Bowl is one of the most watched TV specials every year, pulling in way more viewers than the Billboard Awards, so the exposure would be huge! We can only keep our fingers crossed!!
Would you want to see Michael Jackson's hologram at the Super Bowl this weekend? Let us know in the comments below.
In the meantime, enjoy his star performance from 1993 (little know fact: Michael's performance is the only time a halftime special drew in a bigger TV audience than the game itself):
Source: MJWN
Leave a comment