'Heal The World' Played At Siege Site In Sydney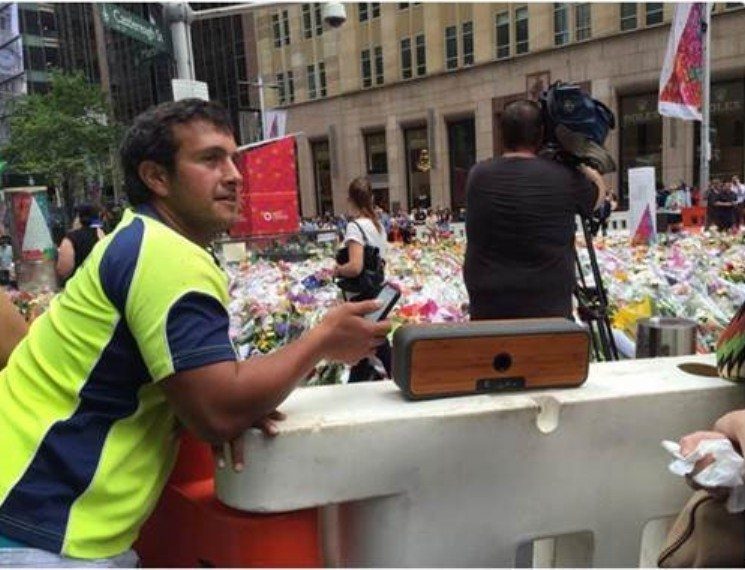 A man brings a small sound system playing Michael Jackson's 'Heal The World' to the site where the cafe siege took place in Sydney, Australia last week.
Seventeen people were taken hostage when a man stormed into the popular Lindt Chocolate Cafe in Sydney's Martin Place shortly before 10.00 am last Monday morning. Five of the hostages managed to run free later that afternoon, but there were injured and 2 people died during the 16-hour siege.
The 34 year old cafe manager killed in the dramatic final moments of the siege was shot while trying to grab the gunman's weapon, sources say, and a 38 year old Sydney lawyer died in the early hours of Tuesday.
The man, identified on Twitter as "Josh from Parramatta" brought a small sound system to the area outside the Lindt Cafe in Martin Place on Wednesday. He played the song at the site where flowers were being placed as a memorial to the two people who were killed in the siege.
Michael may not be with us physically any more, but his powerful messages of love and peace in his songs live on and continue to bring comfort and hope to a world where no one seems safe from acts of violence and terrorism.
'Heal The World'
There's A Place In Your Heart And I Know That It Is Love
And This Place Could Be Much Brighter Than Tomorrow
And If You Really Try You'll Find There's No Need To Cry
In This Place You'll Feel There's No Hurt Or Sorrow
There Are Ways To Get There If You Care Enough For The Living
Make A Little Space Make A Better Place…
Heal The World Make It A Better Place
For You And For Me And The Entire Human Race
There Are People Dying If You Care Enough For The Living
Make A Better Place For You And For Me
If You Want To Know Why There's A Love That Cannot Lie
Love Is Strong It Only Cares For Joyful Giving
If We Try We Shall See In This Bliss
We Cannot Feel Fear Or Dread
We Stop Existing And Start Living
Then It Feels That Always Love's Enough For Us Growing
So Make A Better World Make A Better World…
Heal The World Make It A Better Place
For You And For Me And The Entire Human Race
There Are People Dying If You Care Enough For The Living
Make A Better Place For You And For Me
And The Dream We Were Conceived In Will Reveal A Joyful Face
And The World We Once Believed In Will Shine Again In Grace
Then Why Do We Keep Strangling Life Wound This Earth Crucify Its Soul
Though It's Plain To See This World Is Heavenly Be God's Glow
We Could Fly So High Let Our Spirits Never Die
In My Heart I Feel You Are All My Brothers
Create A World With No Fear
Together We'll Cry Happy Tears
See The Nations Turn Their Swords Into Plowshares
We Could Really Get There If You Cared Enough For The Living
Make A Little Space To Make A Better Place…
Heal The World Make It A Better Place
For You And For Me And The Entire Human Race
There Are People Dying If You Care Enough For The Living
Make A Better Place For You And For Me
Heal The World Make It A Better Place
For You And For Me And The Entire Human Race
There Are People Dying If You Care Enough For The Living
Make A Better Place For You And For Me
Heal The World Make It A Better Place
For You And For Me And The Entire Human Race
There Are People Dying If You Care Enough For The Living
Make A Better Place For You And For Me
There Are People Dying If You Care Enough For The Living
Make A Better Place For You And For Me
There Are People Dying If You Care Enough
For The Living Make A Better Place For You And For Me
You And For Me
You And For Me
You And For Me
You And For Me
You And For Me
You And For Me
You And For Me
You And For Me
You And For Me
You And For Me
Heal the world we live in, save it for our children
Heal the world we live in, save it for our children
Heal the world we live in, save it for our children
Heal the world we live in, save it for our children
Source: ABC NEWS Australia & MJWN
Leave a comment