Kobe Bryant's MJ Inspired Shoes Unveiled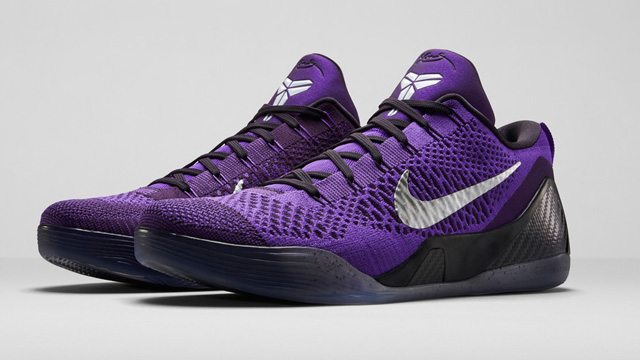 Back in February we reported that Basketball sensation Kobe Bryant was planning to release a pair of Michael Jackson inspired sneakers. Now, four months on, the fashionable foot wear has been unveiled.
Nike's Kobe Collection has always paid homage to classic artists. From Bruce Lee, to Miles Davis, many great stars prominent in American history have had their own variation of a Kobe Bryant shoe.
This time around, Nike's crafted this latest sneaker with the late King of Pop in mind, Michael Jackson. The purple colour of the shoe, called Hyper Grape, is often associated with royalty, power and wealth. And to anyone with any type of knowledge about Michael knows that he was and is music royalty. The shoe is called the "Michael Jackson" Kobe 9 Elite Low.
Another nod to Michael is the lunar surface graphic printed under the translucent outsole, styled to look like the surface of the moon for wearers to channel their inner moonwalk.
Kobe and Michael were close friends, with Kobe taking the stage with Magic Johnson at Michael's memorial in 2009 to talk about his friend. On his friendship he has said:
"We would always talk about how he prepared to make his music, how he prepared for concerts. He would teach me what he did: How to make a 'Thriller' album, a 'Bad' album, all the details that went into it. It was all the validation that I needed – to know that I had to focus on my craft and never waver. Because what he did – and how he did it – was psychotic. He helped me get to a level where I was able to win three titles playing with Shaq because of my preparation, my study. And it's only all grown. That's the mentality that I have – it's not an athletic one. It's not from [Michael] Jordan. It's not from other athletes. It's from Michael Jackson."
The "Michael Jackson" Kobe 9 Elite Low will be released on 12th July globally at Nike.com and select Nike Basketball retailers.
Source: The Source & MJWN
Leave a comment