What MJ, Beyonce & Jay Z Have In Common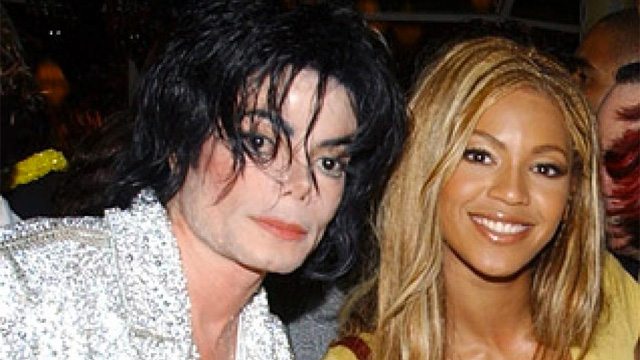 Since his adult solo career began in earnest in 1979, Michael Jackson has sold hundreds of millions of records. Click through for a look at the cover of each studio album, in chronological order, paired with worldwide sales estimates here.
Michael Jackson's postmortem fortunes got another boost this week with the announcement that Epic Records will release 'Xscape,' an album of all-new material by the King of Pop, on May 13th.
'Xscape' came together after Michael's estate granted Epic chief Antonio "L.A." Reid unlimited access to the singer's musical archives. Reid selected eight tracks on which Michael had already recorded vocals and passed them along to a team of producers led by Timbaland, who then made additional sonic contributions. The result, according to Reid, is something worthy of Michael's legacy.
"Michael left behind some musical performances that we take great pride in presenting through the vision of music producers that he either worked directly with or expressed strong desire to work with," said Reid in a statement. "We are extremely proud and honored to present this music to the world."
The Estate of Michael Jackson added,
"Michael was always on the cutting edge and was constantly reaching out to new producers, looking for new sounds," added John Branca and John McClain, co-executors of Jackson's estate. "He was always relevant and current. These tracks, in many ways, capture that spirit. We thank L.A. Reid for his vision."
With the release strategy for 'Xscape' – radio silence up until an announcement just six weeks before launch –  Michael also finds himself on the cutting edge of album rollout planning. The approach isn't entirely different from the likes of Beyoncé and Jay Z.
True, those two superstars left even less time between the announcements and launches of their albums. For Jay Z, it was about three weeks; for Beyoncé, the events occurred simultaneously. But even Jackson's six-week window is a short one compared to other recent releases by big acts like 50 Cent and Coldplay, both of whom announced their albums more than two months in advance.
Michael's former publicist, Susan Blond, remembers putting together album publicity campaigns that began three to four months before the King of Pop's releases.
Sadly in Michael's case, with a departed act, a short runway can be much easier to negotiate. There are no tours or publicity appearances to organize. And as with living acts, the advent of social media has rendered a lengthy lead up unnecessary. With over 70 million likes on Facebook, Michael is as well-equipped as any to spread the word.
"The only thing the record company needs to do is get the word out and the record will sell itself," says veteran entertainment attorney Owen Sloane, who once represented the Jacksons. "Since social networking is the key to getting the word out, and that happens instantaneously today, long lead times are not necessary."
Will other artists follow the lead of Beyoncé, Jay Z and, now, Michael? A few have, most recently Kid Cudi and Skrillex, with mixed results. As one major label president recently said: "This kind of event is the territory for maybe 10 artists in the world."
(Sadly,) even from beyond the grave, Michael is clearly part of that group.
Source: Forbes, Zack O'Malley & MJWN
Leave a comment