'MICHAEL' Art Best Cover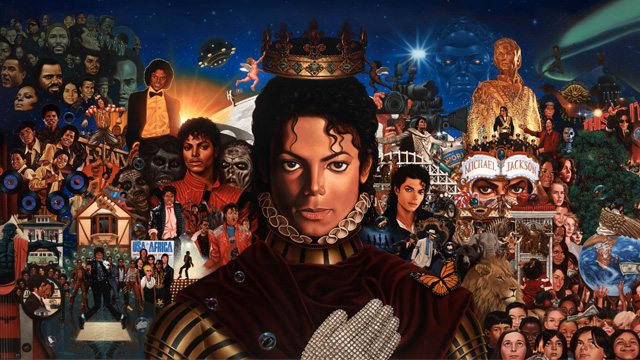 Complex Magazine have published their list of 'The 50 Best Pop Album Covers,' from the last five years! 'MICHAEL' which was Michael's first posthumous album, is at Number One!!!!
They write,
"Pop, derived from the word "popular," is a genre that's continually hard to define. Pop music shifts constantly, but over time, it has been known to include catchy melodies and hooks, repeated choruses, and widespread appeal. Today, pop music borders on a lot of rap and dance music, but at its core, the aforementioned qualities define it.
Picking a list of The 50 Best Pop Album Covers of the Past Five Years is hardly an easy task, but it's one that reveals a lot about how these album covers work. Especially in the context of recent pop releases—Katy Perry's Prism, Lady Gaga's ARTPOP, Sky Ferreira's Night Time, My Time, and M.I.A.'s Matangi—one realizes the tendency for pop covers to be direct facial portraits, sometimes without much more styling or design.
When it comes to more indie releases, the imaging naturally gets more experimental. Animal Collective's Merriweather Post Pavilion is an abstract optical illusion, the Yeah Yeah Yeahs photographed a fist crushing an egg for It's Blitz, and three versions of Santigold pose in front of a painting of herself for Master of My Make Believe.
This list includes pop albums that came out between November 8, 2008 and today. Enjoy this visual tour of pop music, and its best covers, from the last five years.
View the slideshow of all fifty album covers here.
1. Michael Jackson, 'MICHAEL'
Release date: Dec. 10, 2010
Cover art: Kadir Nelson
Art direction: Christina Rodriguez, Sheri Lee
Labels: Epic, MJJ
The first release of new Michael Jackson music after his death in 2009, Michael features a brilliant, multifaceted painting by renowned author, illustrator, and painter Kadir Nelson. Nelson, who has painted the likes of Marvin Gaye and later the album cover for Drake's Nothing Was the Same, here created something that at first glance looks like a collage of highlights from Jackson's career. Upon closer inspection, it becomes clear this is an intricate painting meant to represent the ups, downs, and struggles of one of the greatest pop artists in history (of which there were many). We get Michael and all his most important moments: Michael preening for Off The Wall, the tabloid cover from a Weekly World issue, and the cherubs crowning him—one black, one white. Bubbles fills the bottom left of the picture, a reference to Michael's pet chimp—the nods to MJ's life are numerous.
It's as much a puzzle for fans to unravel as it is a retrospective of one incredible man's incredible life. Nelson's ability to surmise and synergize Michael's struggles is phenomenal. At one point this artwork was erected in Middlesex, England as a 29,000-square-foot mural, making it the largest poster in the history of the world. Jackson was always larger than life. "
– Dale Eisinger
Source: Complex Magazine, Michael Jackson & MJWN
Leave a comment