Pittsburgh Pop Royalty Visit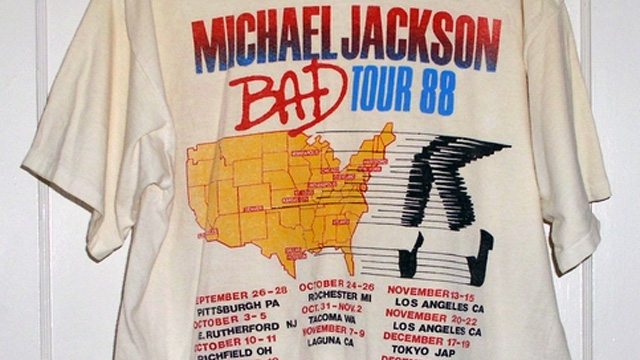 Rick Sebak of the Pittsburgh Magazine, has written the following article about the time 'Music Royalty' Michael Jackson performed at the Pittsburgh Civic Arena in 1988, during the second USA leg of his successful 'BAD' world tour.
Already world-famous for his energetic singing and dancing, Michael Jackson was 12 years old when he first came to Pittsburgh with his four older brothers to perform at the Civic Arena on July 30, 1971. They returned to the arena in July 1972 and July 1973; when they came in 1974, they performed at Three Rivers Stadium. In October 1979 and August 1981 — now as The Jacksons, rather than The Jackson 5 — they were back at the arena.
Despite all those earlier shows, Michael's solo appearance here in 1988 seems to be his best-remembered trip to Pittsburgh. Having just conquered Europe and the United Kingdom, he kicked off the second American leg of his phenomenally successful 'BAD' tour with three shows at the Civic Arena on Sept. 26, 27 and 28.
People who worked at the arena at the time recall the preparation as extraordinary. It was helpful that Michael's manager, the late Frank DiLeo, was a native of Point Breeze who wanted his family and friends to see the show. A trio of arena employees travelled to the tour's first domestic dates at Kemper Arena in Kansas City, Mo., seven months in advance, to check out the innovative presentation.
Ida D'Errico, then the Civic Arena Corporation's director of marketing and public relations, remembers that show:
"Everyone in the audience — which included many well-dressed families — was riveted to the stage, mesmerized and awestruck. With everyone standing on their chairs, you couldn't take your eyes off Michael for fear of missing something."
By that time, Michael was already notoriously eccentric and fearful of bacteria, and he had lots of special requirements in his contract. He insisted on a leather couch in the dressing room — black, navy or gray — which D'Errico borrowed from Kaufmann's.
Michael stayed in the penthouse suite at the Vista (now the Westin Convention Center Pittsburgh). D'Errico remembers that a "professional wooden dance floor" had to be installed there so Michael could practice — and "cool down" after his shows.
The three nights sold out quickly. Michael pleased everyone with a set list that included a Jackson 5 medley as well as huge production numbers for 'Thriller' and 'Smooth Criminal,' ending the main set with an unmatched trio of hits: 'Beat It,' 'Billie Jean' and 'BAD.'
Local music reviewers liked the shows. Peter B. King of The Pittsburgh Press wrote, "It ain't natural how Jackson moves, like liquid that somehow holds to a human form." Scott Mervis of the Pittsburgh Post-Gazette was impressed, too: "The show was fresh and even 'bad' (in the street sense of the word)."
D'Errico remembers that the gray couch was returned to Kaufmann's, but it had been scarred with lots of cuts and scratches. Jackson's costume was decorated with many metal buckles that tore into the leather over the three days that he sat on it. When D'Errico explained to the department store what caused the damage, she wasn't held responsible. As she pointed out, the couch was now a priceless collector's item.
Thanks to Lance Jones, Michael Gentille, Scott Mervis and Ida D'Errico.
Source: The Pittsburgh Magazine & MJWN
Leave a comment