Lewis's 'Smooth Criminal'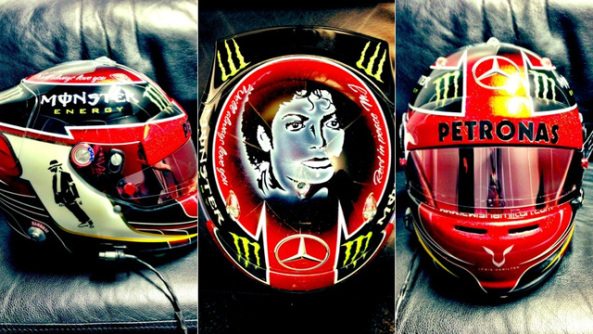 Custom helmets for individual race designs are all the rage in Formula 1 at the moment, but Lewis Hamilton's latest, designed for the U.S. Grand Prix in Austin, is one of the more striking.
The 2008 World Champion is even ditching his traditional yellow colours for a Michael Jackson-themed helmet.
The Mercedes driver revealed the new design in three tweets on Twitter, each time accompanied by the hashtag #smoothcriminal:
He said, "For the Austin race, I wanted to dedicate this helmet to my favourite artist MJ."
Whether Austin and Michael Jackson has any great connection is debatable at best, but if nothing else it's going to stick out come race weekend.
To see all the photographs of Lewis's helmet go here.
You can also vote as to whether you like his 'Smooth Criminal' helmet or not!!! Is there any doubt?
Let's hope the helmet brings him luck ……. Speed Demon!!!!!
Source: Bleacher Report & MJWN
Leave a comment