Zombies Invade Tesco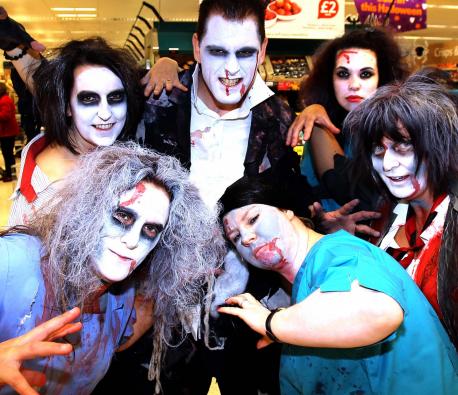 Something evil's lurking in Tesco's dark when shoppers stopped dead in their tracks as zombies took over a Colchester superstore and performed Michael's 'Thriller.'
Tesco staff surprised hundreds of shoppers as they took to the shop floor as Michael's spooky 'Thriller' boomed over the sound system yesterday morning.
As the Tesco Hythe shoppers stood stunned, zombies Richard Burton, Sue Pearson, Natalie Ennew, Ali Wealls, Katy Jackson and Andrea Nelson performed the classic dance routine while customers donated money to Diabetes UK, the company's charity of the year.
Mr Burton, a professional dancer and compliance manager at the store, came up with the idea and taught the group the routine.
He said: "I wanted to do something a little bit different to raise money.
"I'm a dancer and I've done the 'Thriller' routine pretty much every year since I was 16, so the challenge was to pass it on to the girls.
"But they've been absolutely great. They worked really hard and it's been a lot of fun."
Mr Burton, who is trained in street dance and disco, recruited the dancers by putting posters up around the staff room.
They had been practicing for five weeks in their spare time before performing in public yesterday!!!
To see their performance, go here.
Source: Daily Gazette & MJWN
Leave a comment